Chartered practices get RIBA shop window at MIPIM
22 March 2017
MIPIM took place last week with 27 small and emerging RIBA Chartered Practices travelling with the RIBA to network with the big guns at the 'world's leading property market'.
The number of small practices basing themselves at the RIBA's stand has grown steadily over the years, as they take advantage of RIBA marketing and support and the benefits of being showcased on a high profile stand in the London Pavilion.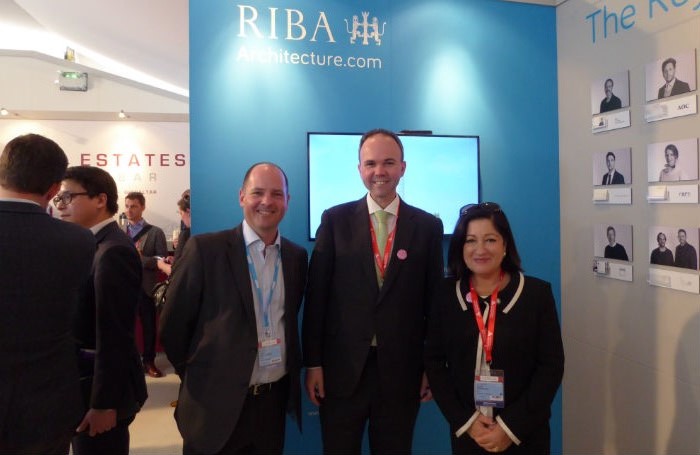 'This year we have had practices as small as two or three-strong. The only real limiting factor on size is that they have to be ready to take on developer-led projects, such as practices in transition from higher end residential to commercial work,' says Owen Wainhouse, RIBA Partnerships Manager.
Wainhouse says the MIPIM experience is about much more than getting work, it is about networking and building up contacts, including with influential fellow travellers from the UK.
RIBA support for practices attending MIPIM is offered as a service for Chartered Practices from anywhere in the UK. Wainhouse explains that a lot of the help given to practices takes place before the main event in Cannes.
Small practices get help preparing their marketing material and are offered business skills training on presentation and networking.
This year's RIBA stand offered photos of the member delegates and their work as well as video screen and projects boards.
Julian de Metz, founding director at dMFK Architects, had attended MIPIM before, but last week was his first time as part of the RIBA stand.
'My first visit was a bit Wild West, although it has to be said that the last two or three years at dMFK has been dominated by work that came from contacts made at MIPIM, including a collaboration with another architect and being put forward for a competition we subsequently won,' de Metz says.
'Having a presence on the RIBA stand this year gave us much more of a presence. It was a really positive experience and much more business-like. Owen [Wainhouse] always had our back and had already helped with a brochure, our presentation and tips on how to keep the cost down.'
Most practices attending MIPIM tend to consider attending in the months leading up to the event, but Wainhouse advises that any practices thinking of MIPIM 2018 will do much better by booking well ahead as flights and accommodation are dramatically cheaper.
The RIBA has an open call for Chartered Practices wanting to attend MIPIM, so practices can enquire about what RIBA support is available at any time. The process can be initiated by sending an expression of interest to mipim@riba.org
Thanks to Julian de Metz, founding director, dMFK Architects.
Text by Neal Morris.