CIC publishes Second Edition of BIM Protocol
19 April 2018
The Construction Industry Council (CIC) has published a new edition of the Building Information Modelling (BIM) Protocol that is more contract-friendly and aligns with BIM information standards.
The BIM Protocol, which sets out BIM-related contractual responsibilities, remains the only document of its kind, but has faced calls for revision since it first appeared in 2013 in response to the government's BIM strategy for public sector work.
The newly-launched Second Edition is more flexible and can be used on all Level 2 BIM projects, whether traditional or collaborative, and is intended to be incorporated into the contracts of all the project team.
With more contracts now referencing BIM, or to a lesser extent fully integrating BIM, the new Protocol has clearer options designed to avoid confusion over what takes precedence in the event of conflict, which should reduce the need for bespoke agreements.
The default is that the Protocol now 'piggy backs' on the main agreement, which takes precedence, although another option is for the main agreement to state simply that the Protocol as a whole takes precedence.
Architect Dale Sinclair, director of technical practice at AECOM and chair of the CIC BIM Forum, said: 'The CIC BIM Protocol is a crucial component of the UK's BIM Level 2 suite of documents. We are delighted that this latest version updates the protocol in line with comments made since its inception. This is an important step forward as we move towards a collaborative digital future.'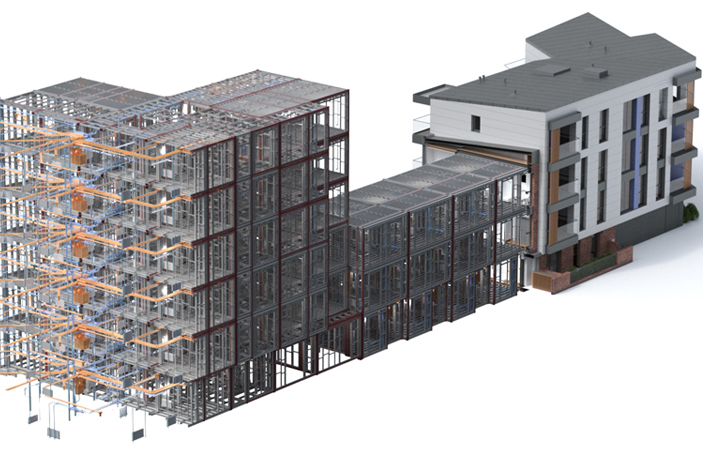 The new edition now closely aligns with the standard for information management used in BIM environments, 'PAS 1192-2', which sets out the framework, roles and responsibilities for collaborative BIM working and the scope of the Common Data Environment. Terminology is now uniform and there is more attention to management of information rather than just models.
Despite the original Protocol and PAS 1192-2 appearing closely together in 2013, their authorship had not been co-ordinated.
One of the main changes in the new Protocol is the inclusion of a Responsibility Matrix, which replaces the Model Production and Delivery Table. PAS 1192-2 provides for a Responsibility Matrix that sets out responsibility for model information production in line with defined project stages.
Architects should note that copyright provisions are now more flexible. Retention of copyright ownership and the granting of a licence by a project team member now applies only if the Agreement contains no provisions regarding intellectual property. This means that the Protocol can be used unamended where ownership will transfer to the employer, subject to any 'background intellectual property' ownership being asserted.
Security is also addressed differently in the new Protocol, which now complies with PAS 1192-5, the specification covering security threats to information.
The most recent BIM survey from the NBS – the NBS National BIM Report 2017 – found that BIM use continues to grow steadily, with 18% of respondents reporting that they use BIM on every project and 29% reporting its use on more than 75% of their projects. Meanwhile 78% agree that BIM is the future of construction project information.
Two years on from mandating of BIM on all government projects, however, two thirds think that the government is not doing enough to enforce the mandate and drive BIM use across the public sector.
Architects can download a copy of the 2nd Edition BIM Protocol from CIC.
Text by Neal Morris. This is a Professional Feature edited by the RIBA Practice team. Send us your feedback and ideas
RIBA Core Curriculum Topic: Procurement and contracts.
As part of the flexible RIBA CPD programme, Professional Features count as microlearning. See further information on the updated RIBA CPD Core Curriculum and on fulfilling your CPD requirements as an RIBA Chartered Member.
Posted on 19 April 2018.