Collaboration benefits conservation
11 January 2018
Recently appointed chair of the RIBA's Conservation Group, Fiona Raley, thinks more small practices can benefit from collaborations with specialist conservation architects.
Non-specialist practices are increasingly interested in conservation work, driven by the emerging sustainability agenda of the last decades and the desire to give existing buildings a new life.
Conservation has been quietly going mainstream. Conservation CPD events among non-specialist architects are frequently oversubscribed. In the schools, more students have been selecting conservation options where they are available.
A cursory look at the RIBA conservation accreditation lists shows that at all levels of accreditation the lists are no longer only comprised of people from the recognised specialist practices.
'The work has grown and has also become more creative, thanks in part to changes in the approach to the viability of heritage assets that encourage appropriate change where it does not result in harm to the significance of the asset. When appropriately understood, assessed and justified this approach is fully supported by Historic England,' says Raley.
'It is no longer just a matter of calling in a specialist to oversee repair work. Conservation philosophies and how to combine the old and the new are informing exciting and sensitive projects.'
But despite rising levels of interest, Raley finds collaborations with other practices are not as commonplace as they were for an earlier generation of architects.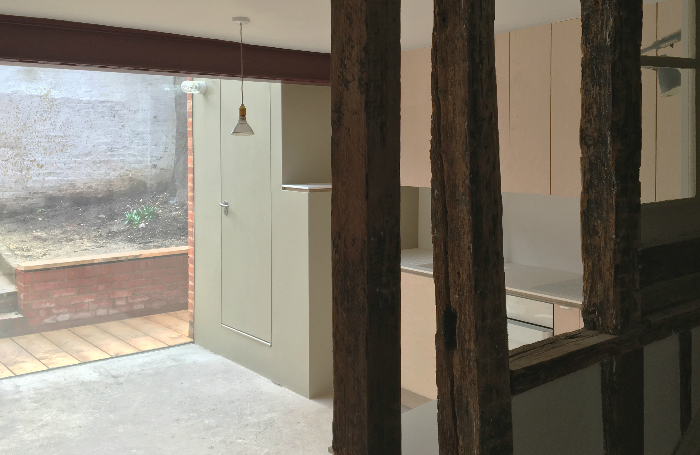 It is a concept that many small practices have yet to explore in terms of its potential, she suggests. At the other end of the scale, Raley finds that larger practices have built up long term and trusted relationships with specialist conservation architects that they readily call in as needed.
'Small practices should play to their own strengths and not be concerned if they do not initially have in-house expertise. Architects working with other architects is healthy and shouldn't be seen as a competitive concept. Electronic formats for work have made it so much easier to correspond and engage over projects remotely, avoiding costly meetings.'
Working for Margate based Studio Sam Causer, Raley markets her consultancy services to other architects. Collaboration might take the form of historic building reports, preparation of heritage statements, pre-application planning advice or advice on enforcement situations.
She is sometimes approached when the relationship with the local authority conservation officer appears to be breaking down or has become 'hostile'. In these situations, she can assume the role of mediator, shadow meetings and facilitate a way forward.
Conversely, bringing in a specialist conservation architect is often suggested to a developer's agent or design consultant by the local conservation officer, who will want to be satisfied that a sensitive project is being enhanced by specialist knowledge and understanding of the issues.
Collaboration should ideally be led by the client, avoiding the conservation specialist as sub-consultant to the lead architect, which can throw up contractual and indemnity issues, warns Raley. While the client may initially question the need for a second set of design fees, the lead architect can explain how the project would benefit from specialist design input with the specialist also acting as a consultant to the wider team.
'The issue to be mindful of is contacting the conservation specialist too late, when the design has been progressed but has not been informed by research and a greater understanding of the significance of the heritage asset. The best collaborations begin at an early stage, before any concept or design has been undertaken and leads to the specialist input informing and supporting proposals as they emerge.
'At its simplest, the collaboration can start on an as-you-need-it basis charged by the hour,' suggests Raley.
'The message I want to send to small practices and their clients is that collaborations can be very successful. Someone with perhaps twenty years' experience of conservation practice will bring real benefits to the project, and in-house staff can also gain the experience they will need to progress in conservation by following best practice on real projects.'
Thanks to Fiona Raley, Associate Director, Studio Sam Causer.
Text by Neal Morris. This is a 'Practice News' post edited by the RIBA Practice team. Send us your feedback and ideas.
RIBA Core Curriculum Topic: Building conservation and heritage.
As part of the flexible RIBA CPD programme, Practice News counts as microlearning. See further information on the updated RIBA CPD Core Curriculum and on fulfilling your CPD requirements as an RIBA Chartered Member.
Posted on 11 January 2018.