20 April 2017
This week's RIBA presentation on establishing collaborative research partnerships between practice, academia and industry showcased a spectacular success story in this year's RIBA President's Award winner in the Design and Technical category – the SuperTall Timber tower that looks down on all previous attempts at tall timber structures from a great height.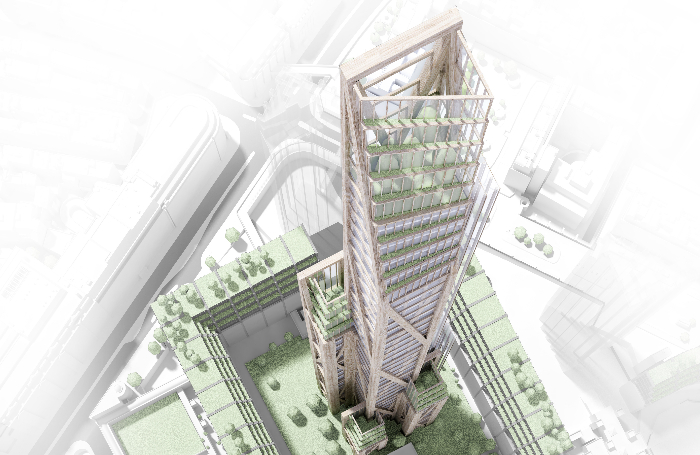 The winning team of PLP/Architecture, engineer Smith and Wallwork and the University of Cambridge School of Architecture came together to promote a greater role for timber in a future construction industry, and in particular to further the knowledge needed to make tall timber buildings a reality.
'Tall Timber' to date has topped out at 14 storeys in Norway, much lower in the UK and it often relies on a concrete core.
The Oakwood Tower that the collaborating team has demonstrated to be within the limits of structural timber rises to 80 storeys, or 305m.
The decision to place a notional tower on a site in London's Barbican to generate interest and debate among the public on their reaction to Supertall timber was a media-friendly story, with great visuals and picked up around the world.
At 80-storeys, a realised tower would become the second tallest building in London after the Shard.
PLP/Architecture partner Kevin Flanagan said the published proposals quickly generated international collaboration enquiries, from locations including the Czech Republic and the spiritual home of the high-rise, Chicago.
PLP/Architecture had been approached initially by the Cambridge researchers to collaborate on the project. Structural engineer Simon Smith, co-founder of third partner Smith and Wallwork, is also a design teaching fellow at Cambridge.
The team considered the architectural and structural requirements for tall timber, and the key connections and details, concentrating on existing timber materials, particularly cross-laminated. With the physical testing and structural modelling ongoing, one of key conclusions to date was that designs must focus on the stiffness limitations of timber rather than its strength limitations
They are confident that the research will have an impact in the UK and internationally. Timber is a great carbon-negative resource that can reduce the carbon footprint of a building by 60-75% compared to concrete.
'We can't leave timber to the craft builders on site, we have to mass produce,' said Smith, who said that their research should benefit from having both academic 'push' and industry 'pull' into existing markets.
Flanagan revealed that we could see the first genuinely high-rise timber tower in as little as a year's time if discussions taking place between the research partners and an as yet unnamed developer prove successful.
Flanagan said the developer already had the city planners onside and had negotiated a height increase well beyond an earlier proposal for the same site. They are currently discussing 26-30 storeys, not quite Oakwood's 80-storeys but still a massive step change for tall timber structures.
'And if it goes up, it will go up very quickly,' added Flanagan, explaining that the team had been looking at rapid construction options for Oakwood, involving robotics and jacking the structure up as you build from below.
The second-half of the RIBA's research evening event heard from three speakers whose research has been highly collaborative introduced by RIBA Head of Research and Innovation Dr Kat Martindale.
Dr Anastasia Karandinou, Senior Lecturer at the University of East London, described her collaboration with Arup researchers among others on walking and way-finding and the neurological processes in the brain that are involved. The research has recently been published as 'Data and Senses; architecture, neuroscience and the digital worlds'.
Second speaker Dr Joe Jack Williams, researcher at Feilden Clegg Bradley Studios, a practice with more collaborations than the RIBA has ever seen discussed how collaborations with academia had developed and advocated for collaborations within practices.
They were joined by Xavier De Kestelier, Principal and Head of Design Technology and Innovation at HASSELL, who urged architects to look beyond their own fields for the most interesting collaborations.
He recalled being the only architect present (while at Fosters) in a brainstorming sessions at NASA's Jet Propulsion Lab. So it can be rocket science.
Text by Neal Morris, © RIBA