21 November 2019
Permitted Development Rights (PDR) to convert office buildings to residential use have had a widespread take-up across the UK since their introduction in a 2015 Order, followed by their confirmation as a permanent right in 2016. PDR essentially provides the right to develop without the need to apply for planning permission.
However, housing created through these conversions has often been low quality, as found in a report by the practice Levitt Bernstein earlier this year and updated in July.
The report, 'Why the government should end permitted development rights for office to residential conversions', catalogues instances where the scheme has resulted in poor quality homes.
It also covers the evident shortcomings of the system for office to residential conversions, including: chronic space shortage; the ignoring of basic standards of light and ventilation; and inappropriate locations (for example, housing that places vulnerable families on industrial estates).
Lack of space is the most glaring deficiency in the report's case studies. The government's Nationally Described Space Standard (NDSS) recommends a minimum internal floor area of 37 square metres for a single-person studio or apartment. Permitted conversions, though, have produced a significant number of studios at around one third of this size, with many even smaller. Once case study about a dwelling in Purley, south east London, was a mere 8.3 square metres in total: a size more akin to that of a child's bedroom.
While the Nationally Described Space Standard is only optional for local authorities, the government also has a Housing Health and Safety Rating System (HHSRS), based upon the principle that any dwelling should provide a safe and healthy environment, and be free from both unnecessary and avoidable hazards. HHSRS informs the Homes (Fitness for Human Habitation) Act 2018, which became law earlier this year: allowing a tenant to take their landlord to court if they believe their home is unfit for human habitation. It sets out additional criteria, including the need for adequate facilities for food preparation.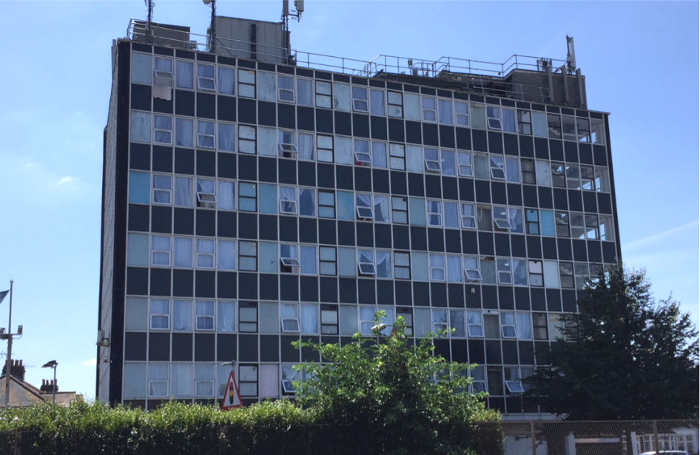 So while office to residential conversions don't require planning permission, poor quality results may still be challenged in court. A conversion in Leeds where studio flats started at just 10 square metres was recently legally tested against the HHSRS following action taken by Leeds City Council.
The judge cited the NDSS as an appropriate benchmark against which the hazard of 'Crowding and Space' could be judged, and also found one basement flat to have unacceptable levels of natural light (despite it having a window).
The Levitt Bernstein report finds that most of the flats described in its case studies, and thousands of similar examples of conversion, are likely to contain 'Crowding and Space' hazards, or similar. Another case study they identified is a proposed conversion in Watford, in which seven of the flats would have no natural daylight at all.
The report's authors are confident that other local authorities will follow Leeds and challenge conversions for failing to meet HHSRS standards. They argue that when developers fail to set their own red lines, the planning system must be allowed to step in and that, as PDR prevents this from happening, it should end.
At the Conservative Party Conference in October 2019, Housing Secretary Robert Jenrick announced that the government is looking at allowing commercial buildings to be demolished and rebuilt as homes through the relatively new Planning in Principle (PiP) route.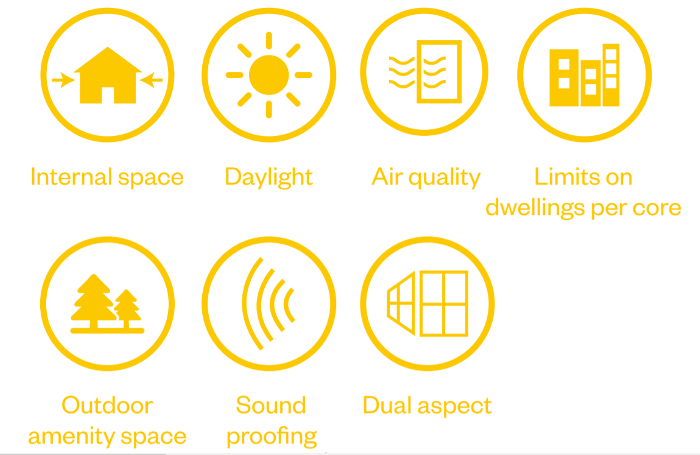 Such schemes would subsequently need to apply for Technical Details Consent, which would give planners far more scope to block unacceptable applications. The proposal is expected to feature alongside reforms to PDR that the government has been considering in an 'accelerated planning green paper' due to be published later this month.
Julia Park, outgoing chair of the RIBA Housing Group and one of the authors of Levitt Bernstein's report, suggests that while PiP is undoubtedly better than PDR, its introduction for office conversions would merely add complexity to the system. Developers seeking early certainty on development can already establish this through outline approval before preparing a full planning application.
'Why the government should end permitted development rights for office to residential conversions' is free to download from Levitt Bernstein.
Thanks to Julia Park, Head of Housing Research, Levitt Bernstein.
Text by Neal Morris. This is a Professional Feature edited by the RIBA Practice team. Send us your feedback and ideas
RIBA Core Curriculum Topic: Places, planning and communities.
As part of the flexible RIBA CPD programme, Professional Features count as microlearning. See further information on the updated RIBA CPD Core Curriculum and on fulfilling your CPD requirements as an RIBA Chartered Member.