Comprehensive programme on offer to Future Leaders
11 January 2017
Tickets go on sale today for the RIBA's 2017 Future Leaders programme, developed to give up-and-coming talent the skills to become the profession's next generation of leaders.
Previously offered as three standalone afternoon seminars, the revised programme has been developed in response to feedback and recommendations of the Future Leaders steering group.
Now entering its sixth year, the series has been intensified to become three whole-day seminars that will add up to a more comprehensive programme, but with events still held at two-monthly intervals.
Over the course of these three days the programme will now present: an introduction to leadership – vision, strategy and planning, engagement and delivery; profile building, communication and presentation; and business and innovation.
Former delegate Tom Foggin of R H Partnership Architects says the new format for 2017 will be an opportunity for delegates to immerse themselves fully in the themes for discussion. The programme will cover a range of key themes for anyone looking to improve their skills, not only relevant to practice leadership, but also to working in design teams and with colleagues.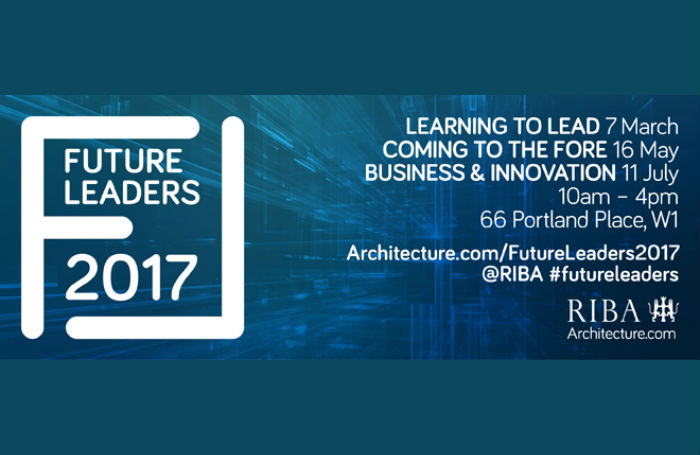 'As well as personal development, the Future Leaders series is a great way to meet like-minded professionals and share experiences in an open forum,' says Foggin.
'Although design is an important part of what we do as architects, I'm aware that there are many different aspects to professional life. Attending the Future Leaders series broadened my understanding of professional practice and offered new insight into leadership skills which, I hope, will help me develop as a professional and progress my career.'
Karen Mosley, the director at HLM responsible for developing the skills/behaviour frameworks and learning pathways for the practice's in-house HLM Academy, says individuals spend a long time mastering the art of being an architect, but less time learning to lead.
'The RIBA Future Leaders series is a great vehicle to upskill future generations, enabling practices to identify and develop their rising stars,' Mosley says.
'The programme will help people to become better leaders by offering business and communication skills which will help drive forward their careers, get their practice more future focussed and act as role models to others considering entering the profession. It's vital that we continue to look up from the here and now, and innovatively pave out our future not only as individuals but also as a profession.'
Mosley argues that professionals need to have the skills to lead in a dynamic and evolving environment whatever their role or point in their career.
Leadership guru Steve Radcliffe, who will kick off the first seminar with a keynote talk, says far more people have leadership potential than realise it.
'I believe one of the factors holding many of us back from growing as leaders is that we don't have an overall grasp of what it's all about. Many of us have a number of ideas about leadership without seeing how they all fit together,' he says.
You can read the first two chapters of Steve's best-selling leadership book, 'Leadership Plain and Simple', for free here.
More information and booking forms for the 2017 Future Leaders programme are now available.
Thanks to Tom Foggin at R H Partnership Architects; Karen Mosley, director, HLM Architects.
Text by Neal Morris, © RIBA