31 July 2017
Five award-winning practices have been invited to continue on to the final round in the competition to design a flagship Clore Learning Centre at the RIBA's iconic London headquarters, 66 Portland Place.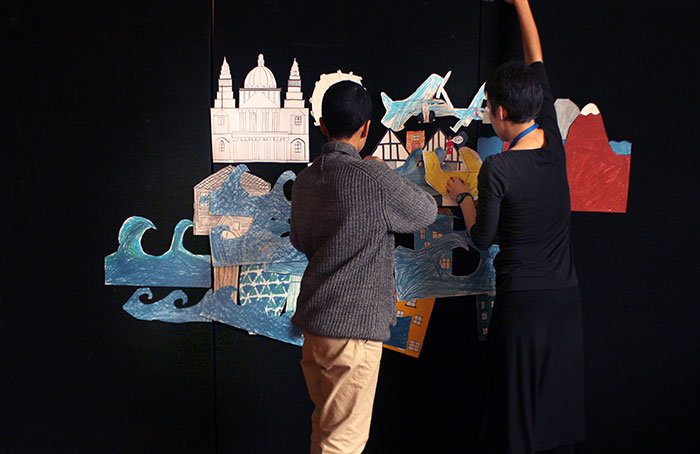 The shortlist was selected from 47 Expressions of Interest that outlined initial ideas for the 365m2 space, which will include a large studio, study room, terrace and display area:
AOC Architecture
Coffey Architects
Delvendahl Martin Architects
Featherstone Young
Hayhurst & Co.
Made possible by a generous grant from the Clore Duffield Foundation, the new space will provide an inspiring setting for the public – children, students, adults and lifelong learners – to explore architecture through hands-on, creative workshops and courses led by architects, artists and educators. The new Clore Learning Centre will provide a permanent home for the RIBA's ambitious Learning programme that is already serving 10,000 people per year.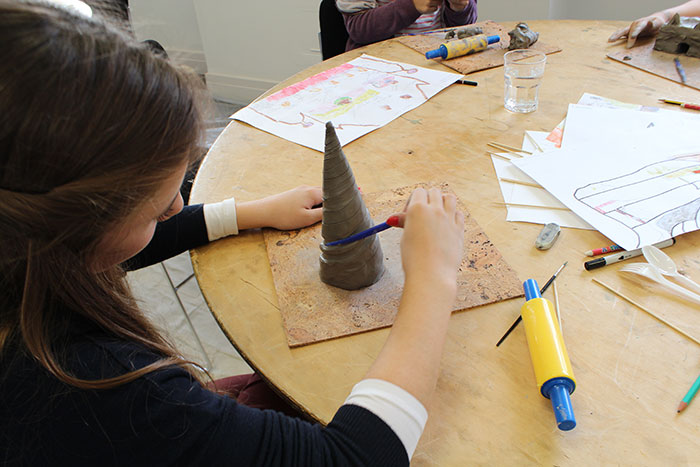 The shortlisted teams will now work up their design proposals for the final round of the competition before a winner is selected on 22 September 2017 by a prestigious selection panel that includes Dame Vivien Duffield, Chair of the Clore Duffield Foundation and RIBA President Elect Ben Derbyshire.
The shortlist, in their own words:
'AOC is a practice of architects and designers based in East London. Established in 2005 they have gained international recognition for their inventive inquiry, participatory practice and characterful designs.
The practice is committed to a generous architecture that is particular, participative and valuable. Completed work includes a diverse range of buildings, as well as exhibitions, public realm, landscapes, interiors, temporary installations and neighbourhood masterplans.
They recently completed The Green, a low-carbon, resident-run public building that won an RIBA Regional London Award 2017, was nominated for the Design Museum's Designs of the Year 2016 and was shortlisted for the MacEwen Award 2016 for 'exceptional architecture for the common good'.
Previous projects include the Reading Room at Wellcome Collection, "London's best new public space" (The Telegraph); Somerset House Studios, the transformation of the New Wing of the Grade I listed Somerset House to create studios for artists, makers and thinkers; a new Learning Commons at Roedean School, Brighton; and the phased redevelopment of The National Archives, Kew.
The practice has won numerous architectural competitions and was recently shortlisted for the National Trust's £30m project to restore and reimagine Clandon Park. Its work has been internationally published and exhibited, including the Royal Academy, V&A, the British School in Rome and Venice Biennale 2008.
The practice's work is nourished through research and collaborations with experts, academics and students. The directors teach in London, lecture in Europe, USA and Asia and have been the Louis I. Kahn Visiting Professors at Yale. They currently sit on a number of London design review panels and contribute to contemporary architectural culture through writing and public debate.'
'Over the past decade, Coffey Architects has developed a reputation for highly crafted public, residential and commercial schemes that surprise and delight. We deliver projects of all scales to tight deadlines, offering value through beautiful design, as well as considered strategic and intelligent thinking.
Our success is founded on significant experience working on exceptional projects with well managed teamwork. We are group of talented and dedicated architects who share a culture of excellence, and our projects have been recognised with a clutch of awards, including RIBA Regional Awards in 2017 and 2016, MIPIM UK Visionary Architect/Master Planner of the Year 2016, New London Awards in 2017 and 2016, BD Young Architect of the Year 2012, and the RIBA Stephen Lawrence Prize 2011.
Our interest in light and threshold, and their relationships to distinct, user-focused design has led to three completed learning centres, all of which have been celebrated with an array of industry accolades. Additionally, we have delivered cultural projects for internationally renowned institutions, including the British Film Institute and the Science Museum Group.
We are currently instructed by some of the UK's leading developers, including Argent, Stanhope, Pegasus Life and U&I. We are also working with the London Borough of Croydon to deliver over 113,000 sqft of housing across 10 sites owned by Brick X Brick, the borough's own development company.'
'Since Delvendahl Martin Architects was established in 2009 we have been working on projects ranging from small-scale installations to master planning and from private houses to regeneration projects. The diverse range of projects our practice engages in is deliberate rather than coincidental, as it allows us to operate simultaneously across different scales, typologies and disciplines.
Whilst most of our work is built, speculative projects, competitions and collaborations form an important aspect of our practice as a platform for testing ideas. This process is further complemented by our own research and teaching.
Our client list includes local Councils such as Southwark and Newham, housing associations, private developers as well as social enterprises such as Stratford Circus and the Bow Arts Trust with whom we have recently collaborated on the fit out of the ground floor commercial space of a series of residential blocks at Royal Albert Wharf, providing flexible and adaptable workspaces for up to 50 artists, including a communal café, exhibition space and yoga studio.
Other recent work has included the comprehensive refurbishment of the Grade II former Credit Lyonnais headquarters at 30 Cannon Street, which involved the reconstruction of the 5th floor, a new roof terrace and the refurbishment of the entrance lobby. Currently we are also shortlisted for RIBA's Co-Living competition.
Most importantly, all our work is about building relationships that develop and evolve throughout the creative process: Architecture is part of a wider cultural condition with a specific set of human, environmental and historical circumstances that need to inform the design process.
Through this process our clients become collaborators and conversations expand beyond the architectural or urban confines of a project, and often involve engaging a wider community through consultation in both the public and private sector, where our in-depth understanding of the planning system has resulted in a highly successful track record of achieving planning consent.'
'Featherstone Young is an award-winning architectural practice headed by Sarah Featherstone and Jeremy Young, founded in 2002. The practice is recognised internationally for innovative and inspiring architecture, and for bringing design ingenuity to civic and community projects, new-builds and heritage renovations.
Featherstone Young sees architecture as a process of place-making; capturing a sense of place and identity is a crucial part of their design thinking. As a result each of their buildings has unique and distinct qualities that respond both to a sense of place, as well as to the ethos of the building commissioner and end user. In public projects they are credited for listening to various users and navigating a complex brief to create inspiring and beguiling spatial sequences.
The practice has earned a reputation for building overtly modern, site-specific buildings in both urban and rural locations. Built works in urban locations include: Waddington Studios art gallery and photographic studios in London (2015); installations at Central St Martins King's Cross campus and a entire redevelopment of the Byam Shaw campus, London (2014); Dellow Arts and Activity Centre, a flexible new-build for a homeless charity in East London (2011); and SERICC (South Essex Rape and Incest Crisis Centre), a building renovation which branded the centre with its signature 'listening ears' (2007).
Projects in rural locations include Jack Windmill, South Downs National Park (2017), and Sarah and Jeremy's own house, Ty Hedfan (2010), which is celebrated as an exemplar approach to a national park site by Pembrokeshire Council.
Projects in development include Oriel Wrexham People's Market in Wales, a new arts and cultural centre integrated with retail units and indoor market which is due to complete in spring 2018. Also new housing, commercial and community mixed use development on a prominent quayside location in Newcastle for UK developers, Igloo.
All of the above projects have received awards including the prestigious RIBA awards for Jack Windmill, Dellow Centre, Ty Hedfan, SERICC Crisis Centre and Waddington Studios.'
'Founded in 2004, Hayhurst and Co. has built up a portfolio of spaces that are sensitive and sustainable, innovative and humane and refined and delightful.
We are interested in how architecture can respond to emerging patterns of living, learning and leisure and how we can provide individual and shared benefit in a better-built environment. We have explored this through projects at multiple scales and are fascinated with the peculiarity of daily rituals, ideas of architectural generosity and the spirit of the collaborative processes.
Our designs for learning spaces emerge out of an understanding of the specific educational and physical context of each site and by challenging how pupils, staff and visitors will use their new spaces. Our work for learning spaces is rooted in a belief that the design of a child's environment – both inside and outside of a formal classroom - plays a central part in nurturing their education and that the design of every learning environment can be tailored to suit its site and the ethos of an institution and its' learners.
Our work for education environments has simultaneously explored the 'internal' spatial dialogue between educator and pupil and the 'external' material dialogue that school design can have with its urban fabric and landscape character.
We have won five RIBA Awards in the last six years, as well as the NLA Best Education Building in 2013, the AJ Retrofit Best Education building in 2014, and the International Architectural Review Schools Award in 2015. In 2016, our 'Garden House' was a finalist for the RIBA House of the Year and this year our 'Whole House' is long-listed for the 2017 award.
Our work has been widely published nationally and internationally and we were featured in the Architecture Foundation's 2016 publication 'New Architects 3 – Britain's Best Emerging Architects.''