Wanted: Creative Director for Guerrilla Tactics 2018
01 February 2018
The search is on for the Creative Director of this year's Guerrilla Tactics, the flagship event for small practices and now one of the biggest membership events in the RIBA calendar.
The Creative Director gets to put their personal stamp on the event by conceiving the conference theme and developing the programme. It is also a networking opportunity without parallel, with the satisfaction of knowing that the benefits will flow to the profession as well as to the creative individual at its centre.
The two-day Guerrilla Tactics 2018 event will focus as always on essential business skills and how architects can develop their practices through innovation. The challenge will be to generate the level of interest that saw over 230 delegates attend last year and attract an even wider audience, particularly among young and newly-qualified architects.
Working closely with the Guerrilla Tactics steering group and the RIBA team, the Creative Director will be primarily responsible for identifying session topics and liaising and briefing speakers and participants.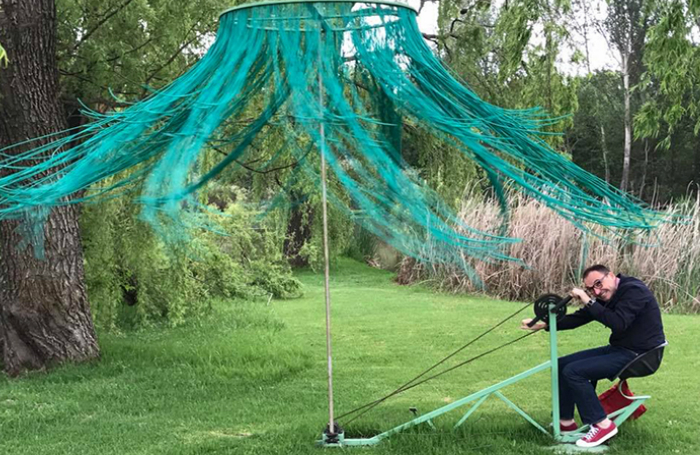 This year the steering group has expressed interest in receiving proposals that focus on:
social benefit
architecture as an expanding field
collaboration
marketing or promotion
This is not a closed list however, and the group is open to alternative proposals that combine the aspirational with business effectiveness and innovation.
Recent conference themes have explored 'Client Perspectives' (2015), 'Super Models' (2016) and last year's 'The Power of Small', which looked at how small practices can exploit their greater agility to innovate and take advantage of emerging technologies.
The Creative Director role requires a commitment of up to 15 days between March and November 2018, including attendance at monthly steering group meetings. A fee of £5,000 will be paid in instalments.
Looking back at November's Guerrilla Tactics event, its Creative Director David Miller, Founder and Principal of David Miller Architects, says the experience gave him a unique opportunity to structure his own thoughts about practice in a way that is not possible in the everyday fray of practice.
'It makes you think hard about what is important,' says Miller. 'Guerrilla Tactics was a chance to be exposed to the strengths and depths of the profession. You learn from the people you meet – both from the steering group and those you approach to be involved in the day.
'It was a very positive experience in terms of realising how collaborative small practices are and other practitioners' willingness to share. There was an amazing camaraderie on the day among delegates – I came away with a network of similarly-minded practitioners, a sense of being part of something.'
It is testament to the exposure the event generates that as a result of his appointment Miller received an invitation from the Pretoria Institute of Architecture (PIA) to undertake a tour of South Africa.
With a distinct echo of 'The Power of Small', Miller gave talks at the PIA's Design Build conference and at the South African Institute of Architects' KwaZulu-Natal offices entitled 'The Small Business Approach to Big Business'. The PIA was keen to hear how David Miller Architects has successfully organised all of its business practices and work flow to accommodate and benefit from BIM.
What advice would Miller give to this year's Creative Director?
'My advice is to break the back of the programming early, particularly the nailing down of speakers and specifically the keynote. Getting the right line-up is time consuming. This is particularly challenging when you are looking for high-profile individuals outside the profession. Their contribution is key.'
Miller managed to land Sam Bernard, Global Category Director of Engineering at Dyson, and Dr David Halpen, Chief Executive of the Behavioural Insight Team – the 'Nudge Unit' – at the UK Cabinet Office.
'They hit all the right notes,' adds Miller.
Further details of the Guerrilla Tactics 2018 Creative Director role and job description are now available.
Applicants must include a completed proposal form (downloadable from the RIBA job description) for this year's theme, along with a short CV, submitted to practice@riba.org. Deadline for submissions has been extended to midnight on Sunday 4 March.
Thanks to David Miller, Director and Principal Architect, David Miller Architects.
Text by Neal Morris. This is a Professional Feature edited by the RIBA Practice team. Send us your feedback and ideas.
Posted on 1 February 2018.