05 November 2020
Industry bodies have drawn up new guidance on the changes to Building Regulations introduced to end the use of combustible materials on certain high rise buildings.
Widespread requests from practitioners for greater clarity and detail prompted the Centre for Window and Cladding Technology (CWCT) and the Society of Façade Engineering (SFE) to jointly publish its freely available CWCT/SFE fire guidance.
Informed by extensive discussions with a range of organisations including the RIBA, it is a pragmatic interpretation of the regulations that addresses a variety of potentially conflicting interpretations. Architects are urged to read it.
Changes to regulations were introduced in November 2018, banning the use of combustible materials in external walls of applicable buildings in the wake of the catastrophic fire at Grenfell Tower. The key changes were to Regulation 7, which establishes specific requirements for materials and workmanship, and the associated revised guidance in Approved Document B.
For the buildings covered by the amended Regulations, the changes also brought to an end the testing of mock-up demonstration systems by fire engineers as an alternative route to compliance.
The regulations were intended to be simple and it was always recognised that further interpretation would be required, points out David Metcalfe, Director of CWCT, Chair of the SFE's Fire Committee, and lead author on the new guidance.
Regulation 7 requirements do not reflect the complexity of modern building envelopes and leave some ambiguity over which materials may or may not be used, and the circumstances of their use. Much of the CWCT/SFE guidance is concerned with clarification of definitions and addressing loose terminology that does not always match the terms actually used in different applications.
There are uncertainties around the list of materials exempted from the combustibility standards due to their part in the performance of facades when there are no non-combustible alternatives available; and where their absence makes it difficult to satisfy other regulatory requirements such as safety, thermal performance and weathertightness.
One common call for clarification concerns cavity trays, which have been made exempt from the ban when they are between two leaves of masonry. Metcalfe points out that twin leaves of traditional masonry are never used in high rise buildings. Where a framed back wall is used, cavity trays must still meet the combustibility requirements set out in of Regulation 7(2).
The practical difficulties in fabricating non-combustible metal cavity trays on site – and the fact that the exemption is under review in a wider government consultation launched in January – all highlight how fluid the regulatory situation remains.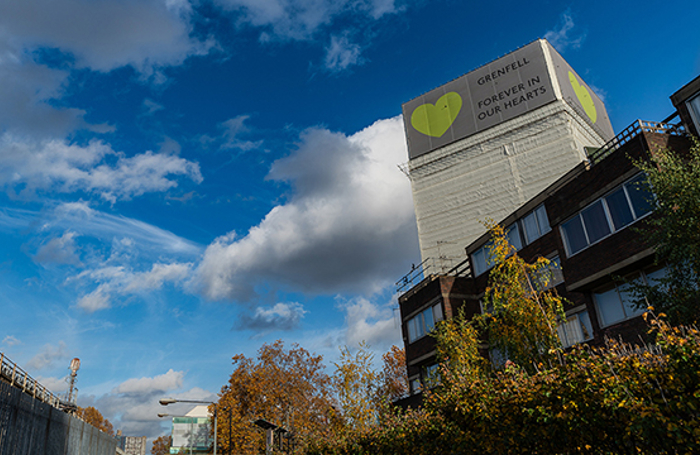 Another frequent source of enquiries is laminated glass and exactly where it may be used. The CWCT/SFE guidance looks at this in some depth. It expresses industry concern over the effective banning of laminated glass on balcony balustrades on residential buildings higher than 18 metres, despite safety concerns over the alternatives.
It is also outlawed as the outermost pane of glazed spandrel units. The guidance concludes by highlighting the urgent need for more research on the safety of laminated glass in order to provide clear formal guidance.
Metcalfe points to this as an example of the difficulties that are currently being faced, partly due to the lack of evidence available. However, the industry has responded positively, with research and testing currently being undertaken to better understand the role that such materials play in external fire spread.
Mark Taylor, Technical Director at Allies and Morrison and the RIBA's main liaison, says the new guidance should be regarded as an essential place holder until more research and testing can be done.
"The guidance is aiming to plug a knowledge gap," Taylor clarifies. "Insurers and lenders want certainty, and we still don't have that. This is a first step on the ladder to achieving a consistent approach for industry."
Metcalfe is urging all architects to read the guidance. In addition to discussing individual materials it also highlights complex regulatory framework which everyone should understand. The CWCT and SFE see the guidance as very much a live document that will continue to be developed and are keen to receive feedback from practitioners to help inform this.
Read the CWCT/SFE fire guidance.
Thanks to David Metcalfe, Director, Centre for Window and Cladding Technology; Mark Taylor, Technical Director, Allies and Morrison.
Text by Neal Morris. This is a Professional Feature edited by the RIBA Practice team. Send us your feedback and ideas.
RIBA Core Curriculum: Sustainable architecture.
As part of the flexible RIBA CPD programme, Professional Features count as microlearning. See further information on the updated RIBA CPD Core Curriculum and on fulfilling your CPD requirements as an RIBA Chartered Member.
Posted on 5 November 2020.