David Miller on Guerrilla Tactics 2017
29 November 2017
When I was first approached to be Creative Director for the 2017 Guerrilla Tactics, my initial thoughts were 'how can we make this year's event a celebration, not only of architecture, but of the achievements and the outstanding quality of work, commitment and innovation we all deliver on a daily basis?'.
The very essence of the 2017 Guerrilla Tactics focused on the power of being small and the key element to this is in the word 'power'.
As small practices, our ability to change quickly and adapt to new situations and evolving environments is where our advantage lies. We therefore hold the power to think differently and adopt a flexible approach.
This event was specifically designed to engage, educate and guide small practices through a pathway of excellent ideas and actual delivery methods - not just talking about what we should be doing, but saying this is how you do it, and it was great to have Jane Duncan join us too. With Jane being synonymous for her support of small practices and the founder of Guerrilla Tactics.
For me, this year's event was particularly meaningful, I felt there was an aura of the shared celebration we were aiming to achieve, a unity amongst my fellow SMEs that we are true innovators and dare I say, disruptive thinkers.
And this very theme ran through both of our Day One keynote speakers; Sam Bernard, Global Category Director in Engineering for Dyson and Dr David Halpern, Chief Executive of the Behavioural Insights Team at the UK Cabinet Office.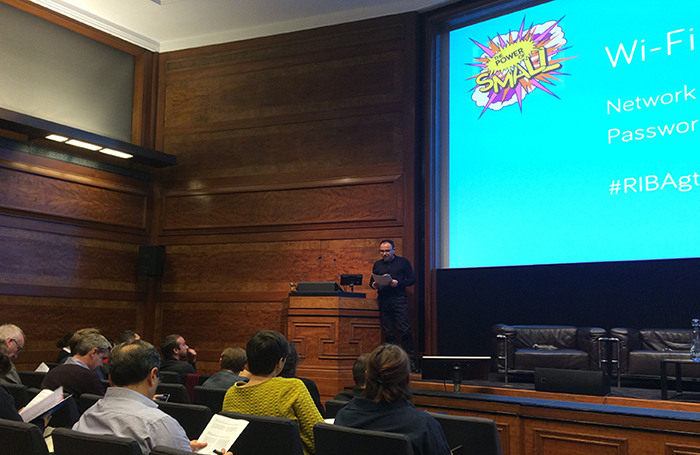 Disruptive innovation doesn't have to be a grand re-invention of the profession or of our services; rather, it's the consequence of lots of thoughtful, smaller and incremental changes.
Whether these are around better systems and processes to make us more efficient and profitable, or new and enhanced services that will help distinguish us in a crowded market place, they all add up to be impactful.
Sam began by describing how, despite being a distinctively large organisation of over 7000 people, Dyson still think of themselves as a small business due to the clarity of a single owner. At Dyson, Sam told us, they purposely keep their design and innovation teams small so that the creativity flows freely and isn't lost by the large-corporation mentality or indeed bureaucracy.
Inspired by Clayton Christianson's disruptive innovation theory, which describes a process by which a product or service takes its roots initially at the bottom end of the market, and grows by focusing on in its larger, established customers, hence leaving a gap for smaller organisations to move in to take its place - aka new 'disruptive innovators'. This means for the observant SME the more opportunity exists.
Sam's take on this process, as a market leader, is that they need to avoid this from happening and they do this by predicting what the market needs next and more to the point, providing it before anyone else. They are continually looking for gaps in the market and to do so requires a long-term commitment to R&D, looking into what customers might want in the future, therefore avoiding being disrupted.
The key take-away from Sam's talk was that if you don't innovate, someone else will.
It really was fascinating to hear how open Sam was when talking about the Dyson culture and their operational tactics, plus the realisation that this is actually more applicable to SMEs than we realise (not just architecture, but any market place), it's not rocket science, just good sound business sense, that we are all capable of delivering.
Our second keynote speaker was Dr David Halpern. David has led the Behavioural Insights Team or 'Nudge Unit' (I had been really looking forward to saying that) since its inception in 2010. Prior to that, David was the founding Director of the Institute for Government and between 2001 and 2007 was the Chief Analyst at the Prime Ministers Strategy Unit.
Having recently written a book about his team's work entitled 'Inside the Nudge Unit, How Small Changes Can Make a Big Difference', David's talk was fascinating and brought a completely new perspective to the floor.
Above everything else, what was the greatest outcome of David's talk was that small changes can often make the greatest impact and his view was that size shouldn't matter, what does matter is how we measure our deliverables.
David's key take-away was that for success to be meaningful, we actually need to measure our output, therefore constantly seeking evidence and gaining useful, productive feedback. The nature of feedback predicts that SMEs are more likely to gain positive comments than their larger counterparts due to their ability to offer a personalised service. Use this to your advantage.
What also stood out for me from Sam and David's talks, was that having people from outside the industry delivering keynote presentations stopped us from being introspective, and placed the disruptive thinking theme in a bigger context, sometimes the best ideas on what works for us can come from beyond the boundaries of our industry. The idea of disruptive innovation really does create opportunities to break into bigger markets, generating a foothold into a new space for growth.
There is a misconception that small practices are seen as 'boutique' designers, while the larger practices sweep up all the bigger, more exciting work.
As a result, the ambition of starting up a small practice and growing it to do larger more interesting projects, has become increasingly difficult. It is thanks to events like Guerrilla Tactics which empower us to rethink our services and offer insight into how to succeed.
And no better way to demonstrate this was throughout the collective of speakers we had throughout the event. Their enthusiasm for change and working better in new and innovative ways was very inspirational.
Our collective talked about how they have taken their services into new territories, shared tactics and their business delivery approach. We saw how offsite construction is playing a massive part in the future of design and build, the up-surge of BIM adoption and the use of digital construction methodology, 3D printing, robotics and how architects can be successful entrepreneurs.
Every speaker gave really usefully takeaways. This allowed the audience to not only digest and process the success stories they had heard, and the guidance they had received, but to think about how to apply this to their own practice.
I must compliment the work of Helen Castle and Chantal Nunes from the RIBA for pulling the day together, in my opinion it was a celebration and I hope those of you who attended would agree with me.
The event was also a credit to the members of the steering group, each of which deserve a thank you; Chris Bryant, alma-nac, Cassion Castle, Cassion Castle Architects, Rachael Davidson, HÛT Architecture, Barbara Kaucky, erect architecture and Petra Marko, Marko&Placemakers.
I am proud of what was achieved at Guerrilla Tactics 2017. I compliment the speakers and our audience for their contribution to celebrating the power of being small.