Department for Education gives go-ahead for architecture apprenticeships
22 March 2017
The 'Architecture Trailblazer' group of practices has won approval from the Department for Education (DfE) for its initial proposals for apprenticeship schemes for both architectural assistant and full architect qualifications.
The 18 practices in the Trailblazer came together last year with the support of the RIBA's Practice and Education Departments to develop an industry-led apprenticeship scheme ahead of the government's apprenticeship levy on large employers due to come into force in April.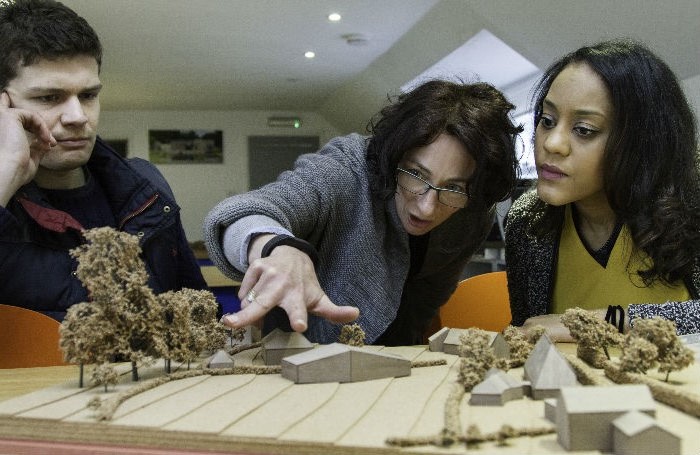 'The Architecture Trailblazer was thrilled to receive government approval to develop two new architecture apprenticeship standards. We now have the challenging and exciting job of designing standards that accurately describe and provide a route to professional competence in architecture,' says Trailblazer chair Charlotte Sword, Global Head of HR at Foster + Partners.
'We look forward to working with our partners across industry and education to create programmes that cultivate high-quality talent in architecture.'
The proposal submitted to the DfE earlier this year was for two apprenticeship routes:
Architectural Assistant, a Level 6 qualification that would be the equivalent of Part 1 and would take four years, with 20% academic training and a degree being awarded upon completion.
Architect, a Level 7 qualification that would take four years (beyond Level 6/Part 1), again with 20% academic training and no further studies required for registration.
The Architecture Trailblazer's stated aim is to have the scheme up and running in 2019, but member practices are hoping to have detailed standards approved next year if practicable.
Once running the scheme will be open to all practices interested in offering apprenticeships. Funding will be available from the government's apprenticeship levy pot, created from the imminent levy on all large UK employers with an annual payroll of more than £3m.
Welcoming the DfE's approval for the proposals, RIBA Director of Practice Lucy Carmichael said: 'The approval of the Expression of Interest to develop two apprenticeship standards for architecture marks a significant first step on the path towards a more socially inclusive architectural profession.
'Foster + Partners, supported by a group of 18 RIBA Chartered Practices of different scales from across England, have driven forward this opportunity to develop the skills employers need and improve access to careers in architecture. The RIBA team look forward to supporting the Trailblazer Group in developing and promoting the standards.'
Trailblazer practices are already considering how they will offer the apprenticeship scheme and what resourcing will be required.
Karen Mosley, who heads HLM Architects' in-house training and professional development Academy, says the practice is looking at three annual apprenticeship starts at assistant and full architect level.
'There will be an increased level of support required initially to that currently provided to Year Out students, but we don't see this as an issue as the apprenticeship scheme will help to equip individuals with the skills that we as an employer need from day one,' says Mosley.
'No doubt developing a new apprenticeship standard for architecture will have its hurdles. We need to make sure this alternative route to education is recognised with the same pride as traditional models which will take the skills of our profession and our businesses to a new level.'
Kat Isles, HR manager at Pollard Thomas Edwards (PTE) expresses similar hopes for the scheme: 'Apprenticeships are a unique way to combine on the job training with off the job learning and provide employers with an effective way of growing our skills base. It is therefore incredibly important that we develop a robust and respected standard that is of equal value to full time university qualifications.'
PTE will initially take one apprentice for the assistant Level 6 qualification and one for architect at Level 7.
'PTE have in place mentoring support for year out students and staff studying towards their educational and professional qualifications. The Employment Mentor is responsible for directing the student's work and supervising and guiding the student's professional experience,' says Isles.
'We would adopt the same approach with Level 6 and Level 7 Architectural Apprentices, as it would be important that apprentices are supported in making the challenging transition from school or college into work, enhancing their experience and adding and creating a proactive environment that builds on motivation and commitment.'
With the DfE's approval, work on developing the apprenticeship standards in detail will now begin.
'Developing the standard is a brand new process, so we don't know exactly how it's going to work and it will require joined up thinking between the RIBA, ARB and architecture schools and practices,' Isles adds.
The Trailblazer practices are:
Allford Hall Monaghan Morris
Building Design Partnership
Feilden Clegg Bradley Studios
Foster + Partners
Grimshaw Architects
Hawkins\Brown Architects
HLM Architects
HOK International
HTA Design
Lipscomb Jones Architecture
Perkins + Will
PLP Architecture
Pollard Thomas Edwards
Ryder Architecture
Scott Brownrigg
Seven Architecture
Stanton Williams Architects
TP Bennett
Thanks to Charlotte Sword, Partner, Global Head of HR, Foster + Partners; Karen Mosley, Director, HLM Architects, Kat Isles, HR Manager, Pollard Thomas Edwards.
Text by Neal Morris.