Design drawing for Chloes kitchen 1981
24 November 2015
Art inspiring design for the homes of artists.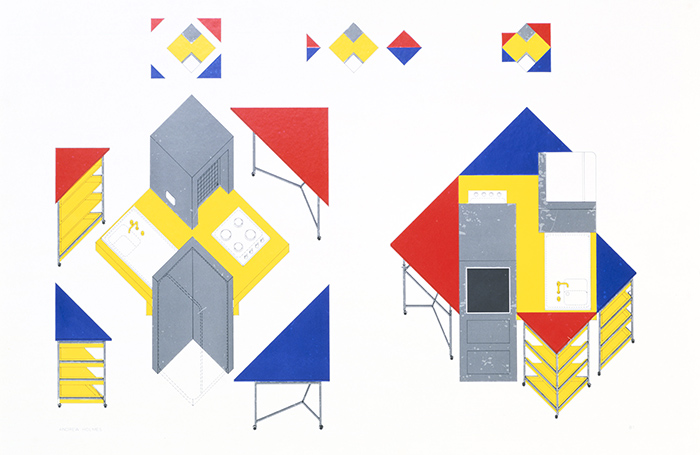 This axonometric drawing by Andrew Holmes was for the kitchen of illustrator Chloë Cheese. Holmes works in many different mediums and is often concerned with the anonymous mobile infrastructure of cities. The design appears to show the different combination of layouts for the units, with movable trolleys for work surfaces and shelving. Holmes and Cheese were both in shows at the Thumb Gallery in London in the early 1980's; however they had works in different exhibitions.
Although it was designed in 1981 it is reminiscent of the bold lines and strong primary colours of a Mondrian painting. Piet Mondrian's distinctive aesthetic is still symbolic of what is considered to be 'Modern' art.
Image: Design for 'Chloë's Kitchen', Studio 6, Meckinger Mill, Abbey Street, London, England, 1981; image from RIBApix (number RIBA12988)
Designer: Andrew Holmes (1947-)
Credit: RIBA Collections
Article by Elizabeth Adams, RIBA
24 November 2015
Discover more
This is just one of over four million items in our world-class architectural collections at the RIBA Library – it's open to everyone and access is free. Visit the library to explore our collections of books, periodicals, drawings, photographs and models:
Book
Bax, M., 2001. 'Complete Mondrian'. Aldershot: Lund Humphries
Shelved at 75.036.6(492):92M // BAX [Reference]
Book
Manser, J., 1981. 'The Kitchen and Bathroom Book'. London: Pan Books. pp.46-7 and 81.
Shelved at 728.93:643.3 // MAN [Reference]
Drawing
Design for 'Chloe's Kitchen', Abbey Street, London, by Andrew Holmes, 1981: 1 sheet, coloured letratone
Call/Ref. no. [SC86/13]