01 April 2017
The design for Giles Gilbert Scott's classic telephone box, drawn on a linen sheet.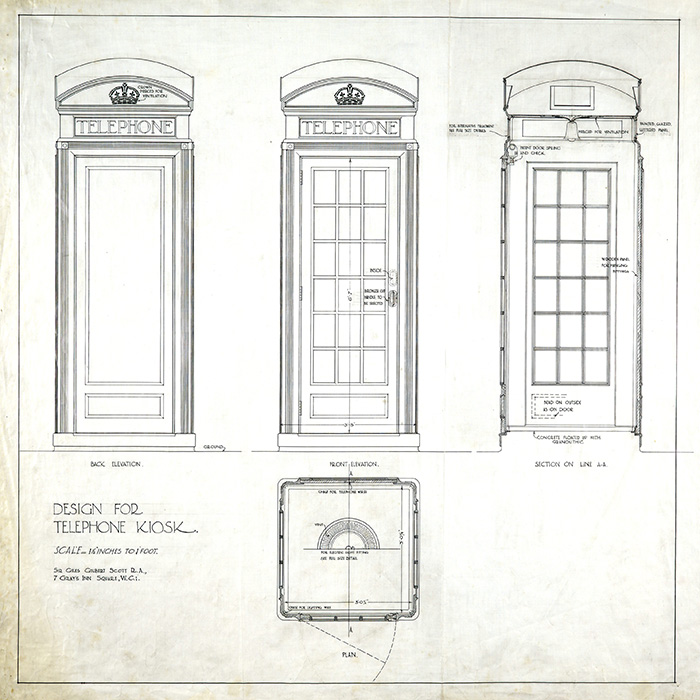 This design on linen by Giles Gilbert Scott shows the winning scheme for a red telephone kiosk, the K2 which was in production by 1926. Due to cost and size the kiosk could not be mass produced and was replaced by another Scott design, the K3. However, the use of cheap concrete made the K3 boxes deteriorate and few have survived. The K2 and K3 both have English Heritage Grade II listed status.
Drawings on linen were first shown during the 1850's and came in two colours white and blue. The cloth was popular with architects as it was durable, translucent and produced excellent folding properties. For colour, watercolour could be applied to the verso of the sheet but the design was usually generated in ink. To create the desired smooth glossy surface the plain woven cloth was coated with starch and oils and heavily calendared. Traditionally long staple cotton was used before the introduction of Egyptian long fibre cotton, but owing to manufacturing expenses linen drawings declined in the 1930's, disappearing by the 1970's and replaced by polyester films.
Image: Design for GPO telephone kiosk number 2, showing plan, elevations and section, 1924; image from RIBApix (number RIBA81387)
Designer: Sir Giles Gilbert Scott (1880-1960)
Credit: RIBA Collections
Article by Lisa Nash, RIBA
30 September 2015
Discover more
This is just one of over four million items in our world-class architectural collections at the RIBA Library – it's open to everyone and access is free. Visit the library to explore our collections of books, periodicals, drawings, photographs and models:
Book
Scott, R.G., 2011.
'Giles Gilbert Scott: His Son's View'.
London: Lyndhurst Road.
Shelved at 72.036.6(42):92S // SCO [Reference]
Book
Stamp, G., 1989.
'Telephone Boxes'.
London: Chatto & Windus
Shelved at 725.166.1 // STA [Reference]
Drawings
Collection of drawings by Sir Giles Gilbert Scott, 1880-1960. Includes designs for GPO telephone kiosks
Call/Ref. no. SCOTT GILES [PA2091/ScGG[180]1-14, DR1/1(1-2): Located at the V&A]
Journal article
Waugh, T., 2009.
Best of British: Telephone kiosk; Architects: Sir Giles Gilbert Scott.
'Country Life'. Vol.203, no.13, 1 April 2009, pp. 42-43