18 July 2019
Customisable housing – allowing a home buyer choice over the internal layout, the number of bedrooms and bathrooms, and the materials and finishes used – is becoming increasingly popular. At the same time, modern methods of construction (MMC) are making house building more time and cost efficient through a standardisation of components and processes.
Standardisation and customisation might seem to be mutually exclusive. But the practice Pollard Thomas Edwards (PTE) is harmonising the two in projects such as its new housing development at Beechwood West in Basildon, Essex.
"We saw the efficiencies in replicability, in working in a very standardised way," explains Carl Vann, a Partner at PTE. "There are huge cost efficiencies in repeated processes and common supply-chain elements. This was a real 'Eureka!' moment for us."
"But standardisation and customisation can work in tandem. You can standardise the 'back of house' stuff – bathrooms, service risers, the core – and allow customisation of the living spaces by residents."
Vann will be explaining how PTE is successfully reconciling customisation with standardisation at Smart Practice: New Ways of Working, the RIBA's annual conference on innovation in practice on 1 October 2019 at 66 Portland Place, London.
At the Beechwood West development a buyer can choose a house type, then decide whether floors will be open or closed plan, whether the living room is at the front or back, or opt to add an ensuite bathroom or extend into the roof. Internal and external finishes for brickwork, tile-hanging, windows and door colours may be chosen from a palette.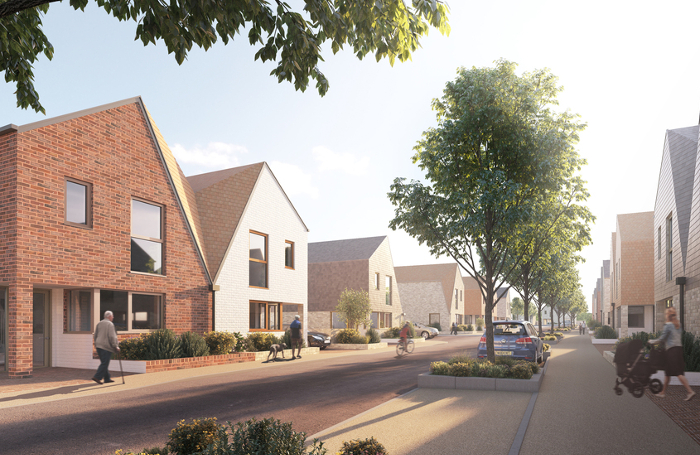 PTE won the tender from clients Swan thanks to their established reputation as housing designers, but also because of their demonstrable interest in MMC. This helped considerably, as Swan were not yet certain how the project would be built and the brief required development. They were convinced, however, that the scheme should provide a huge amount of resident choice, and they were very excited about using MMC.
To make the process as user friendly as possible, PTE brought in a software developer to devise a simple 'configurator' tool: a 3D model much like one you might use to design an IKEA kitchen. As choices are made, the model updates itself and so does the house's total price.
Given the extent of customisation on offer and the scale of the development (over 250 houses), the practice clearly needed to win the confidence of Basildon's planning department. To start with, a calm and traditional palette of brick and tile hanging was decided upon for the houses' template.
"We wanted them to look like a contemporary version of the best of the Essex vernacular," explains Vann. "We're keen that our projects 'speak of their location'. They don't look like modular buildings."
PTE shared multiple renders of each house from a number of viewpoints with planners: this demonstrated to them that, in any combination, materials hung together coherently.
The practice also conducted its own local field research, investigating suburban areas where residents had already 'customised' their traditional homes. They could thus cite convincing examples that a degree of customisation is part and parcel of suburban housing.
The planning department were receptive, agreeing to process individual planning applications for each home as it was sold, and to turn them around as quickly as possible.
For Vann, Beechwood West is a testament to the strengths of offsite construction. He suggests that it is closer to a traditional architectural procurement model than it is to design-and-build.
There is no handing over of any element of the project to a contractor for delivery: instead every screw is specified, and any potential issue resolved with the manufacturer and supply chain at an early stage.
"If you can decide everything while you're designing it, as you can with MMC, there are massive efficiencies and huge gains in quality," he enthuses. "That's the big advantage."
The enthusiasm that Vann witnesses among younger architects suggests that these working methods are the future. Younger staff at PTE enjoyed the digital process: the degree of control that software plugins allow over how drawings are set up, and how information is stored and drawn down from the factory.
The advantages of MMC in larger scale projects are clear. However, Vann anticipates that, once enough systems are in place, there will be a trickle-down effect that will increasingly allow smaller practices to take advantage. He imagines that MMC could, for example, soon be used for infill sites and provide the same efficiencies of build quality and cost that he has experienced on big developments.
Tickets for RIBA Smart Practice: New Ways of Working are now on sale, with early bird tickets available until 31 July 2019.
Thanks to Carl Vann, Partner, Pollard Thomas Edwards.
Text by Neal Morris. This is a Professional Feature edited by the RIBA Practice team. Send us your feedback and ideas
RIBA Core Curriculum Topic: Design, construction and technology.
As part of the flexible RIBA CPD programme, Professional Features count as microlearning. See further information on the updated RIBA CPD Core Curriculum and on fulfilling your CPD requirements as an RIBA Chartered Member.
Posted on 18 July 2019.