31 October 2019
Over a decade ago, UK landscape architects and playground designers took a fresh look at the provision of natural, unsupervised play for children in cities. Documents such as Design for Play: a guide to creating successful play spaces (Department for Culture, Media and Sport, 2008) highlighted enlightened approaches to play provision, offering children intriguing spaces where they can use their imagination to initiate their own play.
This is just one child friendly consideration among many for leisure, housing, and public realm projects. Children are a huge demographic part of cities: a quarter of London's population is under 18. Yet, as Dinah Bornat, Co-Founder of ZCD Architects has pointed out, "children are largely unrepresented in urban development policy and practice".
Erect Architecture is a practice that takes child friendly design seriously and it engages with children as stakeholders across their many projects. It has been involved with a variety of local authority play initiatives, including the London Borough of Camden's Active Spaces project. This is a groundbreaking public health initiative to encourage physical activity among pupils by giving schools more challenging and intriguing play areas.
One of Erect Architecture's best known play projects was the award winning and enticingly chaotic looking adventure park at the Kilburn Grange Centre. Centred upon playing in and around trees, its recycled doors open onto perpetually changing routes and spaces.
It is engagement with the end users that produced such successful results. Pupils were asked what they wanted in their play areas.
"The challenge was how to engage the children that were less active, a bit more timid, and to allow younger children to be heard by the older pupils," recalls Susanne Tutsch, one of Erect's Directors. A game was invented in which dreams and wishes were literally thrown between groups to break down barriers and encourage discussion.
The practice is also responsible, with landscape architect LUC, for 'Tumbling Bay', the play area embedded in the landscape setting of London's Olympic Park.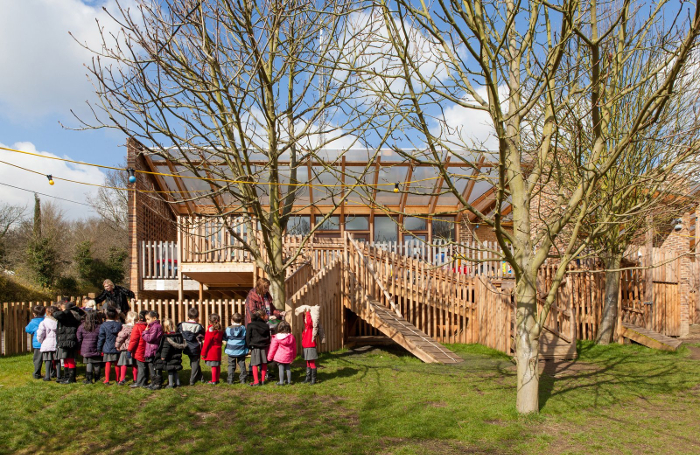 There are rules to designing even the wildest looking adventure area. The benchmark for play facilities is BS EN 1176/77, which governs safety concerns such as the maximum fall height allowed. Every play facility then has to be signed off by a local authority safety inspector.
Deviations from the British Standard are allowed, but only if a Risk Benefit Assessment is carried out and a judgement taken to allow for more controlled risk in return for increased play value.
Tutsch says that this is a challenge in practice, because there are few safety officers both qualified and willing to go down this route for more adventurous bespoke play areas.
Designing these kinds of environments clearly has plenty of logistical challenges, but also presents opportunities for imaginative and thoughtful architects. Play and its place in urban design will be coming to the fore in London, and possibly further afield with the release of new supplementary planning guidance (SPG) from the Greater London Authority in the new year.
Erect Architecture has been working with lead consultant Publica on this guidance, identifying exemplary case studies.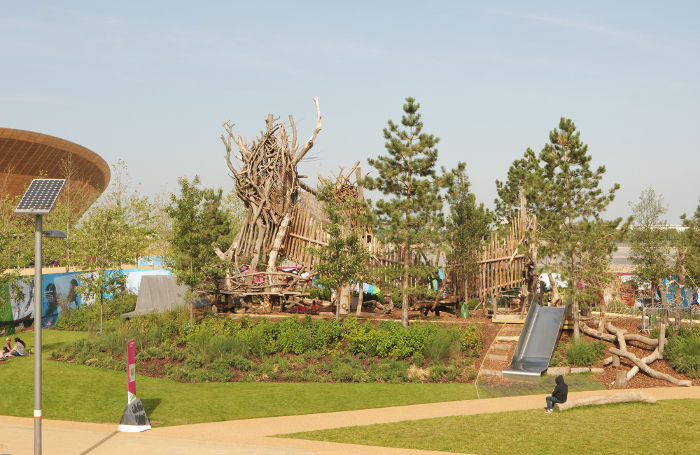 London boroughs are already informed by SPG from 2012 entitled 'Shaping Neighbourhoods: Play and informal recreation', but Tutsch describes the current guidance as unsatisfactory: it takes a by the numbers approach to play provision while failing to address the quality.
"The new SPG will take a more holistic approach and will not be limited to playgrounds," she says. "It will look more at what makes a play friendly city, at children's independent mobility, at how they can move around unsupervised and have more access to self-initiated play."
Susanne Tutsch and Dinah Bornat will be talking about 'Promoting a child friendly city' on the CPD day of the RIBA's Guerrilla Tactics 2019 conference on 6 November 2019.
Thanks to Susanne Tutsch, Director, Erect Architecture.
Text by Neal Morris. This is a Professional Feature edited by the RIBA Practice team. Send us your feedback and ideas.
RIBA Core Curriculum Topic: Architecture for social purpose.
As part of the flexible RIBA CPD programme, Professional Features count as microlearning. See further information on the updated RIBA CPD Core Curriculum and on fulfilling your CPD requirements as an RIBA Chartered Member.
Posted on 31 October 2019.