Drawn perspective section of the Barbican Centre 1970
03 March 2016
A slice of the beautifully brutal Barbican Centre.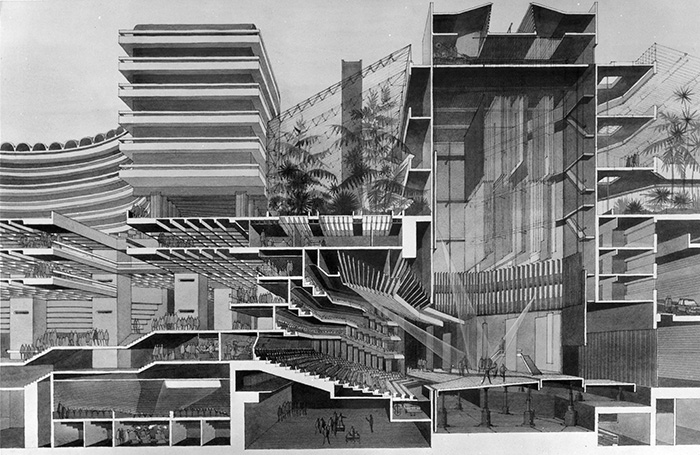 This cross-section of the Barbican Centre gives an insight into one of the most dynamic cultural hubs in London, which opened on 3 March 1982. Chamberlin, Powell and Bon worked on the Barbican for nearly 30 years, from the mid-1950s to 1982. The complex is a celebrated example of Brutalism and received a Grade II listing in 2001.
The 2016 exhibition 'Building a Landmark', in the centre's foyer, featured items detailing the creation of the Barbican estate, including the architects' instruments, drawings and films, and more of John Maltby's photographs from the RIBA's collections.
Image: Photograph of a drawn perspective section of the Barbican Centre, Silk Street, City of London, England, taken in 1970; image from RIBApix (number RIBA92181)
Photographer: John Maltby (1910-1980)
Architects: Chamberlin Powell and Bon
Credit: John Maltby / RIBA Collections
Article by Elizabeth Adams, RIBA
3 March 2016
Discover more
This is just one of over four million items in our world-class architectural collections at the RIBA Library – it's open to everyone and access is free. Visit the library to explore our collections of books, periodicals, drawings, photographs and models:
Book
Ainsworth, A., 2015
'The Barbican, Architecture and Light'.
Shelved at 711.4(42.12) // AIN [Reference]
Book
Allison, J., and Ferrari, A. eds., 2014.
'Barbican, Life, History, Architecture'.
Shelved at 711.4(42.12) // BAR [Reference]
Photographs
37 black and white photoprints of views of the Barbican Centre, City of London.
Record control no. P016530; Call/Ref. no. AP462/1-AP462/36