Estate renewal: keeping everyone onside
17 May 2017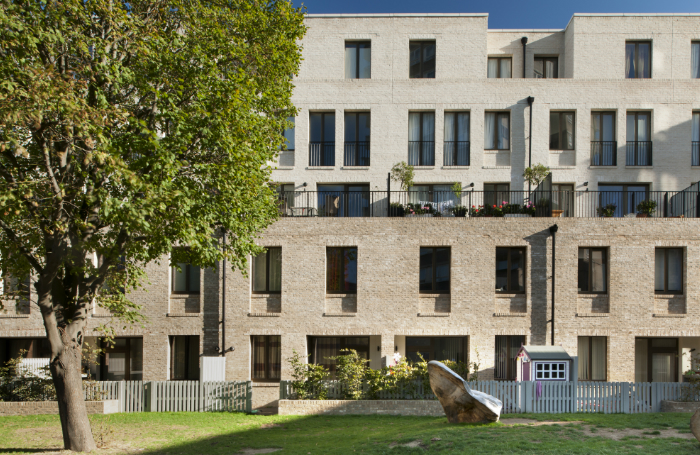 The regeneration project at the edge of the Silchester Estate in Kensington & Chelsea is one of a handful of stand-out estate projects in London where all stakeholders, including the original council landlord, have worked together to deliver an exemplar project with existing tenants fully on board.
Architect Haworth Tompkins worked with Peabody and the London borough over more than five years to deliver the 112-home scheme, which is currently shortlisted for both a RIBA Award and a Regional Project Architect of the Year Award for Associate Andrew Rowson.
The scheme integrates an existing 20 storey tower within a new urban block. It is tenure blind with 75% affordable homes, comprising family houses for social rent alongside shared ownership and for sale apartments.
Rowson visited all existing residents that had to be decanted in their own home to discuss their needs and wishes, from bespoke detailing to mobility issues. They were also offered a say on the basic layout of their future flat, with the primary living space either facing inwards or towards the street.
It emerged that the tenants all wanted to stay together and be given ground floor accommodation. They also got larger flats than their existing accommodation, part of Peabody's offer when bidding for the project.
While Haworth Tompkins says he went above and beyond what was expected, Rowson describes the tenant interactions as 'a nice iterative process from start to finish', made possible by all parties on the development side having the will to work with existing tenants.
He recalls that the process went on to extend beyond handover, with sympathetic responses to requests for more privacy from garden fences, for instance. The contractor also employed a local liaison officer as a trusted go-between.
There is a new triangular block designed around a communal garden, while the majority of the development comprises four to five storeys with the scale increasing at the two prominent mews street corners. The rich buff and cream brickwork facades is a nod to Peabody's nineteenth century estates and traditional terracing.
Rowson had to work to convince local planners to approve the mews, but he says they were all ready to get involved to help deliver an exemplar project for the borough. The mews was created alongside an existing railway viaduct, whose arches are being brought into new commercial use.
Rowson was project architect for five years from the competition stage to completion, including two-to-three years on site due to the phasing of the project.
In putting forward their project architect for the award, Haworth Tompkins says Rowson led on the assessment of pre-contract value engineering options, ensuring the project could be delivered within budget while retaining a consistently high quality.
'The site team changed a few times, they key thing for us was to explain how we were handling the project and bring site managers up to speed quickly' he says.
He also worked with the contractor to find optimum solutions for installing cladding systems and exposed services, always addressing practical concerns such as installation tolerance without compromising on visual intent.
Rowson sums up his role during the construction phase as 'getting everyone to understand what we were trying to achieve and making sure the good things didn't get unpicked'.
A record 85 schemes have been shortlisted for the RIBA London Awards 2017. The winners will be announced at an awards ceremony at the RIBA next week, 22 May 2017.
Thanks to Andrew Rowson, Associate, Haworth Tompkins.
Text by Neal Morris, © RIBA.
This is a 'Practice News' post edited by the RIBA Practice team. The team would like to hear your feedback and ideas for Practice News: practice@riba.org