Ethel Charless design for houses Cornwall 1906
06 March 2015
After becoming the first female member of the RIBA, Ethel Mary Charles went on to design a range of small projects.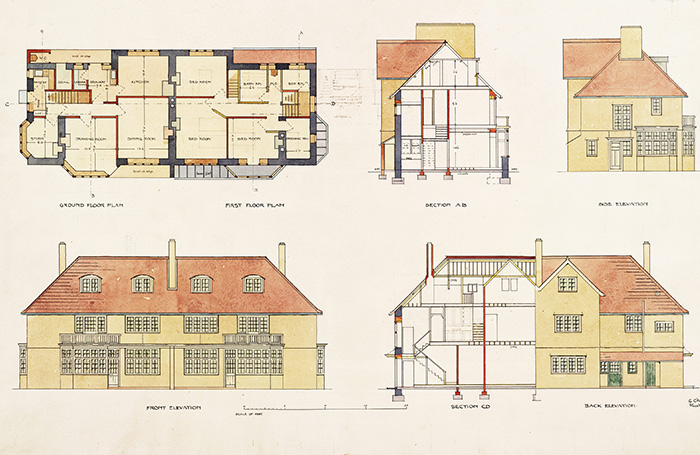 Encouraged by their father to follow a profession, Ethel and her sister Bessie chose architecture. The Architectural Association refused her entry but she took articles with Ernest George & Peto for three years in 1892. She passed the RIBA Exams in 1898 and applied for Associate membership. Nothing in the RIBA rules prevented her joining but a campaign opposing women members ensued. Nevertheless she was formally elected as an Associate in 1898 becoming the RIBA's first female member.
She practised in London and Falmouth, doing mostly residential work in the Arts and Crafts style. The large public and commercial commissions that interested her remained out of reach.
Image: Design drawing for semi-detached houses, Falmouth, Cornwall, England, 1906; image from RIBApix (number RIBA31416)
Designer and artist: Ethel Mary Charles (1871-1962)
Credit: RIBA Collections

Article by Cathy Wilson, RIBA
6 March 2015
Discover more
This is just one of over four million items in our world-class architectural collections at the RIBA Library – it's open to everyone and access is free. Visit the library to explore our collections of books, periodicals, drawings, photographs and models:
Book
Walker, L., (ed.) 1984.
'Women Architects: Their Work'.
London: Sorella Press
Shelved at 72-055.2(41/42)(064) // WOM [Reference]
Book
Richardson, M., 1983.
'Architects of the Arts and Crafts Movement'.
London: Trefoil Books
Shelved at 72.036.592(42):92 // RIC [Reference]
Drawing
Ethel Charles drawing: Design for proposed semi-detached houses at Gyllyng Road, Falmouth, Cornwall, for Mr Vinson: plans, sections and elevations
Call/Ref. no. CHARLES [PB260/22: Located at the V&A]