Facing Brexit with a clear business vision
07 February 2019
Mark Thompson is Managing Partner at Ryder Architecture. Founded in 1953, it has expanded under its current leadership from one office of a dozen people in 1994 to over 200 people in 2019. Based in Newcastle, Ryder has teams in Glasgow, Liverpool, London, Vancouver, Hong Kong and Amsterdam.
UK integration with the EU is important to Ryder, who carry out a great deal of work for multinational companies based in the UK. It recognises the importance of inward investment by such companies on the UK economy.
"That the UK has a trading agreement with the EU is, I believe, fundamentally important," Thompson states. "For the likes of Nissan, for example, access to the EU is critical. That's not to say we can't have another equally important agreement."
Ryder employs about 30 people from the EU, particularly Italy and Spain. For Thompson, having employees outside the UK adds a valuable different perspective.
Well-networked and outward facing
Understanding the UK economy is an essential matter for Thompson. "It's more important, I think, to understand the broader economy and what's happening across all businesses, because they are construction's clients. Construction on its own does not generate jobs; we serve others."
Thompson takes personal responsibility for this, sitting on various councils and groups. This includes membership of the CBI's National Construction Council; the CBI North East Regional Council, a cross-sector group; and the North East Local Enterprise Partnership. The latter keeps Ryder informed of developments across the economy and in construction at a regional and national level.
Ryder hosts its own events, widening its network further by inviting professionals from the legal and financial sectors. By doing this it is fuelling debate about topical issues, helping to promote its reputation as a thought leader.
Coping with a challenging economic climate
While Ryder takes an inclusive approach to running its business, Thompson also believes in strong leadership. Sometimes this means taking tough decisions and taking them quickly.
The last UK recession hit hard, but Ryder took the decision to cut back quickly, rather than putting off the inevitable. Mark feels this helped them emerge from the recession ahead of others. What was important during this time was maintaining the 'core' and the culture that makes them who they are. So, they still had team trips, still brought staff to Newcastle for the annual summit, and continued investing.
"We cut the size of the business down but did everything the same, if not better, rather than cutting bits out. Which I think was a brave – some said stupid – approach for the time. But it maintained the culture through the bad times."
Ryder had previously introduced a comprehensive package of staff benefits when it was a much smaller practice, which included profit share, generous pensions and sabbaticals. This has been part of their culture ever since, and perhaps helps to attract and retain people with the right fit for the business.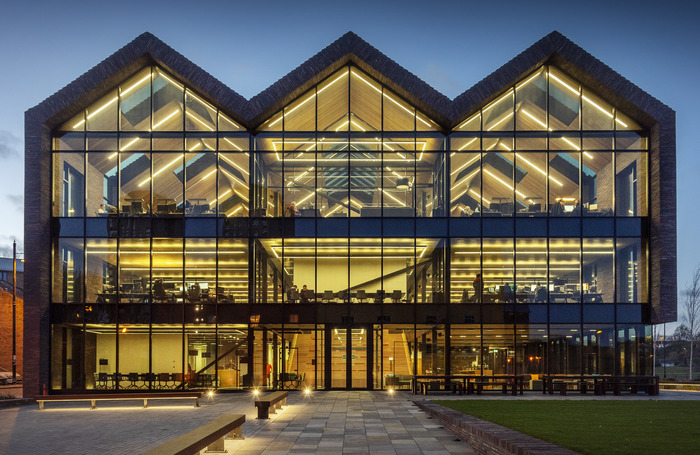 Maintaining a business vision
Ryder Architecture has developed a structured approach to leadership which has become ingrained in the business over the past 30 years.
Throughout the year the leadership team meets to review finances and other aspects of how the business is progressing. At each of these ten meetings members of staff from outside the leadership team are invited to bring a topic for discussion, to give a presentation and lead a debate.
They are included for the whole day to witness and participate in business decisions. "We do that to help demystify the running of a business, to get staff exposed to a board-level situation," Thompson explains. "It's not a black art."
As well as being inclusive it shows Ryder takes succession planning seriously – identifying and coaching the leaders of the future. The firm also brings together all of its staff, from around the world, once a year for a summit where they can contribute to the vision of practice's plan and goals.
"It's essential that everyone understands where we're heading as a business," Thompson avows. "It should not just be the Directors and Partners, sitting in some ivory tower, deciding our future."
Learning from other industries
While BIM is commonplace in 2019, Ryder were one of its earliest adopters, partly due to Thompson's familiarity with similar techniques used in shipbuilding – the industry Thompson began his career in. Ryder committed to using BIM on all its projects.
It was understood that this adoption would take investment and patience, but Ryder correctly believed it would pay off in the long term. "We don't have CAD 'specialists' or BIM 'people': these are tools that everybody should use," Thompson states.
Preparing to leave the EU
Having a clear vision is important and being true to that makes for focused decision-making. Even during the last recession, albeit as a smaller practice, Ryder wanted to continue to improve the business. "If you have a vision, then every decision you make can be measured against it," Thompson advises.
His overall view is to focus on the things that can be influenced and make sure the business is in the right shape. There is little point in dwelling on the macroeconomic consequences of Brexit, beyond a practice's power to change. Thompson feels it is important to provide certainty to staff and clients where that is possible. An extremely transparent approach is key to ensuring everyone buys into their vision and plans.
With thanks to Mark Thompson, Ryder Architecture.
The RIBA publishes information for practices about Brexit, which is regularly updated, including the likely implications of a no-deal exit.