First practice flies the RIBA Incubator nest
20 December 2016
Over Christmas, the RIBA Incubator is saying goodbye to its first practice to graduate to the 'real world'. After 18 months, start-up Hoos is leaving with six projects on the go, including a small estate renewal project for a housing association.
Hoos was the second practice to arrive in the pilot days of the Incubator, which is located in the RIBA London Region's mews building at the rear of the RIBA's headquarters in Portland Place. It arrived in the form of single practitioner Tom Cole at a solitary desk and is leaving as a Chartered Practice with two full-time staff and a busy year ahead.
Hoos' departure means that the Incubator has desks available in the New Year and is seeking new start-ups. This is a process that will gather momentum over the coming months as more of the original intake start to approach the close of their second year and the end of their RIBA-supported tenancies.
Cole says the friendly support of RIBA London has been a massive aid in getting the practice off the ground, but he says the other advantage has been simply working alongside other architects in a professional environment and networking. The studio's location within the Incubator has also provided client assurance:
'The address is good, and having a dedicated space so that you don't have to tell clients that you are working from home. There is also some cachet in introducing yourself as one of the RIBA's incubator practices,' says Cole.
His partner, Chris Bradley, was able to gradually build up his time at the Incubator over 18 months as the practice established itself and the original idea of forming a practice together became a reality. Hoos is now moving into shared workspace in Dalston, east London.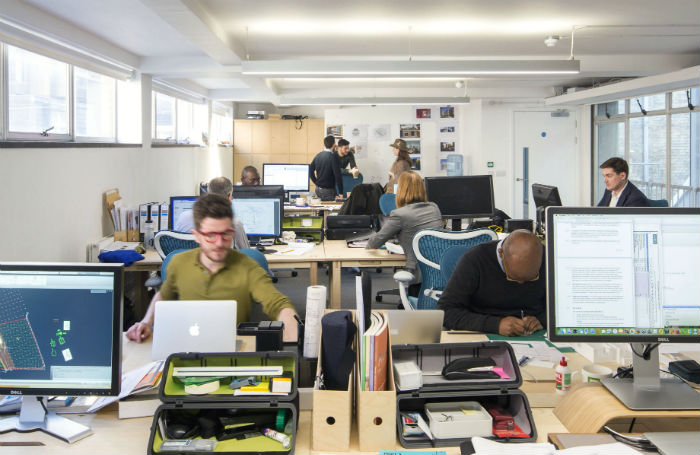 RIBA London Region partnerships manager Owen Wainhouse says the Incubator is recruiting now, but will be having a recruitment push in the new year ahead of more practices getting ready to move on.
'This time we are hoping that our practices will help in the selection process. It's important to get the right mix of people. We would like to see a gradual handover of the Incubator space as new people arrive,' says Wainhouse.
The Incubator offers emerging practices anything between one and three desk spaces, but just one space allows use of the Incubator's workshop area and the RIBA Forum space for meetings. There are a total of 14 desk spaces, which are currently occupied by ten practices.
Incubator practices are also supported by the RIBA's mentoring programme and free access to London Region CPD courses and events, with a focus on business skills and, with a bit of luck, recruitment.
More information about space at the RIBA Incubator.
Thanks to Tom Cole, director at Hoos.
Text by Neal Morris, © RIBA