11 January 2018
Architects are being encouraged to support the introduction of a retentions deposit scheme aimed at putting an end to the practice of payments being withheld for an unreasonable length of time, and to eliminate altogether the risk of losing retentions through contractor bankruptcy.
According to the government's own figures, almost £8 billion of cash retentions have remained unpaid over the last three years. In 2015, it is estimated that £45m worth of cash retentions were lost to supply team members because of upstream insolvencies.
Cash retentions, usually 5% or sometimes 10% of payments due, are withheld ostensibly to provide security in the event that a firm fails to rectify defects. In practice, according to the Specialist Engineering Contractors Group (SEC), they are withheld to bolster the working capital of the company withholding them.
'Major contractors have come to see retentions and delayed payments as a key part of their asset wealth, which they are judged upon when bidding for new work. But lead contractors are employed to manage the work, not manage the money flow,' contends architect Walter Menteth, director of e-procurement resource Project Compass CIC and RIBA National Councillor.
Menteth says any architects acting as a tier 2 or 3 contractor on Design & Build contracts, and these days on almost any public sector project, can find themselves asked to forego an element of payment as a retention. He knows of architects, including his own practice, that have also seen payment of final invoices withheld as pseudo retention payments that can be difficult to recover.
Some construction industry standard contracts already acknowledge the problem by requiring that any money withheld must be placed in trust, but the SEC points out that these clauses are routinely deleted by the lead contractor at the top of the supply chain.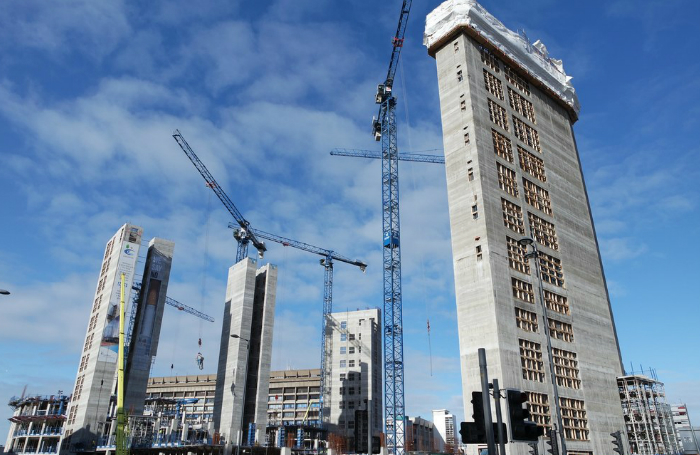 The SEC argues that there have been many failed attempts to resolve the issue of retentions in the past and that the only way of guaranteeing that monies will be released is through legislation.

Earlier this week, Conservative MP Peter Aldous won unanimous support to secure a second reading for his Private Member's Bill seeking to amend the Construction Act by requiring the government to introduce regulations for an industry deposit scheme similar to existing housing tenancy deposit schemes.
Aldous is being supported by the SEC, which is campaigning for a deposit scheme on behalf of all members of the industry supply chain, including design professionals.
'A deposit scheme would clean up industry practices, help with cash flow and make the industry generally more robust. The scheme would also be introduced at a time when the industry could be heading for another tumultuous period, with retentions putting SMEs at unnecessary risk,' argues Menteth.
'As leaders of the construction industry the profession should be supporting these moves to introduce a regulated scheme to help secure future capacity and make the industry more sustainable.'
Ring-fenced cash retention schemes have been introduced in many other countries and some have banned the practice of retention payments altogether. Canada and the US allow liens or charges to be placed on finished projects by firms that have not received payments due.
A consultation on the practice of cash retentions in the construction industry launched by the Department of Business, Energy and Industrial Strategy (BEIS) runs until 19 January 2018.
Amongst other, respondents are invited to comment on the features of a potential deposit scheme as the way forward. Architects are being encouraged to respond before the consultation closes.
Project Compass has published the SEC's Briefing Paper on its retentions campaign alongside a model letter that architects can send to their local MP to ask for support for the Aldous Bill, now confirmed to have a second parliamentary reading on 27 April 2018. The SEC says the Aldous Bill does not prejudice the outcome of the BEIS consultation, but reinforces the case for a deposit scheme as a viable solution.
Thanks to Walter Menteth, Director, Walter Menteth Architects and Director, Project Compass CIC.
Text by Neal Morris. This is a 'Practice News' post edited by the RIBA Practice team. Send us your feedback and ideas.
RIBA Core Curriculum Topic: Business, clients and services.
As part of the flexible RIBA CPD programme, Practice News counts as microlearning. See further information on the updated RIBA CPD Core Curriculum and on fulfilling your CPD requirements as an RIBA Chartered Member.
Posted on 11 January 2018.