14 June 2018
A year ago, today, we witnessed the devastating tragedy at Grenfell Tower that saw the largest loss of life in a single peacetime building fire since the Exeter Theatre Royal fire of 1887. On 12 June 2018, the RIBA hosted the fire safety conference, 'Protecting Lives: design and construction post Grenfell', in collaboration with RICS and CIOB, bringing together politicians, professional bodies, construction industry experts and representatives of those affected by the Grenfell Tower tragedy who share a common purpose - to make people safe in the buildings where they live and work.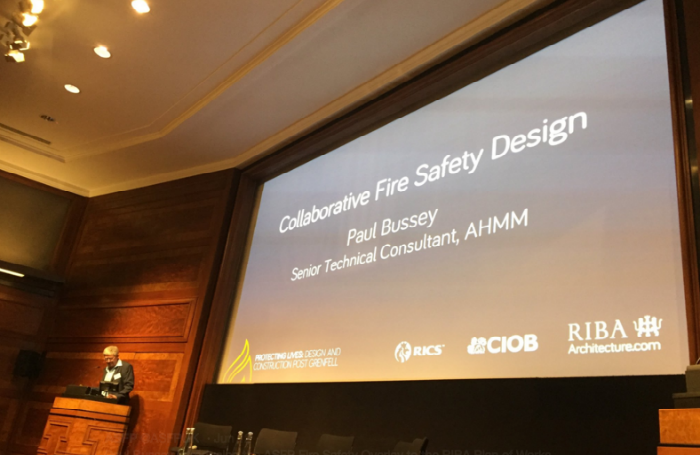 Jane Duncan OBE, Past President of the RIBA and Chair of the RIBA's Expert Advisory Group on Fire Safety, opened the conference stating 'We have witnessed a failure of both regulation and industry competence and we now have to accept that the general public has serious doubts about the capability of the UK construction industry to deliver safe buildings. Industry and Government now need to work together to re-build that trust and protect future lives'.
Dame Judith Hackitt, Chair of the Independent Review of Building Regulations and Fire Safety, presented the direction of travel for industry, acknowledging that her package of recommendations will take time and legislative changes, and that it will require dedicated management, leadership, collaboration and partnership with and across the construction industry, to deliver consistent solutions and real cultural change.

Kevin Hollinrake, MP, HCLG Select Committee, suggested that 'Grenfell demonstrated that there was systematic failing in the entire system', whilst Clive Betts MP, Chair of the HCLG Select Committee, identified the need for 'a lifetime approach to buildings'. John Cole CBE reported that Grenfell is just the tip of the iceberg, with major structural defects and fire-stopping failures occurring in 17 Edinburgh schools, 51 health buildings and PFI schools in Manchester, reinforcing the need for a fundamental change of culture in the construction industry.
Lord John Bird, Editor-in-Chief, The Big Issue, gave a compelling speech on what Grenfell means for social housing in the future, 'I think social housing is one of the worst things you can give somebody…it tends to be a process of isolating them, I advocate for the growth of sociable housing…bringing people of different social skills and asperations.' Sam Webb, Member of the RIBA Expert Advisory Group of Fire Safety, gave a human perspective to the discussion; 'I've got 5 mins to speak to you, which is half a minute longer than it took for the panels to burn on Lakanal House'. He brought home to the audience the devastating impact fire can have on individuals and families.
Khadijah Mamudu, whose family members escaped Grenfell a year ago today, focussed on how public confidence can be rebuilt in a more accountable construction industry, emphasising that architects need to take back responsibility; 'Architects are involved in the beginning of a project but then have to sign it over to someone else… why aren't you allowed to see it through to fruition?'. In response, Indy Johar, Chair of the RIBA Ethics Commission, advocated for greater transparency and accountability in regulation, testing and project team decision-making to address a much broader range of invisible building failures. He called on the architectural profession to show leadership and act for the public good.
The conference provided an opportunity for built environment professionals, legislators and residents to come together to understand where the responsibility lies for ensuring our buildings are safe for tenants and other building users, and how professionals can rebuild trust with our communities. This was the first step to openly discuss and pave the way forward to building a safer future.