27 September 2017
Following a two-phase competition that attracted close to 50 expressions of interest from RIBA Members and Chartered Practices, Hayhurst & Co. have been selected to create a new learning suite at the RIBA's Grade II* listed headquarters, 66 Portland Place. Hayhurst & Co.'s imaginative proposal promises a one-of-a-kind destination for learning about and engaging with architecture.
Through a series of light-touch interventions, the new Learning Centre will invite visitors to explore their sense of space and develop an understanding of the architecture that surrounds us every day.
The delightfully playful scheme suggests a space that is flexible, thought-provoking and unique. The clean and modern design encourages active participation, placing learning at its heart while subtly honouring Grey Wornum's vision for 66 Portland Place with etched glass and brass trims.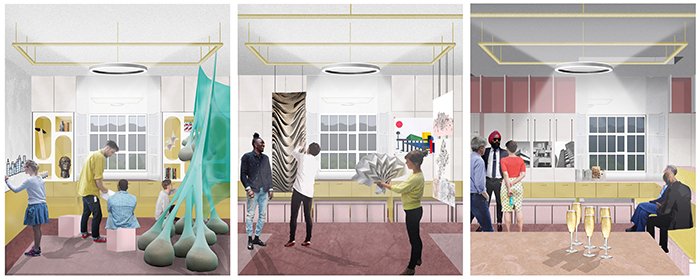 Led by a participatory approach that seeks to understand and respond creatively to the everyday rhythms and routines of users, Hayhurst & Co. has completed more than 30 projects and prides itself on delivering spaces that make people happy. Previous work includes a number of award-winning schools, houses and housing schemes.
Stakeholder consultation with the Learning team, public audiences, RIBA staff and members will begin straight away, with construction expected to commence in summer 2018. The new centre will launch with a public celebration and learning festival in early 2019.
Follow us as we create a new destination for architecture.