07 June 2017
Health and wellbeing in buildings has been moving up the agenda for architects, with calls to make healthy environments a more important part of designers' working definition of sustainability.
The UK lags behind many European countries in the amount of attention given to healthy building products and the standards and labelling that can assist with specification, while the monitoring of air quality in new buildings, for instance, is a rare event.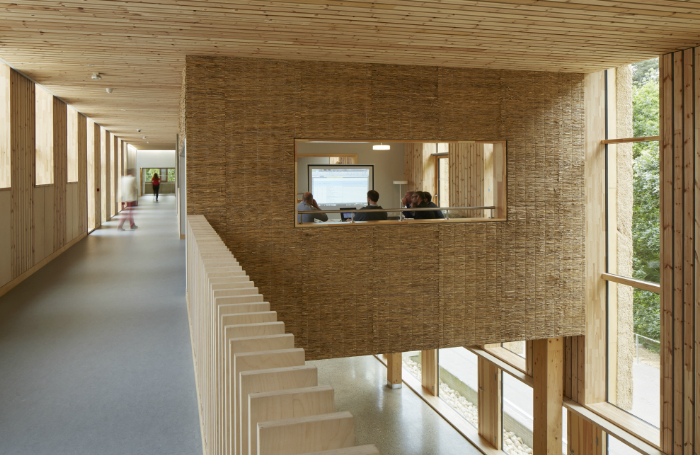 'The UK industry hasn't really woken up to "building chemistry". There are around a thousand volatile organic compounds (VOCs) in circulation in building products, with very little research into the effects of exposure and even less environmental monitoring,' says Simon Corbey, Associate Director of the Alliance for Sustainable Building Products (ASBP), whose mission is to promote healthier product options and their use.
The short term offenders for VOCs are generally paints and finishes, carpets and flooring, pressed wood products and glues and adhesives. But the building fabric can be a long term source of problems, particularly the choice of insulation, either directly or through its performance effects on the interior.
Corbey expects domestic air quality to become far more of a mainstream issue as a result of air tightness standards. The ASBP has been looking at air quality with the Passivhaus Trust. Corbey points to a slew of recent reports on the need for mechanical ventilation with heat recovery (MVHR) systems to be balanced and commissioned properly if they are to maintain air quality.
Testing is becoming much cheaper and is expected to become more routine.
However, specifying consistently healthy building products is no easy matter, particularly for smaller practices without a dedicated technical lead. There is no comprehensive register of products to use or avoid for UK practices, so it takes some detective work.
In France, the Agency for Food, Environmental and Occupational Health & Safety (ANSES) ensures that every building product from floor coverings and coatings to walls and windows has an indoor air quality rating.
Austria has its Baubook database that is free to access and has procurement clauses for specification.
The Natureplus register of products is well established in Germany and used by practitioners in many EU countries, but is relatively unknown in the UK. Standards are high and around 600 products are currently certified as meeting its VOC standard.
The ASBP is now the UK representative body for Natureplus and will be promoting its use over here, says Corbey. The Natureplus register is hosted by Baubook.
Google's is developing its own rapidly-expanding healthy materials initiative Portico. Product manufacturers provide the information and decide the level of transparency about their products. It shows its American provenance with the use of LEED certification instead of the UK's BREEAM, but the database already contains over 2,600 products.
In addition to the ASBP's online technical resources, UK architects can access the technical papers on Daylight and Sunlight, Indoor Air Quality and Materials Selection, and Acoustics that make up the UK Green Building Council's task group report 'Health and Wellbeing in Homes' launched last year.
Corbey is the first to admit that trying to deal comprehensively with healthy building products and design options is an enormous and complex task, made more difficult by the fact that there are no standard approaches or hierarchies of products to avoid as every building project is different.
However, with the notion of sustainability expanding to encompass health and well-being and driven by the implications of air-tightness regulations, the debate about healthy building materials will stay on the agenda.
Thanks to Simon Corbey, associate director, Alliance for Sustainable Building Products.
Text by Neal Morris, © RIBA.
This is a 'Practice News' post edited by the RIBA Practice team. The team would like to hear your feedback and ideas for Practice News: practice@riba.org