27 February 2020
Helen Taylor and Kim Balchin outline Scott Brownrigg's Career Road Map, providing equal opportunity and a fair and transparent career path for everyone.
"My role has always been to ensure that everyone has the same opportunity for career development – that there is equality and fairness," says Kim Balchin. "One of the key questions I was regularly asked was, "How do I get promoted? How do I become an associate?" It seemed that we needed a career road map for everybody in the business no matter whether someone was an architect, an interior designer, technician or a member of the support team.
In 2017, I worked closely with our Board of Directors to establish the key behavioural competencies required to demonstrate and deliver the practice's vision and strategic objectives and against which our people would be assessed for future leadership potential. From that, our Career Road Map was developed. There are five work levels in the business, ranging from Quality/Delivery through to Strategic Intent and all employees can see which level they are according to the role they perform. There are six core competencies that are required for everybody: Drive for Results/Achievement, Client Focus, Concern for Quality, Teamwork/Collaboration, Interpersonal effectiveness, and Agility/Adaptability. There are specific descriptions of expected behaviours against each of the core competencies at each of the work levels. There are also four additional leadership specific competencies building on people's strategic capability, people management and commercial acumen abilities.
The Career Road Map took a year to develop, and I asked an external colleague to cross-check as it helps to get an independent viewpoint — it must be future proof and stand the test of time.
We launched it in 2018 via our intranet and we presented to staff via roadshows around the studios over a six-month period, and it is now integrated with our online personal development process.
The objective is focused on providing equal opportunity and a fair and transparent career path for everyone — all staff are empowered by having access to this information, they don't have to ask someone else for access to it.
In 2009 there were 37% female technical staff and 63% male in our practice. 10 years later, in 2019, that has gone up to 45% female and 55% male. Today, 72% of our part ones are female, and we feel it is important to continue to communicate the upward direction and career opportunities for everyone in the business, so women and men (as we've seen more men taking shared parental leave recently), whether parents or not, know that they all have the same opportunity. For many years we have offered flexible working, enhanced maternity pay, regularly keeping in touch with women throughout their maternity leave and to date 100% of our female staff have returned following maternity leave. It is a case of talking to people and staying engaged with staff and trying to provide the support that they are looking for."
Helen Taylor says: "The Career Road Map sits in the context of investment that we make throughout our staff's career. Right from recruitment, through to induction and training, we try and make sure that our staff have a good structure for the way they come into the business and the way that they can progress. Investing in professional HR expertise is a vital part of that. All members of staff who are interviewing have proper interview training — including unconscious bias training. Kim stays very involved in the first few months of new starters to make sure that they are settling in, that the process is running well and that it is meeting their expectations and that they are meeting ours. Making sure that people feel that they are part of the team and offering them opportunities in career development, is a really important part of who we are and we want to make sure that people feel that they can take the opportunities that are available to them.
Twelve months after the Career Road Map was implemented, more women than men were promoted. We are tracking this year on year, to try and make sure that things are going in a positive direction. The biggest challenge is managing expectations — we've got young and driven members of staff, it isn't the case that if you just tick all of the boxes, that you'll suddenly be promoted, it has to be in the context of the needs of the business and the opportunities that arise. We also offer other ways of rewarding people and celebrating their contributions to the practice. We run learning and development opportunities every year, including a leadership training programme which we monitor to make sure that there are as many women attending the training programmes as men."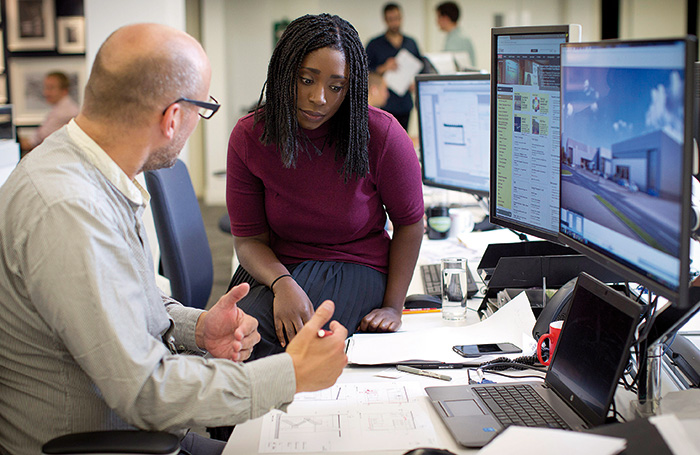 "Gender diversity is part of the wider diversity that we want to have as a business — not just in terms of gender, but also, ethnicity and culturally," Helen added. "We are planning to open our diversity group to junior members of staff, focusing on the next generation of the business alongside our Future Architects Forum. We're also looking to engage with other young professionals — future engineers and future environmental professionals — to make sure that we are providing a platform for the up-and-coming members of the team across our eight studios. We have twice as many men and women working flexibly as we did have ten years ago — it's important not only for parents but also for people who have other commitments or interests that they can talk to us and take that opportunity. We've had a few men take shared parental leave and we support and celebrate that. We make sure that these things are seen positively whatever gender you are, and that we have a supportive working environment."
Find out what other RIBA Chartered Practices are doing to address the gender pay gap.