Historic Chatham Dockyard relaunched
07 June 2017
Baynes and Mitchell Architects' black-clad visitor entrance at the historic Chatham Dockyard is such a strong intervention among its scheduled monument neighbours that visitors of the multi-award winning 'Command of the Oceans' may only spot at second glance that it is a heritage landscape project as much as a conservation and re-use project.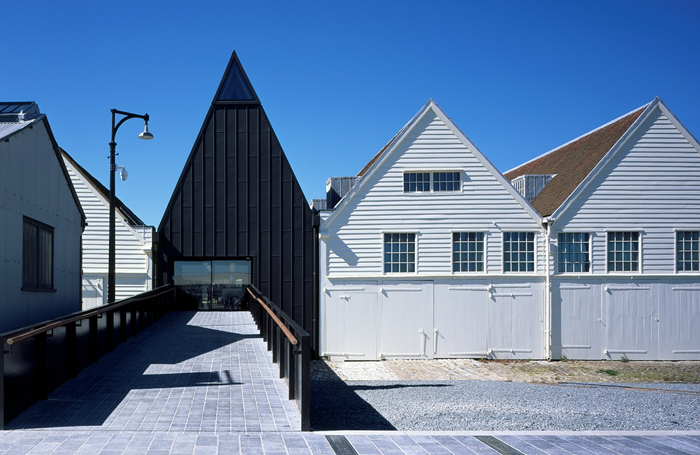 Opened to visitors last year, the project has just collected a RIBA South East Award, RIBA South East Conservation Award and RIBA South East Building of the Year 2017.
In this industrial landscape the site itself together with the historic sheds were integrated to function as a great production line. The architect's challenge was to reveal the history and workings of what remains the most complete dockyard from the age of sail.
Works comprised the preservation of two monumental mast-making sheds – the Wheelwrights Shop and the Mast House and Mould Loft - the creation of orientation and interpretation galleries, and the resolution of visitor welcome and hospitality services. Masts were being pickled in brine in the Mast Ponds before being hauled up the sloping site into the Mast House.
The visitor journey culminates with the display of 'the ship beneath the floor': massive timbers from a Nelson-era warship recycled as floor supports and only discovered by chance in 1995.
'The landscape project was about tying all these elements together, they are all scheduled monuments', says project architect Brendan Higgins.
The significance of Chatham Dockyard led to Historic England being closely involved from the outset. Higgins lauds the 'incredibly good' working relationship and the enthusiasm maintained throughout for their overall design approach as well as the balance struck between critical repairs, conservation and new interventions.
The RIBA South East judging panel concludes that as a conservation project, Command of the Oceans is academically rigorous in terms of repairs, reversibility and the architects' selection of new materials.
Higgins says the process was helped by the enormous knowledge of the client, The Historic Dockyard Chatham, and its own pool of directly-employed craftsmen, which meant that specialist craft expertise was always at hand.
The industrial nature of the complex, with sheds constructed from massive timbers, allowed for a bold approach to materials, with the architect making use of board marked concrete, composite timber, blue limestone on the raised entrance ramp and, of course, the dramatic black zinc cladding on the new build visitor entrance.
'The idea of a black-clad visitor entrance was there from the beginning,' says Higgins. 'The cladding itself looks suitably robust and it has a method of assembly that echoes the timber boarding of its neighbours.'
The new visitor centre, announcing itself among the white sheds and with its sharply non-conforming pitch, still succeeds in tying its scheduled monument neighbours together while making its own 21st Century statement.
Thanks to Brendan Higgins, associate, Baynes and Mitchell Architects.
Text by Neal Morris, © RIBA.
This is a 'Practice News' post edited by the RIBA Practice team. The team would like to hear your feedback and ideas for Practice News: practice@riba.org