13 July 2017
Prospects for architects' workload looked to be holding steady in May, with little change registered in the RIBA Future Trends workload survey for the third consecutive month.
The index of future confidence in May was +23, up one point from the previous month.
The survey showed similar levels of optimism across all sizes of practice. While large practices forecast a workload balance of +25, medium and small practices both came in only marginally lower at +23.
'Overall the picture is one of relatively steady workloads rather than significant growth,' says Adrian Dobson, RIBA Executive Director Members.
The RIBA Future Trends Staffing Index slipped back a little further in May, standing at +7 compared to +9 in March.
Large practices and medium-sized practices both remained relatively upbeat with a balance of +13 expecting staff levels to increase, while among smaller practices the balance was +6.
'Commentary received this month from our participating practices continues to suggest a broadly stable market for architectural services and solid ongoing demand for qualified staff,' adds Dobson.
Regions showing the most positive balance between practices expecting workloads to rise rather than fall were Northern Ireland, clearly out in front with +50, the North of England (+36) and the South England (+37).
London, meanwhile, continues to be the most cautious region with a balance of +12.
The two key market sectors of private housing and commercial continued to be stable, with private housing increasingly slightly to +22, and commercial slipping marginally to +7.
While some practices suggested that the larger-scale commercial market could be cooling, others singled out smaller scale residential work as particularly buoyant.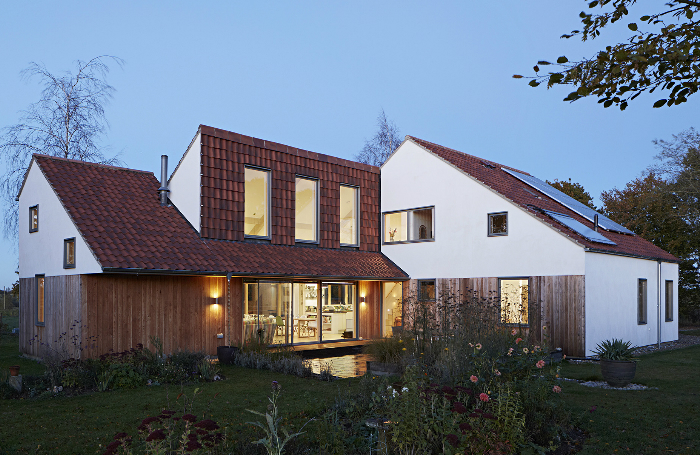 Anthony Hudson of Norwich-based Hudson Architects confirms this is certainly the case in East Anglia: 'We've seen an amazing number of inquiries for residential projects and extensions over the past two months, even though we have been going into the holiday season, mostly for permanent living rather than second homes.'
The RIBA Housing Group member says it's not apparent why enquiries have jumped, but he suspects it may be that people with money to invest are deciding to act now in anticipation of higher interest rates in the future.
'Builders tell the story,' says Hudson. 'They are incredibly busy. For our last tender we went to four or five and only two would give us a price.'
In contrast, he says larger scale residential projects are not going forward at anticipated rates. Many rural areas lack the infrastructure for larger projects and he suspects that some large sites are at the wrong scale to work. Norfolk currently has 40,000 extant housing planning permissions.
Hudson recently chaired a local conference focusing on custom and self-build, which he is very optimistic about, although he believes it will take time for confidence to build. He sees parallels to the situation the Netherlands found itself in 2008 when new housing solutions had to be found.
'It's starting to happen and local authorities are starting to look at designating land. Success will depend on local authorities being more proactive, but self-build is a fantastic way for architects to get back into the housing market properly,' Hudson says.
Thanks to Anthony Hudson, director, Hudson Architects.
Text by Neal Morris, © RIBA. This is a 'Practice News' post edited by the RIBA Practice team. The team would like to hear your feedback and ideas for Practice News: practice@riba.org