How can contractors safely re-open sites?
07 May 2020
Many large construction firms, such as McAlpine, Laing O'Rourke and Multiplex, have recently re-opened building sites, albeit at significantly reduced capacity, and with far fewer workers on site. As the UK government prepares to announce details of its exit strategy from coronavirus lockdown, Mace announced this week that it anticipates its projects to be operating at 80% capacity by July.
The coronavirus (COVID-19) crisis presents considerable challenges to construction in terms of observing social distancing guidelines and other measures to prevent the spread of coronavirus. The Construction Leadership Council (CLC) has published Site Operating Procedures V3, which it reviews and updates in line with government guidelines: see the CLC website for the latest version. The CLC have also issued a useful guide providing advice on temporary suspension of sites.
Joel Davenport, a Director at Allies and Morrison, is managing a number of projects on sites which temporarily closed before lockdown - or which never stopped. The contractors took the decision to continue working and implemented necessary measures to protect their workforce. His practice responded to supporting projects still on site by increasing the frequency of communication.
"We have been in more frequent contact with the contractor than normal," Davenport reveals. "Typically we speak several times per day. We meet as a team via video link once a week. This has replaced our normal client/contractor site meeting."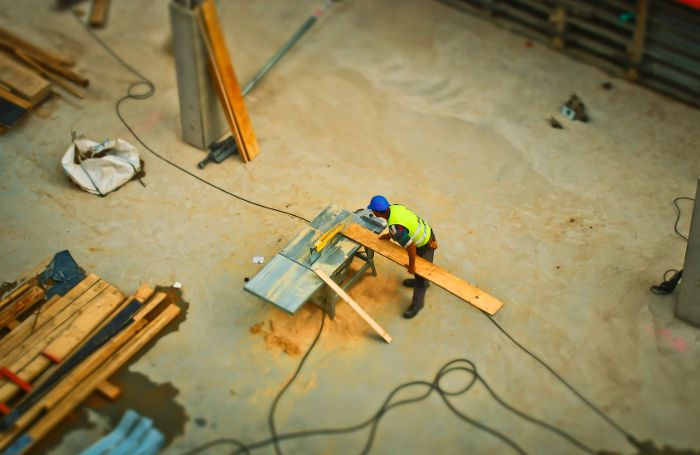 He reports that he finds contractors are following the CLC's guidelines. Social distancing is being observed, with 'team talks' being delivered not to the entire group but to smaller clusters standing two metres apart. The CLC procedures also state that the health and safety requirements of any construction activity must not be compromised at this time. If an activity cannot be undertaken safely, it should not take place.
Davenport is seeing contractors taking account of the impacts of social distancing on health and safety in a number of ways, from altering the way they receive deliveries to the installation of products and materials, as well as the day to day safe operation of the site.
None of the personal protection equipment (PPE) is shared, with all used PPE being disposed of. There is no sign-in book or pen to avoid contamination; instead, a board on the wall is used for contractors to mark themselves in or out. All tool handles, rest areas and WC facilities are frequently cleaned. There are also many more visits from a Health and Safety Officer.
"We have found that our entire project team has proactively worked together to find solutions to problems that arise," states Davenport. One of the main areas where the practice and contractor have worked together is to find alternatives where shortages have occurred. They have respecified materials and redetailed interfaces to work with products the contractor can still source.
"We are pleased that together, with a bit of extra effort, the projects have remained broadly on programme," he says.
Formation Architects, a practice who carry out a lot of work at the delivery stages of larger projects, has also experienced work on site recommencing after a pause, or site processes adapting quickly without the need to halt.
Kees van der Sande, Formation's Director, reports that their large clients had operations teams that rapidly took action to help keep work progressing, although at a reduced pace.
"Whatever happens on site is likely to be much slower," he states. "Where you would normally have four different trades working alongside each other, it tends to be one task at a time."
Van der Sande states that collaboration and communication has been good. Apart from some delayed residential handovers, he has not experienced any contractual problems arising from the working arrangements.
"Most construction companies have been eager to keep going. On our largest projects we are not contract administrator, but everyone is trying to be reasonable and resolve issues."
Formation have not completely dispensed with site visits from their architects. They are satisfied that their sites are safe for staff to access but they are making it clear that this is a voluntary decision for staff to take; travelling to site safely may still be a challenge for some.
"We are confident that the sites are safe environments, but if anyone is not happy to be on site, we are assuring them that it is not obligatory and they do not have to visit."
The RIBA has published information on contractual issues surrounding site closures, safety, responsibilities and liabilities. Any employee/worker that has a concern about non-compliance with Health and Safety legislation, including working within Public Health England Guidance during the COVID-19 outbreak, can whistle-blow to the HSE.
Thanks to Joel Davenport, Director, Allies and Morrison; Kees van der Sande, Director, Formation Architects.
Article first published on 7 May 2020.
Text by Neal Morris. This is a Professional Feature edited by the RIBA Practice team. Send us your feedback and ideas.
RIBA Core Curriculum Topic: Business, clients and services.
As part of the flexible RIBA CPD programme, Professional Features count as microlearning. See further information on the updated RIBA CPD Core Curriculum and on fulfilling your CPD requirements as an RIBA Chartered Member.