25 March 2021
Starting up a practice during a global pandemic might seem like a bad idea. For some architects, it has been prompted by necessity, having been made redundant from a practice. For others, it is something that they had long been considering and the timing was right, lockdown notwithstanding.
Job satisfaction
"Bad times can be good times," is the bold assertion of Paul Zara.
He set up Paul Zara Architects in June 2020 after 35 years with Conran + Partners. There was no particular game plan, he admits, but clearly job satisfaction played a large part in his decision. He had a strong desire to become a hands-on architect again.
"As you take on more senior positions, you grow less hands on," he states. "Getting back to the details of a scheme is very important to me. Being able to manage the details scrupulously, to ensure that your buildings have that extra 20% of quality: that is what I am seeking."
So far, he has found working for himself to be liberating. He has no office overheads to pay, and he has kept the business structure simple. As a one-person micropractice, he has been working with freelancers and intends to continue to do so.
First clients
Of course, all practices need clients. Zara was able to line up several small, mainly residential, projects quite quickly. Some larger projects then came his way through former clients.
As Zara points out, architects will typically have a clause in their contract with a practice that does not permit them to approach former clients for a specified time after you leave. This will often be six months. But he suggests that such clauses do not prevent any such clients from approaching you, should they choose to.
Kent-based Ingrain Architecture was founded by Phil Ward and Chris Palmar, who had both worked together at a 40-strong multidisciplinary practice before they were furloughed and later made redundant. Like Paul Zara, they are enjoying the hands-on aspects of smaller-scale work, as well as dealing with clients on a personal basis.
Their biggest challenge so far, Ward reveals, has been learning how to prioritise and balance which jobs to work on and when. This is a cashflow management issue. They need to ensure that they receive the right fees at the right time, so that their own individual outgoings are met; that their mortgages and household expenses are paid.
"Keep communicating," Ward urges any nascent practices. "Do not let anyone think for a moment that you are not ready and available for work during lockdown."
Gratifyingly, all of their early clients decided to press on with projects during repeated lockdowns and the practice is beginning to receive its first repeat-client work. Its projects have been mainly residential, although they have secured some warehousing work. Pro bono work might seem risky for a new practice, but a leisure scheme that the practice took on pro bono is now becoming fee-earning and could last for several years.
Niall Maxwell is founder and director of Rural Office for Architecture. It is by no means a new practice, having been set up back in 2008 when Maxwell and his family decided to relocate from London to Carmarthen. But he can recall very clearly the challenges of finding clients in an entirely new location.
"As a self-employed person you become hyper-attuned to the need to find work," Maxwell states. "We did offer some services as loss-leaders, effectively: small domestic work to keep ourselves busy."
"There is a need to keep plugging away and taking on whatever you need to keep going. At the same time you should never sell yourself short and 'undercut yourself' on price. If you keep to your own standards, it might take time, but it eventually pays dividends."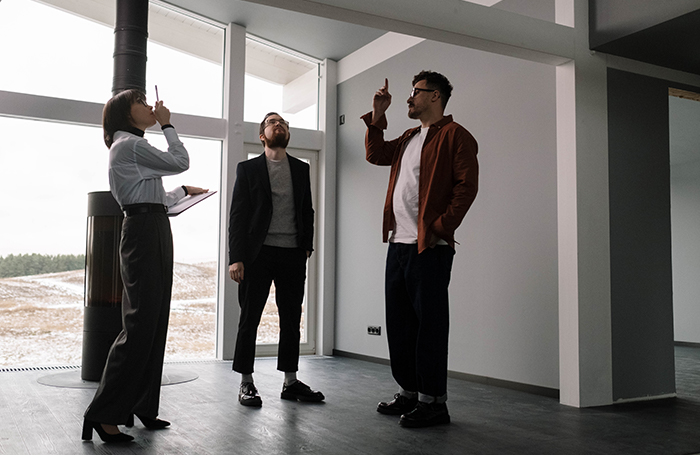 Marketing and social media
Ward and Palmar of Ingrain paid a great deal of attention to social media from the beginning, posting regularly on LinkedIn, Instagram and Twitter. LinkedIn has been especially useful, Ward notes, and has proven very powerful in boosting the practice profile.
A soft-spoken approach to social media has eventually paid dividends for Rural Office for Architecture. Maxwell's strategy has always been light-touch, but the practice now has some 27,000 followers on Instagram.
"I have always communicated very carefully what we do and presented myself as someone you can talk to," he reveals. "I always reply to messages even if it is from a student on the other side of the world. I try to be honest and will talk about failure, mishaps and stress in a blog post."
He believes that, when it comes to social media, honesty pays. It has led to an emotional engagement from prospective clients.
"There are lots of different ways to approach communications. One new client was referring to parts of my life I had been talking about online. He had engaged with the narrative around the practice."
Thanks to Paul Zara, principal, Paul Zara Architects; Phil Ward and Chris Palmar, Directors, Ingrain Architecture; Niall Maxwell, principal, Rural Office for Architecture.
Find out more about clients and marketing in How to Win Work by Jan Knikker, published by RIBA Publishing.
Text by Neal Morris. This is a Professional Feature edited by the RIBA Practice team. Send us your feedback and ideas.
RIBA Core Curriculum Topic: Business, clients and services.
As part of the flexible RIBA CPD programme, Professional Features count as microlearning. See further information on the updated RIBA CPD Core Curriculum and on fulfilling your CPD requirements as an RIBA Chartered Member.
Article first published on 25 March 2021.