How Instagram can win your practice new work
15 November 2018
For many creative start-ups, Instagram has proved to be a valuable marketing tool. It can showcase your ideas to potential new clients, allowing your work to be appreciated by audiences you may not have anticipated.
Essentially, it places a powerful publishing facility in the hands of small businesses that might have zero budget for business development. Setting up and maintaining an Instagram page takes less time and effort than the simplest of websites. Perhaps best of all is the fact that Instagram is free.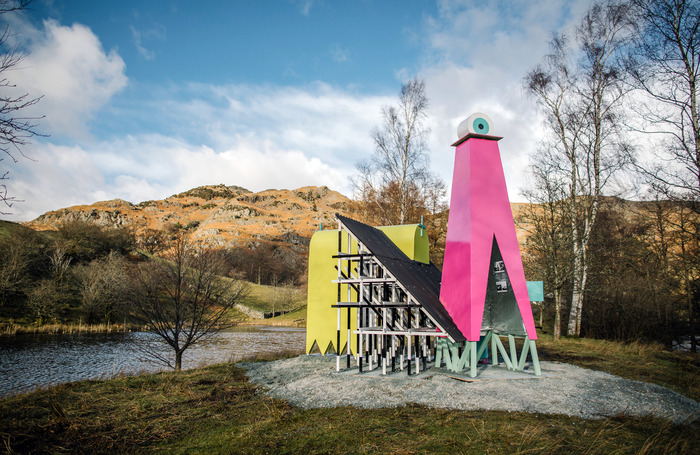 Studio MUTT is a collective practice comprising architects James Crawford, Graham Burn and Alex Turner. They have been impressed by Instagram's effectiveness and can testify that, with a little care over the quality of content, it can generate commissions as well as enviable coverage in design media.
'We started using Instagram to set out our ideas, our work in progress, and what we are about as a practice,' reveals Turner. 'We don't consider ourselves writers: it is all done through interesting and engaging images. It is an incredibly powerful tool, making it so easy to reach out to people. And you get an instant response.'
MUTT are just as happy to work on art-based constructions as they are on more commercial building projects. Earlier this year they created the Ordnance Pavilion on the Langdale Estate in the Lake District. It was commissioned by Ordnance Survey to celebrate the re-triangulation of Britain between 1935 and 1962 (a project that sought to improve the accuracy of maps of the UK).
They designed the structure to allude to scenes and characters from the monumental effort the Ordnance Survey's project would have required in the days before GPS. Instagram posts documented MUTT's progress. As the project progressed, so did MUTT's rising tally of Instagram followers.
Turner says he has no doubt that these Instagram posts led directly to a commission to design four colourful 'inhabitants' of Sir John Soane's Museum, as part of the London Design Festival 2018. The figures – a lawyer, a monk, a magician and an Architect – are derived from references in Soane's writings in which he pondered who future visitors to his home might imagine had once lived there.
The imaginative and arresting figures they came up generated more Instagram followers, and press coverage naturally followed.
It is a neat demonstration of the waning power of the traditional press release. Any journalist will admit that only a cursory glance is given to the pile-up of press releases they are emailed. Instagram reverses the process, with journalists actively trawling for interesting visual content they can follow up.
Granted, Studio MUTT does issue press releases these days, thanks to the fact that it now has a very long list of interested contacts. But its earliest successes in generating media interest were down to Instagram.
Turner remarks that they recently received an inquiry from Elle Deco magazine on the practice's website completely out of the blue, which he puts down to their Instagram posts.
MUTT regards its Instagram presence as an evolving entity in its own right. Instagram is for ideas and work in progress; their website is to broadcast practice milestones and completed projects.
The rule at MUTT is that any drawing or photo on Instagram has to be of high quality: fit for publishing, because publishing is what Instagram does. Turner says they are also aware that anything placed online can end up having a digital life of its own for a long time.
When Googling Studio MUTT, the images that appear at the top of search results will generally be from Instagram, adds Turner, so the question of quality is paramount.
When networking face-to-face, the three MUTT founders find that their Instagram account is a calling card that has gone before them.
'It is a great ice-breaker, because so many people we talk to have seen our work on Instagram,' Turner enthuses. 'And if it's a potential client that has looked, then it means there is some interest and it gets the conversation off to a good start.'
The MUTT founders suggest that large practices have generally not discovered how powerful Instagram can be, which in some ways they regard as a good thing: if the platform becomes too corporate, they suspect users will stop using it.
'Instagram works best when it is personal and revealing about how people work, which is the opposite of what large companies tend to show,' suggests Graham Burn.
However, both directors have been enjoying Norman Foster's quirky Instagram account. Provides characterful glimpses of the man rather than the corporate practice, its unusual posts have revealed, among other things, Foster's astonishing collection of coloured pencils. Foster gets it, it seems.
Thanks to Alex Turner and Graham Burn, Directors, Studio MUTT.
Text by Neal Morris. This is a Professional Feature edited by the RIBA Practice team. Send us your feedback and ideas
RIBA Core Curriculum Topic: Business, clients and services.
As part of the flexible RIBA CPD programme, Professional Features count as microlearning. See further information on the updated RIBA CPD Core Curriculum and on fulfilling your CPD requirements as an RIBA Chartered Member.
Posted on 15 November 2018.