29 October 2020
"Building things for real is an extraordinary thing, whatever the scale, whatever the budget," enthuses Piers Taylor, founder of Invisible Studio. "DIY is very empowering."
He is not talking about weekend home improvements here, but an architect's hands on involvement in making buildings. Taylor and his practice have designed a number of structures that can be constructed by novice and unskilled volunteers. This might entail training workshops and unconventional procurement arrangements, but it has resulted in award winning buildings.
This enabling of makers has been an enduring interest ever since Taylor built a house for himself 15 years ago and started the annual Studio in the Woods event. The latter has brought together architect friends, students and makers to collaborate in the creation of a useable structure across three or four days.
"In other creative disciplines, you make the thing itself, whereas architects essentially make an approximation of the end product," Taylor muses. "The Studio in the Woods experience forces participants to work in a different manner in order to make a tangible building that can be occupied in a short space of time."
What happens when designing and making come together will be the subject of Taylor's presentation at RIBA Guerrilla Tactics 2020: Reinventing Practice on 13 November. It is a part of a day given over to The Craft of making: Occupying the gap between design and construction.
The Studio in the Woods event in turn led to Taylor setting up the Design + Make module for the Architectural Association, where students build full scale structures at its Hooke Park campus. Taylor then took on the challenge of applying some of these practices to 'real world' projects, outside of an academic context. He began designing projects with volunteer workers who had no previous experience of building.
For the Westonbirt Mess, a building for the Tree Team at the National Arboretum in Gloucestershire, they used a team of entirely unskilled volunteers, coordinated by two skilled timber framers. The building was constructed from timber grown and milled on site. It was the biggest structure in the UK to be constructed from single lengths of green timber and it went on to win a RIBA National Award and three Regional Awards.
The scheme Taylor describes as summing up his 'manifesto' is the Amateur Studio, from which he still works. This was built by his practice with the help of neighbours and friends; all of whom were paid the same flat rate. It was also a demonstration project for his other abiding concern: resource efficiency. The studio was built entirely from untreated and unseasoned, low grade local timber for a total cost (materials and labour) of £15,000.
"The project was an exercise in establishing a system of building that could be constructed by unskilled labour, with minimal drawings, allowing ad hoc discoveries to be embraced," Taylor states.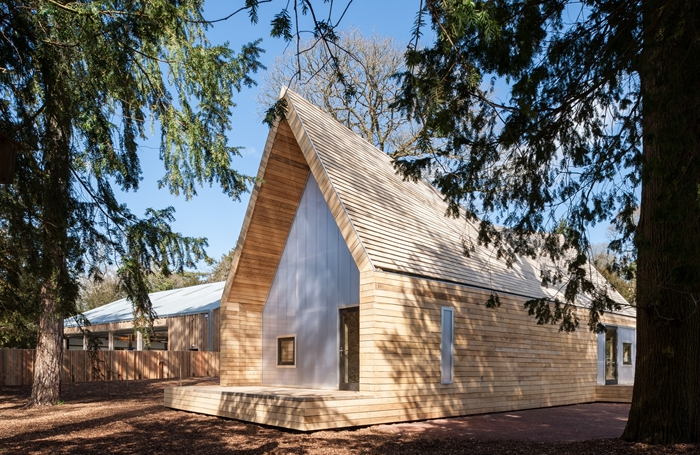 He still approaches projects with a view to empowering volunteer builders, even at scales where a more rigorous approach to construction management is essential. In Watchet, Somerset, Invisible are working on the East Quay development of workshops and studio spaces. This is currently on site. Here, the contractor was appointed on the basis that they would make use of local people, which is clearly in sympathy with Taylor's preferences. The client is a social enterprise community group that secured a £5.3 million grant from the Coastal Communities Fund.
Speakers at this year's Guerrilla Tactics also include Naeem Biviji and Bethan Rayner of Studio Propolis, two architects who take an even more hands on approach to making. While both are architecture graduates of the University of Edinburgh, they have also trained in furniture design.
"We don't separate architecture from making: we always think spatially, and about context," Rayner states. "As designer-makers we approach our projects as a complete work and can use our own wood and metal workshop."
For an artist's studio that was completed in March 2020, they not only provided the design but they fabricated concrete formwork and joinery, door hinges, ironmongery and even grew plants for landscaping.
They can switch between furniture prototyping and joinery commissions to larger scale design projects, and are able to bring a striking, premium quality look to the domestic and refurbishment projects that they undertake.
The pair share Piers Taylor's concerns over resources and seek to use reclaimed local material wherever possible. For a recent internal redesign and refurbishment of an apartment in Nairobi — the practice was based in Kenya for 15 years — they repurposed common local materials.
"Our approach throughout was to employ local materials and techniques. We made the kitchen from 80 year old, reclaimed teak windows that can be seen all over Mombasa town."
Where Invisible Studios achieves impressive results from working with non-professional volunteers, Studio Propolis brings a trained craftsperson's expertise to making: these are two very different situations. But both practices are clearly energised by their hands on, creative approaches that do not stop at design. It clearly adds value to their practices: both from the projects that come their way, and the job satisfaction they take home.
Thanks to Piers Taylor, Director, Invisible Studio; Bethan Rayner, Co-founder, Studio Propolis.
Text by Neal Morris. This is a Professional Feature edited by the RIBA Practice team. Send us your feedback and ideas.
RIBA Core Curriculum: Design, construction and technology.
As part of the flexible RIBA CPD programme, Professional Features count as microlearning. See further information on the updated RIBA CPD Core Curriculum and on fulfilling your CPD requirements as an RIBA Chartered Member.
Posted on 29 October 2020.