How practices can survive and thrive post-Brexit
29 March 2017
As Theresa May's historic Article 50 letter, triggering Brexit, was being delivered to Brussels on 29 March, the Brexit Breakfast Briefing was presented to a packed room of architects at the RIBA in London.
Experts and leading practitioners shared lessons in how to survive and thrive from previous periods of uncertainty and highlighted post-Brexit opportunities for UK architects.
Providing a strong voice on Brexit for the architecture profession, supporting members.
RIBA President Jane Duncan reflected on the recent findings of the 'RIBA Members Brexit Survey' report, which raised concerns about the potential impact of leaving the EU while also revealing a resilient profession continuously adapting to change.
One in five practices reported interest to expand into new markets, and not just large practices but SMEs too.
Members identified the government decisions they wanted to see that would allow them to grow their businesses:
Access to the best talent and skills
Trade agreements that open access to foreign markets
Support for education, research and innovation
Action to address the UK's infrastructure and housing shortages
Common standards and low compliance costs
The President and RIBA staff impressed these messages on ministers and MPs at many meetings, as well as at the industry round tables and working groups that are reporting directly to the Culture and Business Secretaries.
'It's been great to see government taking our priorities seriously – the importance of the mutual recognition of qualifications was recognised in the Brexit White Paper and whenever we've met with Government it's been clear that they recognise the importance of architecture to the economy and the UK's global reputation,' Duncan said.
The RIBA continues to work closely with other professional institutes to promote our shared priorities for the built environment to government.
The Brexit Breakfast is part of a wider programme of events that will help practices to plan for the future, including Guerrilla Tactics and the Smart Practice Conference to be held later in the year.
The economic outlook for the UK property market and construction industry.
The fate of the construction sector is closely aligned with the broader trends in the UK economy, Adrian Malleson, Head of Research at NBS, explained. .
Pre-referendum, the UK was forecast to become Europe's largest construction market by 2030, overtaking Germany and Canada to be ranked sixth in the world.
'Confidence plunged, after Brexit, as we all know, but we've actually seen on trend economic growth returning in recent months,' Malleson said.
The initial shock of the Brexit decision has since given way to relatively upbeat forecasts, a trend mirrored by the charting of architects' own confidence levels.
The latest (February 2017) forecast from the Bank of England sees GDP growth of 20% this year and 1.75% thereafter, with the UK recording the fastest growth rate among the G7 group of leading economies in 2016 in spite of the referendum.
Future growth forecasts are still in place for construction too, with leading forecaster Experian expecting marginally smaller growth at 0.6% for this year compared to 2016, but a buoyant 1.6% next year and 2.6% in 2019.
Malleson foresees continued modest growth in the housing market in the coming years, some contraction for the commercial sector (in part as a result of the Brexit decision), growth for education coming from both schools and higher education spending and significant year-on-year growth for infrastructure.
He also anticipates the profession being adept at reacting to change, having navigated the booms and busts of the 90s and 2008, the yo-yoing public of sector spending and design requirements, and rapid technological developments.
The data reveals that Europe's share of the value of UK architectural exports stands at a modest 16%, compared to 59% for Asia, 18% for America and 6% for Africa, reflecting the growth in emerging markets
How to survive the volatility and economic uncertainty of Brexit in practice.
The acute pain of a recession can nevertheless lead to positive outcomes in the longer term, as our panellists discovered.
Their practices still employ management approaches today that were adopted to survive the recession of 2008-09. The lessons learnt at the time have become embedded in their management culture, putting them in a better position to navigate future challenges.
For Cindy Walters of Walters & Cohen Architects, whose pipeline of mainly education projects suddenly dried up in 2009, the response was a very painful, first-ever reduction in staff numbers and a simultaneous push for diversification.
While at first glance they appeared to be a highly specialised practice, Walters understood that education projects had in fact equipped them with extensive transferable experience, which they could readily apply to other sectors. They are now careful to never 'put too many eggs in one basket'.
It was a similar tale of survival at HÛT, who found themselves with none of their usual commercial work. Rachael Davidson, Associate Director, recalls how HÛT changed tactic and moved into small-scale residential work, actively recruiting clients through presenting at home shows and a tailor-made web presence. The strategy paid off and saw the practice through until the commercial sector picked up again. .
They were also driven to improving internal efficiencies. The cost management systems introduced then are still stringently adhered to.
'We monitor project costs monthly very carefully and know how much different work stages are costing, and we will take measures if we have to. We also carry out cash flow forecasting formally twice a month,' Davidson said.
AHMM lost 10% of its staff and responded by collecting operational data and putting a process of management reporting in place. These allow Jonathan Hall and his fellow directors to project cash flow several months ahead and foresee any emerging issues in time.
The practice now has a finance director and costs are monitored closely, but Hall said that the most important management tool adopted, originally as a relatively crude emergency measure, was to track the fee income per fee earner that the practice needed.
'It was a management measure, rather than a project issue, and one that has stayed with us.' Hall said.
All three panellists agreed that their greatest concern over Brexit is mutual recognition of qualifications and the ability of young EU architects to stay and work in the UK. The red tape currently in place for non-EU architects from overseas, seeking work in the UK, should not be seen as a viable model for future dealings with EU citizens.
Seeking new opportunities in practice at home and abroad.
Peter Oborn, RIBA Vice President International, highlighted that there is a wider world out there, requiring UK architects' expertise. The acceleration of urbanisation is leading to global construction growth, with 2.5 billion additional people expected to be living in cities by 2050. Output will rise by $8 trillion by 2030, with China, India, Mexico, Canada and Nigeria accounting for 70% of anticipated growth.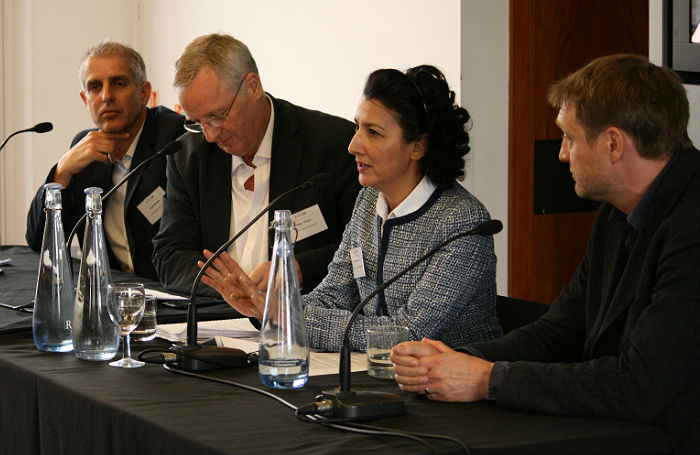 With the benefit of the latest soundings within Whitehall, Rosa Wilkinson, Director of Stakeholder Engagement for Trade Policy at the Department for International Trade (DIT), said she saw new opportunities for architects at home and abroad.
In the UK she singled out infrastructure, as a key sector, and suggested that the projects at the margins of these major investments would generate plenty of opportunities for the profession.
Will Wimshurst of Wimshurst Pelleriti highlighted the diversification of the residential market into a much broader range of typologies as a key opportunity for architects. An architect/developer himself, he observes an increasing shift to joint ventures.
Wilkinson predicted that Brexit will open up overseas markets that the UK had struggled to get into in the past: 'We have had more countries than I have fingers to count coming forward and wanting to do a trade deal with the UK.'
Keith Brewis, Managing Partner for International Operations at Grimshaw Architects, emphasised the importance of immersion in the local culture when seeking work abroad. Partnering with local firms can be a real advantage, he suggested. On a practical level, he pointed out that asking for payment in advance is a perfectly acceptable practice when exporting services.
Adding to that, Rosa Wilkinson presented the pound's recent devaluation as a significant opportunity for UK architects to exploit and manage exchange rates.
The reputation of British architecture is 'extraordinary around the world', she stated and assured the audience that the profession's value to the UK economy is being recognised in Whitehall. Addressing the panellists concerns she confirmed that [the government] are listening and 'absolutely recognises the importance of recognition of qualifications' that is so crucial to UK practices.
Wilkinson ended by urging architects to 'be confident', a sentiment immediately echoed by the other panel members.
Text by Neal Morris, © RIBA