22 February 2018
In 2014 the RIBA published its own Domestic and Concise Building Contracts. Now fully revised and updated, the RIBA Domestic Building Contract is specifically designed to be a simple, clear and easy to understand and use contract between a client and a contractor. Endorsed and supported by the HomeOwners Alliance, it can be used on all domestic (non-commercial) projects, including renovations extensions, maintenance and new buildings.
The RIBA Concise Building Contract can be used on all types of simple commercial building work. It can be used in both the private and public sectors, as it includes optional provisions dealing with official secrets, transparency, discrimination and bribery as normally required by public sector clients.
Small practices moving up from residential or smaller commercial work to larger projects are faced with a bewildering choice of construction contracts, but RIBA Client Adviser Richard Saxon explains that once the project procurement path has been agreed, the contract choice simply follows the procurement model.
The commercial development community generally uses The Joint Contracts Tribunal (JCT) forms of contract, which are seen as broadly balancing the needs of clients and their contractors. The RIBA is a founding partner of JCT and Saxon its current chair.
JCT alone offers 40-50 types of contract reflecting different styles of relationship between the contracting parties.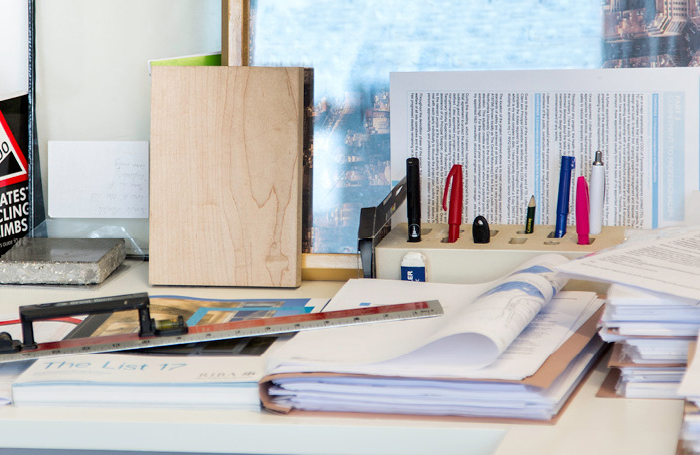 Saxon explains that procurement choices are the basis of contract selection and are driven by how the client wants the construction team to operate. This in turn is driven by where the client wants the project to fall on the risk versus control spectrum, which ranges from total client control and risk retention, where quality of outcomes and flexibility are paramount, to minimum risk for the client, where meeting delivery dates and budget control are paramount and control is handed over to the contractor.
'If you want control over quality, you are almost certainly going to avoid design and build (D&B), but if you are more concerned about risk you are going to go the other way. The traditional form of contract, where the contractor only comes on board after detailed design has been completed, sits somewhere in the middle of the dial,' says Saxon.
Some architects are choosing to manage sub-contractors directly and cutting out the main contractor altogether, although they need to be very technically minded, Saxon suggests.
More than half of all (non-domestic) projects are now D&B after 20 years or so of steady growth. But the advance of D&B has slowed of late, perhaps due to a lack of continuity in the project team.
Within D&B, the architect can operate in three quite different scenarios.
The architect can follow a project beyond planning permission by being novated to work for the contractor from Stage 4 onwards, at which point the architect is employed by the contractor, not the client. Novation sees the client's primary concern switching from the need to gain planning to delivery within the project plan, and the architect's duty of care switching from client to contractor.
Secondly, the client can retain the architect to act as a 'monitor', while the contractor employs a different 'executive architect' to do its production drawings. Here the architect tries to ensure that the project does not diverge too much from the original design – assuming it is realistically buildable – to save the contractor money.
Lastly, the architect can simply be paid off after Stage 3 having obtained planning permission for the client.
Once the procurement path has been identified, matching all of these variables with a contract option on the JCT website becomes straightforward.
Clients in the public sector such as education, health and local authorities have been advised by government to use NEC contracts rather than JCT, although Saxon says in practice less than half of projects use them because they are more complicated and expensive to administer. NEC tends to be reserved for larger projects and is unlikely to be nominated by the client on projects under £5m, he suggests.
The Association of Consultant Architects (ACA) offers Project Partnering Contracts (PPC), all of which are partnering contracts based on collaborative working principles and considered to be particularly BIM-friendly. Notably, the Department of Justice has broken ranks among government clients and requires the use of PPC 2000.
Saxon, a former member of the government's BIM Steering Group and UK BIM Ambassador for Growth, maintains that BIM working can be equally effective under any type of contract (setting out the procurement and contract route is part of the BIM process and requires a BIM Protocol to be added to the contract). Meanwhile, JCT caters for partnering through its JCT Constructing Excellence contract.
Likewise, Saxon points out that public sector framework agreements are not tied to any particular type of contract.
'The crucial thing is that the architect does not sit back and allow someone else such as the QS to make all the decisions. The architect should advise the client about what type of building they can have from a quality point of view and not allow the client to be told what they want by a consultant thinking only about cost control,' concludes Saxon.
Thanks to Richard Saxon, Principal, Consultancy for the Built Environment.
By Neal Morris. This is a Professional Feature edited by the RIBA Practice team. Send us your feedback and ideas
RIBA Core Curriculum Topic: Business, clients and services.As part of the flexible RIBA CPD programme, Professional Features count as microlearning. See further information on the updated RIBA CPD Core Curriculum and on fulfilling your CPD requirements as an RIBA Chartered Member.
Posted on 22 February 2018.