How to make good-looking concrete
19 October 2017
As senior architect at The Concrete Centre, Elaine Toogood gets more enquiries from architects about how to make concrete look good than any other technical aspect of the material, despite most concrete spending its life well hidden.
Architects tend to leave concrete specification to the structural engineer and often know relatively little about the material itself. That is, until a design decision is taken to expose it and the structural engineer turns round and asks: 'What do you want it to look like'.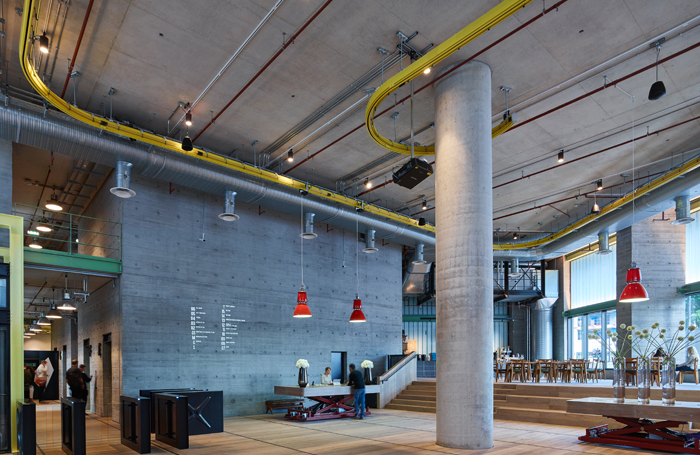 Using pre-cast concrete is relatively unproblematic, of course. When specifying 'recon' (reconstituted stone) as it's known in concrete circles, there are samples with every type of texture and finish available from suppliers for the asking.
'Most of the requests for information and training are for in-situ casting. It does require an understanding of how concrete is made, as that will determine how it will look. Then the architect needs to think about formwork and joinery and look at the specialist formwork linings that are available,' says Toogood.
'It is very different from getting the engineer to specify "grey" structural concrete. Ideally you should be working with a concrete contractor with experience of architectural concrete. The person who will actually "design" your concrete is at the ready-mix plant, and when it arrives on site placing the concrete must be subject to much more rigorous quality control.'
Cast concrete has to be properly vibrated, formwork linings have to be kept clean to give consistent effect. And probably the most important ingredient of all in the concrete mix is a good site foreman, she adds.
In her CPD presentations on architectural concrete, Toogood offers a series of key pointers to achieve successful in situ pre-casting.
Start with research into the types of finishes envisaged and how to get there, but then manage expectations as costs can vary considerably.
Toogood always recommends visiting buildings to see finished concrete and taking clients along if at all possible so they can see and understand what is technically achievable.
'They may need to see for themselves how industrial looking the exposed concrete will be, or they can be shown a particular surface finish and have the costs and processes for achieving it properly explained,' says Toogood.
There are a lot of variables to understand. For instance, if the formwork used can breathe it will produce a matt finish, if it cannot breathe the surface will be shiny. The more impermeable the formwork, the more it can be re-used on site. Not insisting on a perfect shiny finish is likely to be cheaper.
For the specification, Toogood recommends that architects use the 'National Concrete Structural Specification document version 4' – free to download from Construct, the concrete structures trade association. The document allows the specifier to set out exactly what is expected of the concrete using the correct wording. It can be used on its own or in association with NBS.
Architects are also advised to produce drawings showing the preferred location of formwork boards.
'There are ways to make the marks created by the joints between boards less visible on the concrete, but generally you have to accept that you will be able to see them, so it is a good idea to understand the risks and where things could look wrong. Don't leave it to the contractor to make all the decisions about formwork,' Toogood warns.
Finally, it is important to cast trial panels on site as a practice run, to test the concrete mix and to see the final result. Mock-ups can usually be done in an area that will not be seen, such as a basement.
Toogood cites the recently-completed White Collar Factory in London's Old Street designed by AHMM and engineered by AKT II for Derwent London, where numerous sample panels were cast first to ensure the final surface finishes were exactly what was wanted.
'Concrete Quarterly' has just published a free compendium of visual concrete guidance articles that illustrate the impressive range of surface finishes that can be achieved: Concrete Quarterly Special issue: VisualConcrete Focus.
Thanks to Elaine Toogood, senior architect, The Concrete Centre.
Text by Neal Morris. This is a 'Practice News' post edited by the RIBA Practice team. The team would like to hear your feedback and ideas for Practice News: practice@riba.org
Posted on 19 October 2017.