04 March 2021
Not every project goes according to plan. The most beautiful designs, sympathetic to their environment, can still encounter resistance; and unexpected controversies can crop up due to a project's partners, funders or its public perception.
Adverse publicity can threaten the whole future of a project, so it is important to be able to intervene decisively in the narrative to avert a crisis.
Jan Knikker is an expert in managing media relations for high profile practices. After ten years at OMA he is now a Partner at Rotterdam's MVRDV, where he is one of its most public faces. He has become an expert in articulating the worth and value of a project, and turning around negative publicity, should it ever arise.
One fundamental principle of "crisis communication", as he terms it, is to stick to what you are competent in talking about. For architects, this should be based on the design concept.
Design is, after all, a skill that the architect has trained in: it is what they are passionate about. However, in communicating the project's value, architects should use language that a non-specialist can understand. Consider whether your response could come across as arrogant, Knikker urges. If so, it will only create more opposition.
The most effective response to criticism uses more than words alone. Knikker found that when he posted a design detail to demonstrate an important aspect of a project, it received much more discerning consideration from the public.
"This allows people to form their own opinions, rather than being asked to accept the architect's claims at face value," he points out.
He will quickly step in himself if demonstrably false accusations are reported or repeated online. For example, he will sometimes reply directly in the comment sections of a magazine feature to correct an inaccuracy.
If doing so, never be aggressive, he warns. Respond swiftly but stay calm and focus on the facts. He cautions against ever responding at night, especially in the heat of the moment when your emotions might get the better of you.
At the RIBA's Future Leaders: Learning to Lead event on 18 March 2021, Knikker will share further insights into how an architect can steer the direction of the public conversation. But he also emphasises that crisis communication is not solely the responsibility of the architect but also of the client. It is vital to coordinate the response with the whole extended team.
Of course, the best crisis response is a planned and anticipated one. Consideration of any potential controversies that might arise, well in advance, is key.
Actively assemble all possible negative responses, using local question and answer sessions, Knikker suggests. Forearmed, you can then set about embedding solutions to likely challenges within your public presentations.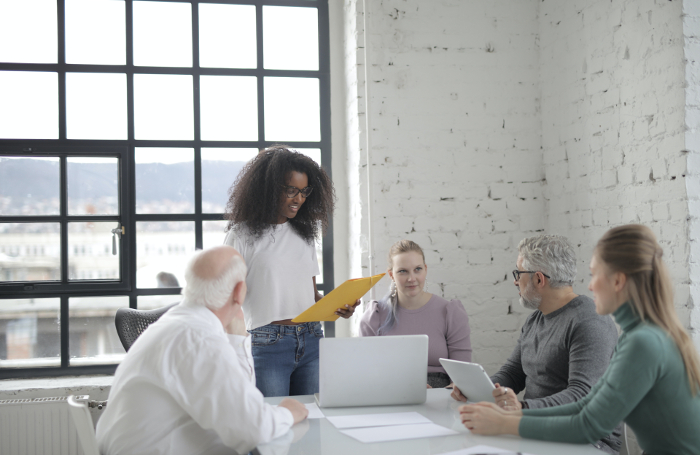 Engaging with the public on a personal level, right from the very beginnings of a project, can encourage them to think of it as theirs: something they have a connection to. Listen to the concerns of local residents and explain the reasoning behind specific aspects that might prove contentious.
"It is better to involve people and give them the opportunity to contribute," he suggests, "albeit within a clearly defined framework."
All options that you present for consideration should be good ones. Do not count on people picking the best option: all of them need to be acceptable outcomes.
By way of example, he points to the Bastide-Niel project, a competition won by MVRDV. This was a large masterplan: an extension to the city centre of Bordeaux. The city planners and the practice put a multi-stranded communications strategy in place.
MVRDV took pains to demonstrate careful retention and renovation of existing buildings in the plans, and how the new district would integrate numerous public and cultural facilities such as a community centre, day care centres and sport facilities.
After its announcement at the 2014 Agora architecture biennale, there followed a project website, workshops in which stakeholders were invited to influence the design, an interactive model of the buildings and streets in Bordeaux's main square and public consultation events.
Architects from MVRDV even took to their bicycles to visit stakeholders who had not been able to attend participation events, to discuss the project over a cup of tea. The pivotal moment was a presentation to UNESCO (Bordeaux being a designated UNESCO World Heritage Centre). The architects prepared two versions of their plan: one that would be invisible from the city centre; and one that would be strikingly conspicuous. Confronted with the less appealing invisible option, UNESCO approved the visible version.
Knikker encourages team members to speak up if they have any concerns over a project or client as early as possible. This is a consideration when deciding whether to accept a project in the first place.
"It needs to be assessed on a case by case basis," he suggests. "Always check where a client's money is coming from. If it is not clear and you cannot find out, it is probably too risky to be associated with them."
One principle he follows is to consider what is going to happen in a building: if it is clear that a building will serve a positive purpose or make a beneficial social impact, his practice would typically accept the work.
Clearly, making sure that every project starts from the right place is the best way to ensure that crisis communications never need arise.
Thanks to Jan Knikker, Partner, MVRDV.
Tickets for RIBA Future Leaders: Learning to Lead, featuring Jan Knikker, are available now.
How to win work: the architect's guide to business development and marketing by Jan Knikker, is now available from RIBA Publishing.
Text by Neal Morris. This is a Professional Feature edited by the RIBA Practice team. Send us your feedback and ideas.
RIBA Core Curriculum: Business, clients and services.
As part of the flexible RIBA CPD programme, Professional Features count as microlearning. See further information on the updated RIBA CPD Core Curriculum and on fulfilling your CPD requirements as an RIBA Chartered Member.
Article first published on 4 March 2021.