Infrastructure investment - a global challenge
24 August 2017
Funding transport infrastructure presents a challenge globally, as cities struggle to fund infrastructure to match population growth and support wider investment, says Arup's Global Transport Leader Isabel Dedring.
She believes that central governments, with a few exceptions, will not carry all the costs directly for necessary infrastructure. So we have to ask who benefits from infrastructure, and how can these organisations be made to contribute to the funding?
As former deputy mayor for transport in London, Dedring had direct experience of using the mayoral Community Infrastructure Levy to help fund Crossrail and the development-based levy that will help fund the Northern Line extension.
As one of the speakers lined up for the RIBA's Smart Practice Conference in Bristol in October, she will be explaining how 'value capture' will have to play a central role in infrastructure investment planning.
Dedring's preferred model is actually not London's single-stream arrangement, but San Francisco's, where the replacement Transbay Terminal has a multiplicity of value capture funding streams from sales taxes, business taxes, property taxes and tolls.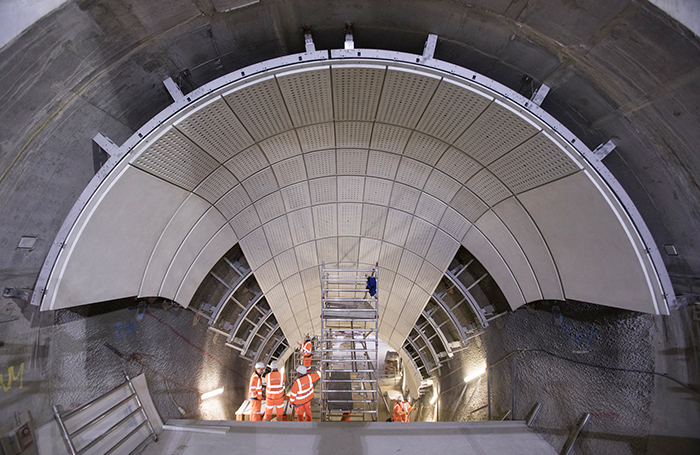 In the UK, the debate over how much the government should invest directly in infrastructure to support new business and housing investment was highlighted by the Transport Summit in Leeds on Wednesday 23 August. At the high-level gathering, Greater Manchester mayor Andy Burnham, alongside business and council leaders from Leeds, Sheffield, Newcastle and Manchester, called for more certainty over funding commitments from ministers.
On the global stage, the level of UK infrastructure investment is at the middle range among industrialised countries, but remains lower than most of the major G7 economies.
Theresa May's government announced plans for £500 billion of infrastructure spending in December, reversing planned reductions in investment but still putting the UK on course to spend a relatively low 2.8% on average of national income.
Aside from the stand-out projects of Crossrail, due to complete next year, and the forthcoming HS2, the government's critics claim that a lack of political commitment to strategic infrastructure planning and investment continues to hold back development by the private sector.
The political battle for the future of the Northern Powerhouse re-ignited this week with business and political leaders from the Northern metropolitan areas launching a campaign for what they see as a fairer less 'London-centric' share of national infrastructure investment amid signs that the government is ready to renege on earlier investment promises.
Former Chancellor George Osborne, architect of the Northern Powerhouse and now chair of the Northern Powerhouse Partnership, this week launched a campaign for new high speed rail links running East–West from Liverpool to Hull, dubbed HS3 or Northern Powerhouse Rail.
Ministers are due to confirm plans for the next stage of HS2 in the autumn – the Northern extension(s) or Phase 2b. Osborne and the Partnership will be lobbying hard to ensure that plans are complementary to their own MS3 proposals.
Mick Goode, chairman of RIBA North West says the elements of the Northern Powerhouse policy already in place, such as combined authority city mayors in Liverpool and Manchester and Preston's City Deal are already producing results.
'Preston's City Deal includes 17,000 new homes, with the plan based very much on the implementation of infrastructure projects. So far only the easiest sites are being released and developers can't get hold of them quick enough,' says Goode.
But he says other projects in the region have clearly drifted over the past six months as a direct result of continuing uncertainty over the government's commitments.
Goode is one of the advisors for the RIBA's current investigation into how infrastructure investment can generate public policy benefits, particularly housing, and to identify where opportunities are being missed. The study has hosted four roundtable events around the regions so far, involving local stakeholders including RIBA members. Problems raised include the fragmented nature of infrastructure delivery, which undermines a proactive, coordinated approach.
Paul Smith, the Cabinet Member for Housing at Bristol City Council who will chair a panel session on transport infrastructure and housing at the RIBA Smart Practice Conference, says policy makers must see housing, transport, employment, leisure and public services as part of a single interactive eco-system, because separating them is incredibly difficult and counterproductive.
'Any new housing developments at scale must incorporate a consideration of the wide range of needs of the community. Where these cannot be provided within an area, linkages to them need to be considered at an early stage and designed in,' says Smith.
'In Bristol we have reserved land for a new station in one development, at another we have ensured that the new MetroBus system is in place prior to development. Having all of these issues considered at the design stage is crucial, as seeking to retrofit them later is more expensive and less effective.'
Smart Practice Conference 2017: New Opportunities takes place at M Shed, Princes Wharf in Bristol on 3 October 2017. This year's conference will look at proactive approaches to seeking out new business opportunities.
Thanks to Isabel Dedring, Global Transport Leader, Arup; Mick Goode, Director, Croft Goode; Paul Smith, Cabinet Member for Housing, Bristol City Council
Text by Neal Morris. This is a 'Practice News' post edited by the RIBA Practice team. The team would like to hear your feedback and ideas for Practice News: practice@riba.org
Posted on 24 August 2017.