15 July 2021
From 2 July to 4 September, you can visit 'Freestyle - Architectural Adventures in Mass Media', a RIBA commission with Space Popular, on Fridays and Saturdays from 10am to 5pm. Book your time slot here.
What makes a style? How is a style collectively agreed upon and shared?
In Freestyle, RIBA's most recent commission, the multidisciplinary design studio Space Popular has been asked to explore the richness of stylistic movements in architecture. Delving into RIBA's world-class collection of drawings, artefacts and objects, this exhibition traces a narrative through architectural history, from the point when mass media enables style to spread freely, transcending cultural and geographical borders.
In a stunning transformation, the RIBA Architecture Gallery is swathed in stimulating layers of information. A kaleidoscopic and custom-printed carpet acts as a giant timeline, spanning five hundred years and depicting various tools of image-making technology: from the Gutenberg press to the pinhole camera, to the computer and smartphone, as armatures of the recent digital and virtual realm. Upon this colourful carpet sits an oversize architectural model, condensing recognisable fragments of British buildings into a giant narrative dollhouse, from Robert Smythson's Hardwick Hall to St Paul's Cathedral to John Outram's postmodern pumping station in Isle Of Dogs.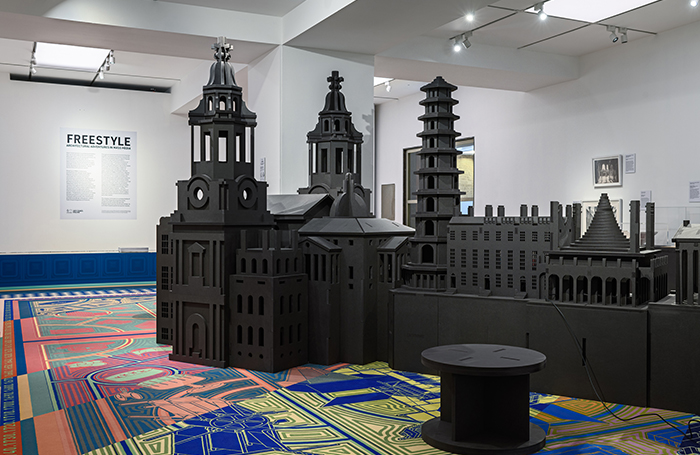 Freestyle takes its cue from the influential treatise 'Seven Books of Architecture' by Renaissance architect Sebastiano Serlio – specifically, from the fourth volume of Serlio's publication 'On the Five Styles of Buildings'. An early edition of Serlio's work is held in RIBA's Rare Books collection. It features in the show as an early example of the impact of mass media: in this case, an illustrated and printed manual, which allowed for the replication of Renaissance style.
So begins Space Popular's thesis, in which style and mass media would seem to have an inextricable relationship. Twenty two carefully chosen items from RIBA's incomparable collection are mounted around the central model, providing evidence to the designers' claims. While pattern books allowed for the faithful reproduction of Renaissance and later Gothic Revival styles, other, more esoteric influences can also be tracked through the technologies of visual communication.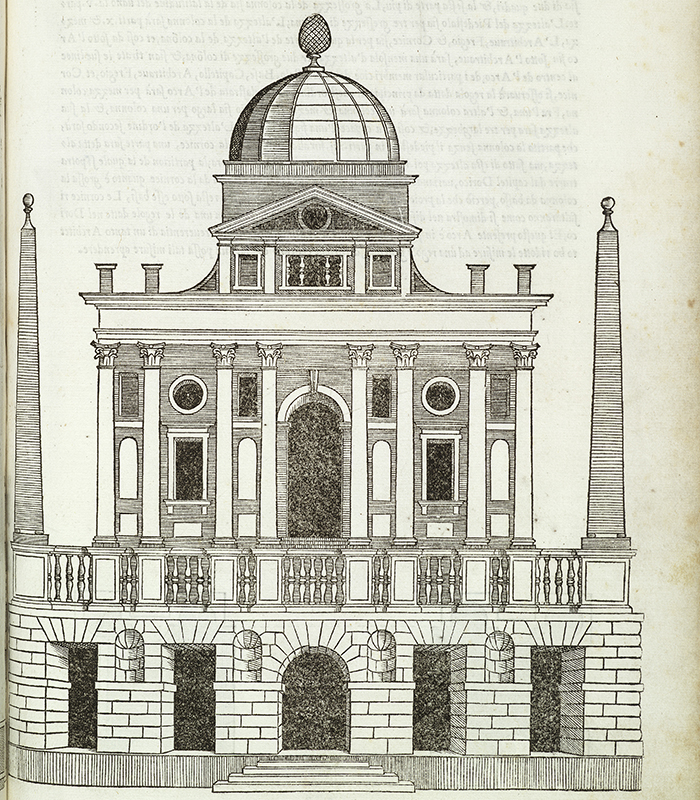 Witness the fascinating watercolours and engravings made by explorers of Moorish Spain or mercantile missions in the East Indies, and the strong impact these made on designers of the 17th and 18th centuries. Such influences play out in the IndoSaracenic fantasy of John Nash's Brighton Pavilion as well as many other examples of Chinoiserie, Orientalism and excessive ornamentation.
The bold, abstract photography of Dell & Wainwright is credited with announcing and celebrating the presence of Modernism in the British built environment, while more recently, the assimilation of digital and computational technology is paralleled with the blobby, universally seamless appeal of Parametricism.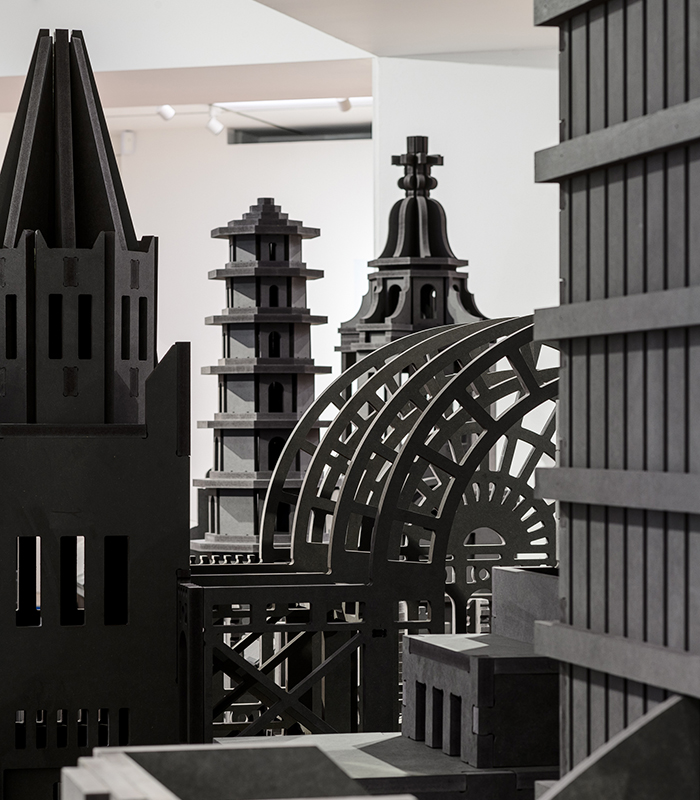 Providing another layer of immersive information to navigate all this rich material, Freestyle includes a Virtual Reality (VR) animation in four parts. Each of these feature a friendly and informed 'avatar': taking the role of exhibition guide, presenting the conjunction of style and technology in an approachable, accessible and entertaining narrative. Wall-mounted collection objects with physical references within the large model come together in a cartoon-like, informative experience, which brings to life impact on style by various media and popular culture. The virtual animation and its interpretative function was developed through a close collaboration with students at the London Design and Engineering University Technical College in east London; virtual animations made by students form the final display within the exhibition. As RIBA's most ambitious collaboration to engage young people to date, Freestyle endeavours to consider the future of style, questioning the role and position of the architect in both physical and virtual environments.
Freestyle invites visitors into a beguiling immersive universe until 4 September 2021.