Keeping calm while working from home
26 March 2020
The coronavirus emergency is understandably a huge concern for all of us. Finding ways to cope with the challenges it has brought to our personal and working lives is a daily activity in itself. The sudden transition to working from home and the isolation resulting from social distancing can take their toll. What should we be focusing on to keep calm and minimise stress?
Architect Priya Aiyer is a wellbeing ambassador for the Architects Benevolent Society (ABS) and an architect for multidisciplinary consultant Mace. There are a number of strategies for maintaining one's mental wellbeing, she points out, but the one she singles out is very simple: make sure you keep talking.
This fulfils a fundamental human need, one acknowledged in numerous studies into personal wellbeing. 'Contact' is the first of the Five Ways to Wellbeing, for example: an evidence-based publication published by the New Economics Foundation that points out five activities to improve personal wellbeing.
At times as stressful as these, the sound of the human voice can make all the difference. We may be pushed for time and, in order to deal with a rapidly changing situation or IT issues, be communicating mostly via emails or messages.
While we can no longer directly interact with our colleagues, trying to come as close as we can to in-person interaction becomes all the more important, especially for those who live alone. Real-time speech reminds us that we are part of a team. Personal contact and reassurance from line managers is more important than ever in the new home-working situation.
"Communication is key to team morale," she urges. "Line managers in particular need to be empathetic and let everyone know they are still supported."
Practices have the same duty of care for the health and safety of their staff as before. Any mental health programmes that practices have introduced should ideally carry on as before. Aiyer advises architects unwilling to talk about a particular issue with a colleague or manager are advised to make use of the ABS helpline.
"I myself have benefited from the ABS counselling services, which are provided in partnership with the charity Anxiety UK. They are able to provide support with a trained mental health professional."
The Architects Mental Wellbeing Toolkit, to which Aiyer contributed, is another invaluable resource, put together by the 12 practices that make up the Architects' Mental Health Forum. The toolkit is packed with invaluable mental health tips and strategies applicable or adaptable to working from home.
For anyone finding it challenging to impose a structure on their working day outside of the office, the toolkit provides excellent time-management advice. It contains links on how to work smart and hard in order to achieve more in a reduced set of hours. Pointing out the false economy of multi-tasking, it suggests ways architects might approach tasks via 'chunking' systems such as the Pomodoro technique. It points out the 80/20 rule (Pareto Principle) and counsels resisting perfectionism.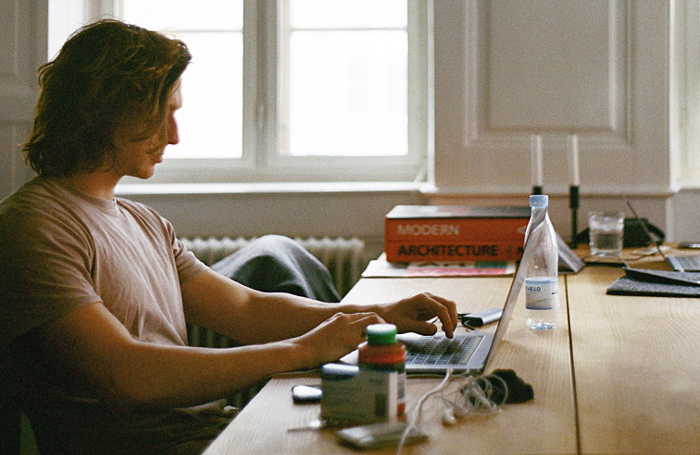 The toolkit also contains information on remaining calm and mindful, sharing links to grounding meditation apps such as Headspace and Calm, and to the NHS' mindfulness pages. Meditation can be vital in providing motivation and focus at the start of the day, helping us sleep in the evening, and perspective when we feel we cannot cope.
Aiyer is working from home and believes her company is striking a good balance between pastoral care and allowing her the time and trust to get on with her work. She has a personal catch-up session every week with a line manager and the conversation starts with a check on her personal needs and wellbeing before moving on to her work situation.
Fortnightly company-level chat sessions with senior leadership have also been initiated to share information with everyone about the company's situation and how things are developing in response to the coronavirus crisis. Aiyer believes it is vital for practices to be transparent to staff about how the business is doing and to keep everyone updated.
Mace's company chat facility is enabled through Microsoft Teams and Office 365, which allows team meetings and conference calls to be easily integrated with everyone's calendar.
Traditional social activities among employees have been quick to find online equivalents using video tools such as Zoom and Google Hangouts. Teams and friends at Mace have started to have virtual lunches together and there are regular 'coffee mornings'.
"A colleague had a virtual birthday party with friends using their Nintendo games console," she says. "We even now have a scheduled Happy Hour for a 'beverage with colleagues'. Your drink doesn't have to be alcoholic."
Thanks to Priya Aiyer, Project Architect, Mace.
Text by Neal Morris. This is a Professional Feature edited by the RIBA Practice team. Send us your feedback and ideas
RIBA Core Curriculum Topic: Health, safety and wellbeing.
As part of the flexible RIBA CPD programme, Professional Features count as microlearning. See further information on the updated RIBA CPD Core Curriculum and on fulfilling your CPD requirements as an RIBA Chartered Member.