Learn health and safety strategies with the RIBA 2020 Plan of Work
12 March 2020
Guidance in the new RIBA Plan of Work 2020 Overview makes it clear that health and safety (H&S) project strategies should be embedded across the whole plan of work. This reflects 2015 CDM Regulations that call for H&S to be a design consideration from the outset.
The previous Plan of Work (2013) instructed consultants to develop a H&S strategy at Stage 2 Concept Design, but the new Plan calls for fundamental H&S information, such as identifying any special risks concerning the site or existing building, to be gathered at Stage 0.
H&S must be included as part of the collation and distribution of Pre-Construction Information at Stage 1. This is the point at which a design risk management process should be initiated.
These earliest stages are the time to ensure that clients understand their responsibilities under CDM Regulations, emphasizes Dieter Bentley-Gockmann, chair of the RIBA Regulation & Standards Group and Director at EPR Architects. He helped write the Project Strategies that describe the appropriate H&S measures for each Stage.
The need to bring in specialist expertise should be assessed early in a project, and nny H&S requirements, including fees and competencies of CDM duty holders should be agreed.
"The idea behind the project strategies is that they embed H&S into the whole design process," Bentley-Gockmann explains. "All too often health and safety concerns are seen as a bolt-on, something only considered when a building is well into its design stages, rather than from the get-go."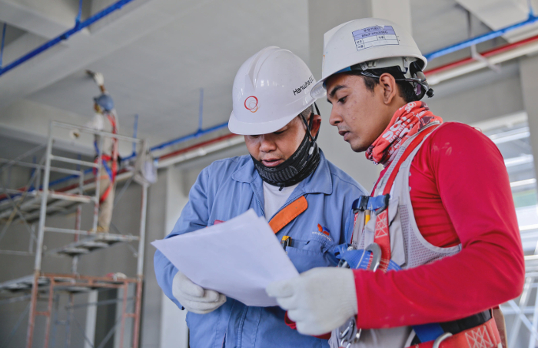 Stage 2 is where the design risk management process is implemented: the identification of foreseeable H&S hazards and their elimination or reduction. It is also the stage at which the Principal Designer should initiate a Health and Safety File as required by 2015 CDM Regulations. Key H&S design decisions should be recorded as part of Pre-Construction Information.
"Architects should be making sure H&S is addressed throughout stages 3 and 4," Bentley-Gockmann continues. "If it is only addressed after technical design, you will ultimately have to go back to first principles."
He believes that, while architects are good at communicating generally, they sometimes have a mental block on communicating what they have done about H&S. Whether they are passing a design to another designer, to a client, or to a contractor, they need to communicate what they have done to ensure safety continuity.
This is especially true where the client or contractor may choose to do something differently: they will need to understand and review what has gone before. At Stage 4, for example, a contractor might review project costs and seek to reduce them.
"Contractors can play a valuable role in a successful project in reducing costs: this does not necessarily mean they are cutting corners so long as it is done with H&S in mind," states Bentley-Gockmann. "Cost benefits should never be to the detriment of project: if a contractor is not properly informed as to why a design decision has been made, they are not in a position to assess costs safely."
"The Plan of Work project strategies should help you communicate. Essentially they enable you to state: 'This is what I have done this and here is the reason why.' The flow of information needs to be comprehensive. When you finally hand over the building, the occupant should know how to manage it safely."
He also points out that record keeping should be project specific, and not a tick-box exercise in which generic documents are collated and handed over.
Project handover, gathering of Feedback and Post-occupancy Evaluation (POE) all fall within the final Stages 6 and 7. Bentley-Gockmann suspects that many architects may regard some of the Project Strategies at this stage as not really being part of their job. However, he perceives encouraging signs of a change in this mindset.
"We should be learning at stage 7," he enthuses. "Has the design worked as anticipated? What can we learn from that and integrate into Stage 1 and 2 of our next project? The majority of us do not revisit projects in use and discover what was successful. Feedback can engender a virtuous circle."
On balance, Bentley-Gockmann believes that honesty, and Stage 7, is the best policy: 'If there are defects and POE takes place before any injuries occur, then there is a very real benefit in the architect returning to the building.'
Thanks to Dieter Bentley-Gockmann, Director, EPR Architects.
Text by Neal Morris. This is a Professional Feature edited by the RIBA Practice team. Send us your feedback and ideas
RIBA Core Curriculum Topic: Procurement and contracts.
As part of the flexible RIBA CPD programme, Professional Features count as microlearning. See further information on the updated RIBA CPD Core Curriculum and on fulfilling your CPD requirements as an RIBA Chartered Member.