29 October 2020
Building biology is not a term often encountered by UK architects. However, it is an approach that has existed for a long time, having originated in 1960s Germany. In Spain, building biology can be studied as part of an architectural course, points out Tomas Gaertner, Director of Taunton based SE3Design. He set up the first building biology consultancy to be accredited in the UK in 2014.
The principles of building biology advocate a holistic approach to design, with the aim of creating buildings where the environment is as healthy as possible: both for those inside the building and for the world outside. In practice, a 'building biologist' is likely to prioritise low toxicity design while also seeking the best internal air quality possible.
Gaertner will be introducing Building biology principles for healthy buildings on Wednesday 11 November at RIBA Guerrilla Tactics 2020: Reinventing Practice, an online conference packed with useful CPD.
"Sustainability efforts in the UK have been directed at carbon reduction and, more recently, resource efficiency," Gaertner states. "But when it comes to air quality there is more compromise. Once you move away from energy efficiency, the UK's sustainable designers are much less rigorous than those in Europe."
That said, building biology is a natural bedfellow of Passivhaus which, in addition to delivering low operational energy, delivers good air quality through mechanical ventilation.
It is estimated that over 90% of construction materials in use have a petrochemical element from processing. Adhesives, paints and fillers are well known culprits, but more natural appearing products from timber to concrete and clay based tiles and bricks, and glass which will have been coated, generally contain chemicals that may not be benign.
"The biggest problem with chemical declarations is thresholds," Gaertner warns. "If carcinogenic substances present but below a certain threshold, they do not have to be declared at all."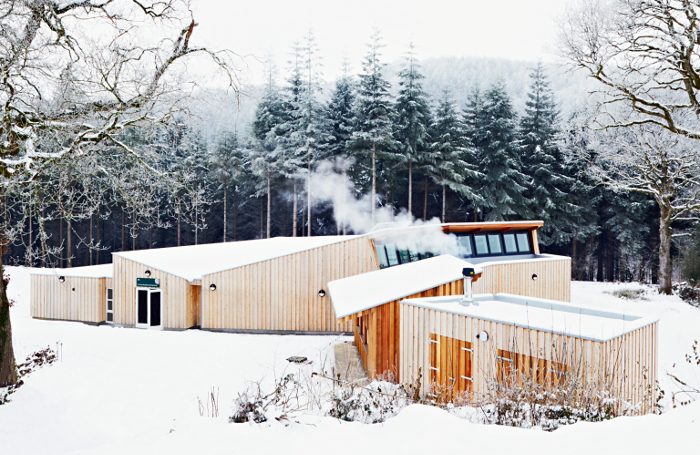 The amounts are therefore important, and the effect across a whole building can be cumulative.
"Getting information is often the biggest challenge. Manufacturers will not tell you if carcinogens are present below those thresholds: very often they will not know themselves, because they do not receive that information from their own suppliers."
"New materials and products quickly become mainstream without anybody having any knowledge of their long term effects on health. Suspicions over new products, such as fire retardants, only tend to emerge ten years later."
Building biology seeks to eliminate, as far as is practically possible, the presence of pollutants and potential hazards such as VOCs and formaldehyde, as well as non manufactured irritants like dust, pollen or mould.
Gaertner reveals he tends to be approached by two types of client: those looking for Passivhaus; and those with an interest in healthy environments. They might perhaps have existing health concerns such as allergies or a known intolerance to particular substances. He set up SE3Design after having worked for the sustainable design pioneer Gale & Snowden. SE3Design's workload is around 60% for commercial clients – mainly residential, with some new build offices – while the rest are individual clients.
"The approach I take is mainly to educate clients about air quality: what we know; what we do not know; and what it is possible to achieve. I will choose products where manufacturers have made declarations, so that clients can make their own judgements."
Gaertner has witnessed a growing interest in air quality in the UK, both internally and externally. Gratifyingly, he has also found the options for specifying have been improving, mainly due to the greater availability of products from Europe, where standards tend to be higher and there is a trend among manufacturers towards full declarations of chemical content.
He is a founding director of the UK's Building Biology Association, which offers courses for consultants, but Gaertner is perhaps surprisingly unwilling to suggest that there should be a building biology certificate for a building or similar.
"We don't want another certification standard," he insists. "It's more about taking a balanced view and enabling clients to make informed decisions."
Tomas Gaertner will be introducing Building biology principles for healthy buildings at RIBA Guerrilla Tactics 2020: Reinventing Practice. Tickets are now available.
Thanks to Tomas Gaertner, Director, SE3Design.
Text by Neal Morris. This is a Professional Feature edited by the RIBA Practice team. Send us your feedback and ideas.
RIBA Core Curriculum: Sustainable architecture.
As part of the flexible RIBA CPD programme, Professional Features count as microlearning. See further information on the updated RIBA CPD Core Curriculum and on fulfilling your CPD requirements as an RIBA Chartered Member.
Posted on 29 October 2020.