Lessons from RIBAs Better Spaces for Learning
13 October 2016
The RIBA's campaigning 'Better Spaces for Learning' report will be presented to the education sector's key Education Estates conference next week by Caroline Buckingham, RIBA Vice President Practice & Profession.
Supported by the largest ever analysis of primary and secondary school building post-occupancy studies in the UK, the report released in May this year made the case for an urgent review of the Education Funding Agency's (EFA) school building programme.
The report urges the government to allow an evidence-based design approach to schools to flourish and called for three key reforms: better information flows between school, government/EFA and design and construction teams; a more flexible approach to rules governing the design and size of new schools; and a smarter approach towards the use of building management systems and equipment.
'There is a large pot due to be spent on schools by this government, and we need to spend that money by working in a more collaborative way,' says Buckingham.
She believes there is an appetite for this, among government and its agents as well as RIBA members.
'The government has seen the [post occupancy evaluation] data and much of it, such as life cycle considerations and the need to avoid overly complex systems that prove far more expensive to operate, is common sense,' says Buckingham.
'The overriding message of 'Better Spaces for Learning' is that good design produces a more cost-effective environment. Our initiative at the moment is to have more of a dialogue with the EFA, which does actually have design managers.'
RIBA policy advisor and author of the report Emilia Plotka says the government's resourcing system would not have to be abandoned to meet the report's recommendations.
'Our extensive research, nationwide teacher poll, and engagement with school building experts not only demonstrates the value of good school design, but more importantly, outlines how it can be achieved via the Government's school building programme within current resource constraints. Our pupils, teachers, parents and taxpayers deserve top mark schools and we are engaging with Government to ensure they can be delivered through the existing programme,' says Plotka.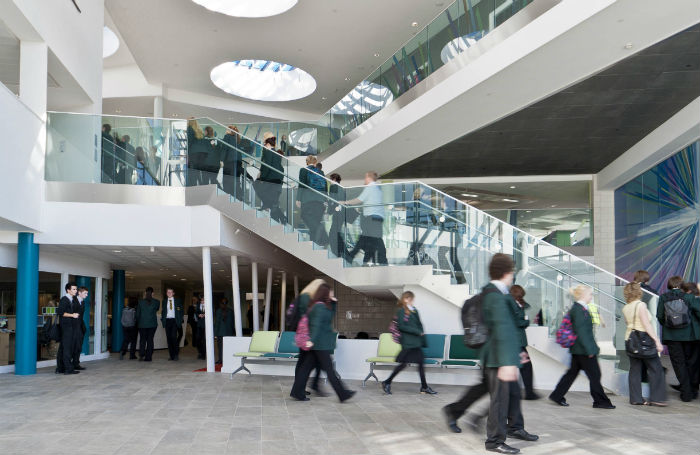 The RIBA's report was the result of two years of engagement with school building experts and concluded that the EFA's current school building guidelines are too rigid and are leading to waste and poor value for tax payers.
One of the key findings was that a better design approach could have prevented the English schools estate from spending £150m-plus annually on unnecessary operation and maintenance costs. Data was collected from 129 post occupancy evaluation studies from across the UK
'Schools procurement used to be a matter of dealing with schools directly, now it's a middle party such as such as a project manager or contractor,' says Buckingham.
'What our profession is really good at is consultation and talking to the end users. That is where best practice comes from. Architects understand that 80% of the project is organisation – architects can do this.'
Education Estates 2016, including a two-day conference programme, takes place at Manchester Central, 18 to 19 October 2016.
Download the RIBA 'Better Spaces for Learning' report. #topmarkschools
Thanks to Caroline Buckingham, director, HLM Architects.
Text by Neal Morris, © RIBA