19 March 2019
A message from Catherine Davis - RIBA Americas Representative
RIBA Council updates
Last year RIBA and LDC, the private equity arm of Lloyds Banking Group, agreed a partnership to support the future growth of RIBA Enterprises Ltd, the commercial arm of the RIBA which trades as NBS. This deal provided welcome investment in NBS and enables the Institute to focus on delivering our ambitious strategy in support of the architecture profession in the UK and internationally. As I write this letter, my international councillors colleagues and I are preparing for a presentation to the March Council Meeting on RIBA International Becoming Global. On researching the paper from the Americas perspective we have some interesting findings to report. We are playing an active role on your behalf in discussions on investment priorities for the institute over the medium-long term.
1. Education
There are 3000 students on RIBA accredited courses in 17 schools in South America. Although there are no RIBA accredited courses in North America, there are over 127 schools of architecture in the US and 11 in Canada. We are interested in hearing from any of our members working in academia and we would love to hear from our student members.
In addition, demonstrating benefit will encourage RIBA membership. We are exploring ideas such as:
Media presence in the quarterly international newsletter and in the RIBA Americas Website
Promoting local exhibitions (e.g. display the gold medal winning projects)
Promoting local lectures (e.g. RIBA academics or famous architects can lecture at local universities)
Supporting local universities with student competition

Since 2009 architecture schools have seen a consistent increase in the number of international students. With a total population in 2015 of 5,937 foreign students, students coming from outside of the United States made up 24% of the total student population.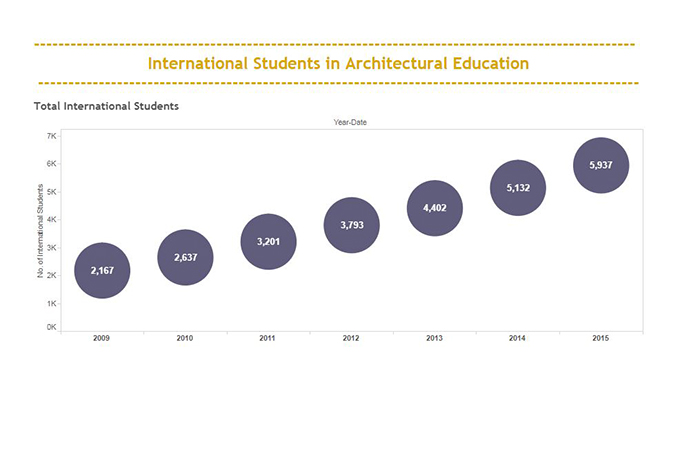 2. Opportunity for architects in our region
The capacity to hire architects and pay for memberships (AIA, RIBA) is demonstrated by GDP per capita. The US leads the way!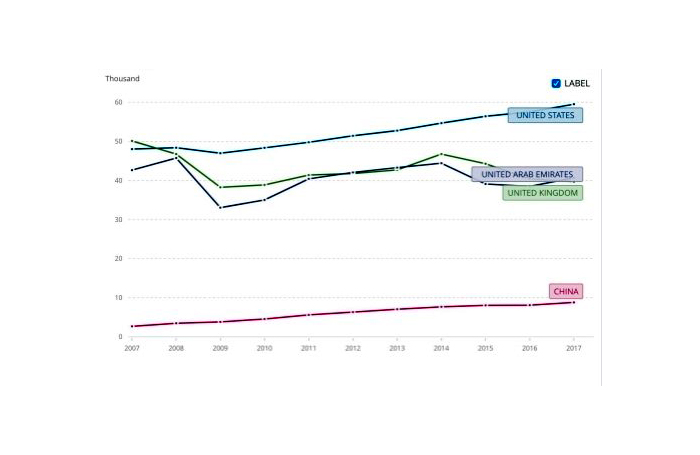 Architects working with clients and allied design professionals and construction partners improve the built environment in a $1 trillion sector that accounts for almost 6 percent of the US economy.
"With approximately one architect for every 2,900 people in the United States, each architect has the daily opportunity to significantly impact the built environment—and those who live, work, and play in it," said NCARB President Gregory L. Erny, FAIA.
Expanding our vision for architects to act as developers, collaborators in design thinking consultancies and research is an opportunity. This will benefit all architects.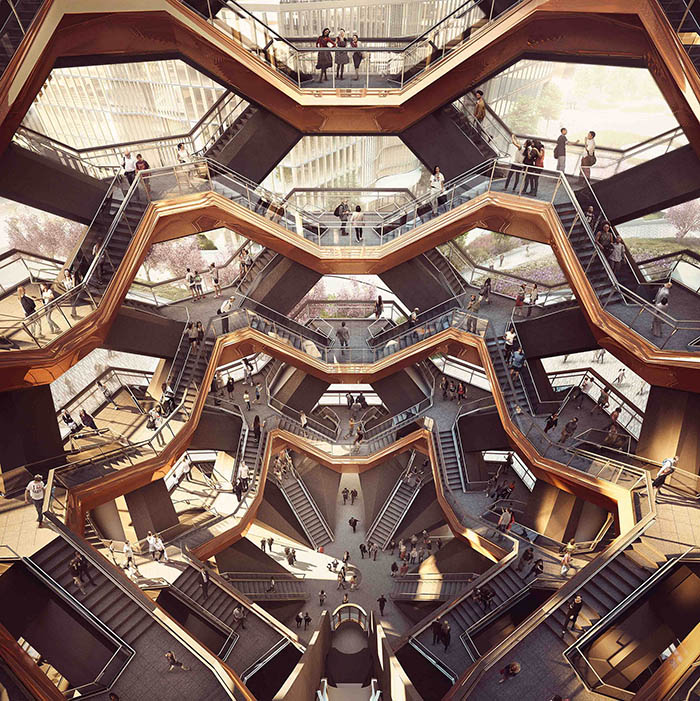 3. Engagement with allied professions
Major transformations in construction, design technologies and manufacturing are impacting architects and much of the building design and construction supervision is not performed by architects operating within traditional stand alone ateliers.
It is important that we open a dialogue with colleagues outside of the architecture world. Opening a lecture roster for delivery of courses that explain the role of the architect, the RIBA and its standards. Developing alliances such as:
The 130,000 attorneys practising real estate and construction law in the US – 17,500 in NY and 16,700 in CA. (Data source - American Bar Association)
Management consultants operating in both the Sustainability and Design Thinking spaces e.g. "McKinsey Design"
We are very interested to hear your comments, and feedback concerning the above research.
Please stay tuned for the complete presentation Becoming Global following the March 28 Council Meeting in Cambridge.
News from the field
We are excited that there are five new member groups in our region. Please get in touch with international.regions@riba.org if you would like further information:
San Antonio
Seattle
Vancouver, BC
Oklahoma City
Cayman Islands
New York
Applications for the next RIBA Part 3 USA course are being accepted. For information see the prospectus here.
Los Angeles – news of RIBA members
On 4 December 2018, at a floodlit Los Angeles party hosted by movie stars Tom Hanks and Annette Bening, the Academy Museum of Motion Pictures (AMMP) celebrated the completion of the façade repairs and restoration of the 1938 Streamline Modern Saban Building.
Front and center at the December proceedings and feted by the Academy Museum was the façade preservation consultant, John Fidler RIBA, who managed to stabilize, conserve and restore 90 percent of the original fabric including steel window boxes and frames; Texas limestone and California granite paneling; and the spectacular Venetian gold-glass mosaic at under half the cost of the demolition and recladding previously proposed. In addition, Fidler's team faithfully recreated the Saban Building's missing northwest corner to the exact detailing of original architect A.C. Martin's design.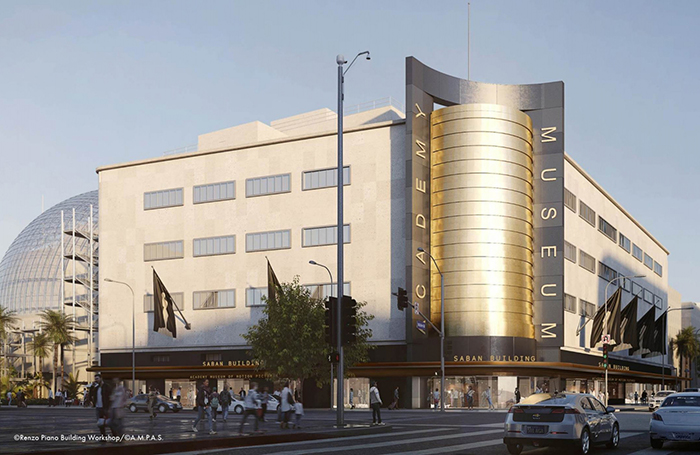 New England - past and future events
September 21, 2018: Design Week RI – The Art of Praxis brought to you by DESIGNxRI, AIARI and RIBA USA New England
Paulo Freire once stated, "Liberation is a praxis : the action and reflection of men and women upon their world in order to transform it." Frank Mruk RIBA engaged 3 Rhode Island designers (an architect, Christopher Daly; Product Designer, Dirk Kramers, and Graphic Designer, Jan Fairburn) in an intimate discussion about their "own specific art of praxis". Sponsored by DESIGNxRI, and RIBA USA NE for RI design week, at the Tiverton Yacht Club.
October 25, 2018: Emre Arolat Lecture brought to you by the BSA Global Practice Network and RIBA New England
The BSA Global Practice Network and RIBA New England are pleased to announce a lecture by Emre Arolat, RIBA. Emre Arolat is a co-founder of and Design Partner at Emre Arolat Architecture, one of the largest architectural practices in Turkey with offices in Istanbul, London, and New York.
Founded in 2004, EAA quickly received international attention in 2005 with the Minicity Theme Park, recognized as Selected Work by the Mies van der Rohe Awards for European Architecture. The Ipekyol Textile Factory, in Edirne, Turkey, was a recipient of the Aga Khan Award for Architecture in the 2008-10 cycle, and most recently, the Sancaklar Mosque, a building that elegantly and seamlessly blends with its landscape, was awarded the RIBA Award for International Excellence in 2018, and Highly Commended by the Mies van der Rohe Award in 2015. Emre is a frequent lecturer and recently taught design studio as the Norman R. Foster Visiting Professor at the Yale School of Architecture. He served on the Master Jury of the Aga Khan Award for Architecture in 2016 and was appointed to the Steering Committee for the Aga Khan Award's Fourteenth Cycle (2017-2019).
April 24, 2019 (new date): TEDxFALLRIVER, brought to you by the Narrows Center for the Arts, the City of Fall River, and RIBA New England
In the spirit of ideas worth spreading, TEDx is a program of local, self-organized events that bring people together to share a TED-like experience. At a TEDx event, TEDTalks video and live speakers combine to spark deep discussion and connection in a small group. These local, self-organized events are branded TEDx, where x = independently organized TED event. The TED Conference provides general guidance for the TEDx program, but individual TEDx events are self-organized (subject to certain rules and regulations).
Please let us know if you have any news or announcements, and should you want to get in touch with any concerns, updates or questions, please email international.regions@riba.org.