24 August 2017
The tide has turned for Worthing. Having shaken off its erstwhile dowdy image, as an old-fashioned British seaside town solely favoured by retirees, regeneration has made it a magnet for a younger demographic priced out of Brighton.
Worthing-based ECE Architecture, who have long recognised the potential of the town, have optimised on their seaside location with a series of summer installations that are now in their third year: The installations are fast becoming an annual tradition, with the community now asking: 'what are you going to do this year?' This year the seafront's concrete car park has been given a massive 'supergraphics' treatment.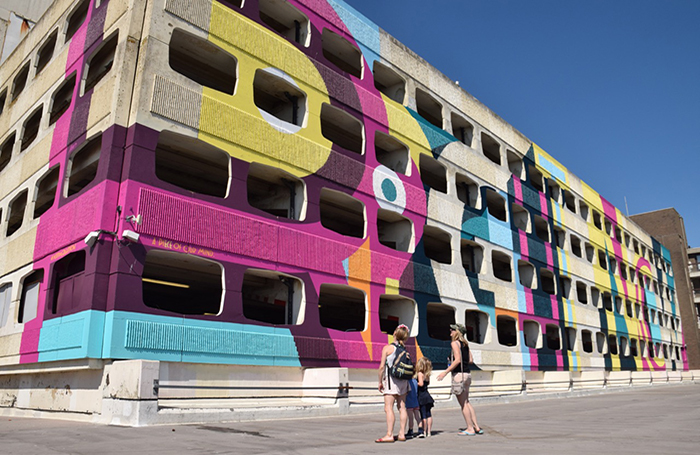 Year one was the famous mirrored beach hut, which instantly generated national and international coverage for the project and the practice, much to their surprise.
The project was borne out of a collaboration with advertising studio Creative Forager on a video projection screen in Brighton and the discussions they had had about people watching their own interactions on the beach for content.
'We were interested in their ideas for 'ambient marketing'. The mirrored beach hut idea stood out because we thought it would be a fun project for our staff that would be a publicity generator for both firms and have some community benefit,' says ECE Architecture's managing director Stuart Eatock.
Eatock describes it as a guerrilla installation that suddenly appeared one morning with hands on help from staff and year-out students from the practice.
'We actually got a concession licence on the beach for two days without telling them what it was,' he recalls.
So, definitely not a community brief – rather a licence to do something completely unexpected.
After two days the hut came down, but it had excited so much interest and media coverage that the council quickly asked ECE if they could put it back. Then the awards followed, including a Civic Trust Award and a D&AD advertising industry award.
Last year, ECE sat down again with Creative Forager to brainstorm another installation for the beach, which led to the idea of a collection of mirrored doorways erected to coincide with the summer solstice, and so 'Door Henge', as the locals dubbed it, was born.
This year's discussions revolved around 'supergraphics' and soon the search was on for a suitable 'canvas'. The choice was the grey concrete of the Grafton car park on the sea front, now transformed by an enormous graphic that reads (if you look carefully) 'RIGHT NOW' - an anagram of 'WORTHING' of course.
This was a larger more technical challenge to pull off safely. The concrete had to behand scrubbed to prepare it for the 600 cans of spray paint needed by street artist and collaborator Ricky Also. It is no surprise that the monumental graphic is a huge talking point in Worthing.
With a growing body of educational and residential projects behind the practice, Eatock is not at all worried that they are probably best known for their seaside follies.
'They end every presentation I give,' says Eatock. 'The practice's direction of travel has always been to create the highest quality buildings, and if this helps along the way that's fine by me.'
Stuart Eatock will present a PechaKucha on promoting your practice through unconventional means at the RIBA's Guerrilla Tactics Conference Day on 14 November 2017.
Thanks to Stuart Eatock, Managing Director, ECE Architecture.
Text by Neal Morris. This is a 'Practice News' post edited by the RIBA Practice team. The team would like to hear your feedback and ideas for Practice News: practice@riba.org
Posted on 24 August 2017.