Matchmaking for architects in the digital age
20 October 2016
Next month's Guerrilla Tactics conference day will be looking at business models and how architects can develop their position in the design and construction sector to potentially transform the way that they do business.
Though there are many business models, they have been clearly identified into four distinct categories (product, solutions, matchmaking and multi-sided) as the Business Model Zoo by the Cass Business School at City University of London.
Architects traditionally offer their services according to the 'solutions model' - a tailored solution delivered to each client. But there is one model that has become ever more visible with the rise of the internet and online transactions: the 'matchmaking model'.
This model connects two (or more) customer groups, with the matchmaker playing the role of broker and effectively owning the marketplace, picking up a fee from either or both groups along the way. Think eBay, as the great facilitator of other people's transactions.
'Consider the ease of access to the Internet and the ability of consumers to buy online and follow recommendations online and meet business and other partners online,' says Stefan Haeflige, Professor in Strategic Management and Innovation at the Cass Business School, who will be introducing the Business Model Zoo at Guerrilla Tactics.
'Online search dramatically facilitates markets of all sorts by connecting non-local buyers and sellers of services. Each and every business that takes advantage of creating such a market, be it for electronics, dating, or file sharing, operates a matchmaking business model.'
Haeflige at the event will be giving delegates a primer in the business models and how they work, and the various models in play in the construction industry.
'For architecture, many parties are involved in a complex construction project and engaging with more than one other party directly can bring benefits to both, where the architect could act as a broker between clients and service providers. We hope to discover many promising applications during the panel of industry practitioners during the Super Models conference,' says Haeflige.
One new matchmaking model that will be presented at the conference is the Pride Road franchise developed by architect and RIBA councillor Lisa Raynes, which casts her as the matchmaker between clients and other architects.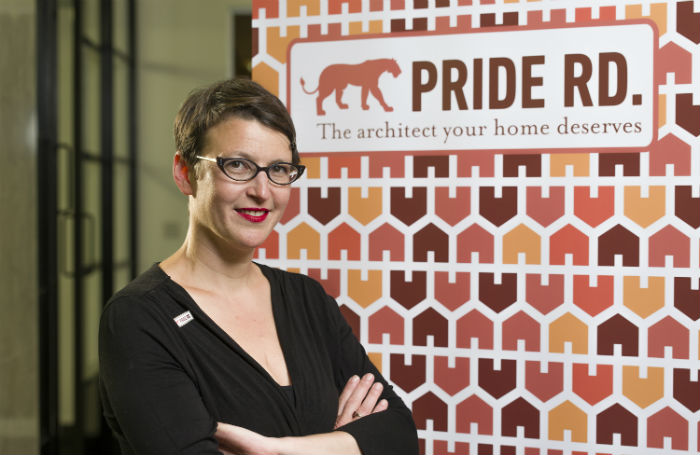 Lisa set up on her own practice six years ago in recession, dealing exclusively with home owners and relatively low-value projects, but 'lots of them' as she says.
It was a practice model she developed to permit a good work/life balance - Lisa is a mother of three - with a marketing and prospect conversion approach that she now regards as proven.
Based in Manchester, Lisa 'franchised' the Pride Road model to another female architect, who had been freelancing in in Liverpool, with great success and now plans to roll out the same approach across targeted towns across the North of England.
It is a business model that has been developed with women in mind, particularly those returning to work or deciding to go it alone. The brand and the back office are taken care of and there will be training on getting prospects and converting them into clients - there is a formula to it.
'We have a workshop sessions at the client's home, literally sketching out ideas with the client at the kitchen table. Clients love it, they watch me draw and they understand what an architect does,' says Lisa.
'The collaborative sessions are great value to the architect as well, as they tend to stop all the toing and froing with clients asking for endless changes to the job.'
Another matchmaking presentation at Guerrilla Tactics will be given by architect and project management consultant Dr Gregor Harvie, who is one of the co-founders of the Designing Buildings Wiki, the industry-wide, cross-discipline forum for finding and sharing information.
Gregor sees the wiki as a matchmaking model, where the transactions are knowledge exchanges.
'The increasing complexity of the construction supply chain and the emergence of technologies such as BIM mean the industry has to become more collaborative. We have to get better at matchmaking, we need to develop a deeper understanding of our partners, and we have to be more open about what we know,' he explains.
'Cross-discipline platforms like Designing Buildings Wiki establish a common knowledge base for the whole industry and provide a shop window for practitioners to explain their specialist subjects and attract new clients.'
Thanks to Stefan Haeflige, Professor in Strategic Management and Innovation, Cass Business School; Lisa Raynes, founder, Pride Road; and Dr Gregor Harvie, co-founder, Designing Buildings.
Guerrilla Tactics is the RIBA's flagship professional event for small to medium-sized practices and runs over two days: the conference day (8 November) 'Super Models: Business models with the power to change practice', plus an evening of Speed Mentoring, followed by a jam-packed CPD programme (9 November).
Text by Neal Morris, © RIBA