27 September 2019
The winner of 2019 RIBA Stirling Prize - awarded to the UK's best new building - will be announced on 8 October, and it's the job of the jury to visit each of the six buildings on the shortlist to decide which will be crowned winner.
This year's Chair, Julia Barfield, co-founded Marks Barfield with partner David Marks in 1989, and notable projects include the London Eye and British Airways i360 in Brighton.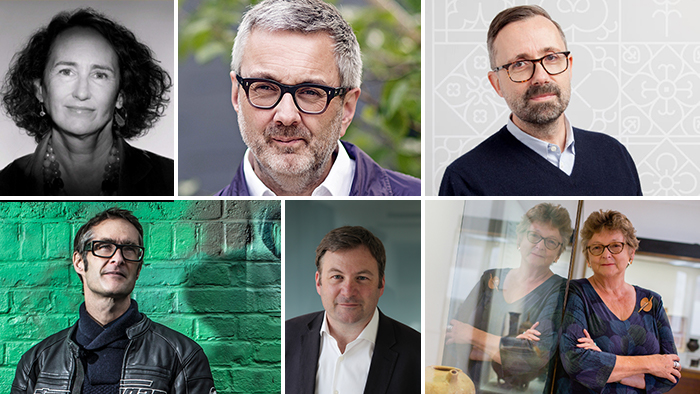 The practice recently designed a highly-sustainable mosque in Cambridge which has revitalised the social and religious community. In 2017, Barfield was a finalist for the Woman Architect of the Year Award and has been Chair of both the RIBA's National and International Awards panel.
The Stirling Prize jury changes each year and always includes a representative from the most recent Stirling Prize-winning practice; this year, Michael Jones, Deputy Head of Studio at Foster + Partners, will join the panel.
Michael is a deputy head of studio at Foster + Partners. Alongside Senior Executive Partner Stefan Behling, he oversees almost 100 architects working on a wide range of international projects. Most recently, he was responsible for the new European headquarters for Bloomberg, the winner of the 2018 Stirling Prize.
Our Lay Assessor this is year is heritage specialist, Kathy Gee MBE.
In 2013 Kathy was awarded an MBE for services to culture and heritage. She has been a Trustee of the National Heritage Memorial Fund, the Heritage Lottery Fund, and Deputy Chair of Governors at the University of Wolverhampton. She is currently a Trustee of the Shakespeare Birthplace Trust and of Avoncroft Museum of Buildings, and a member of the Midlands Regional Advisory Board for the National Trust.
Next up we have Zac Monro, Principal at Zac Monro Architects. You may recognise him from Channel 4's Inside Out Homes which followed the practice's work to transform the lives of 12 families across the UK.
Our final jury member is RIBA President, Alan Jones.
In addition to directing his own architecture practice based in County Antrim, Alan is Professor of Architecture (Practice and Education) at Queen's University Belfast.
This year the judges will be joined by Gary Clark acting as Sustainability Advisor. Gary is Head of Sustainability at WilkinsonEyre Architects and Chair of the RIBA's Sustainable Futures Group.
The 2019 RIBA Stirling Prize will be announced on Tuesday 8 October 2019 at the Roundhouse in London.