23 September 2021
The winner of 2021 RIBA Stirling Prize - awarded to the UK's best new building - will be announced on 14 October, and it's the job of the jury to visit each of the six buildings on the shortlist to decide which will be crowned winner.
This year's Chair, is Lord Norman Foster, Founder and Executive Chairman of Foster + Partners, a global studio for architecture, urbanism and design, rooted in sustainability.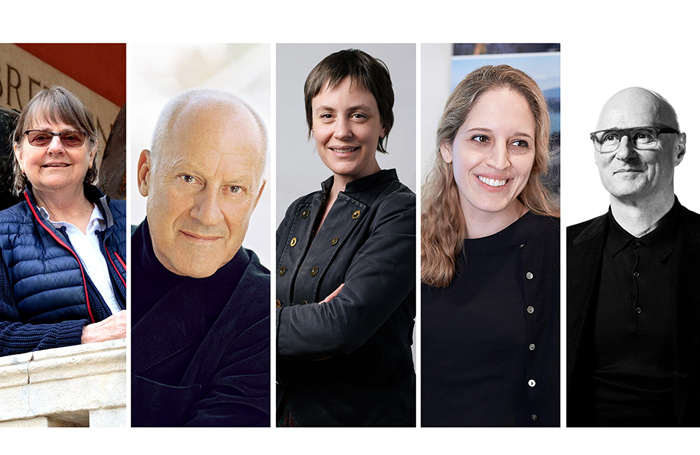 For more than five decades, his practice has pioneered a sustainable approach to architecture and urbanism through a wide range of work, from masterplans and offices, to cultural buildings, airports and industrial design. He has been awarded architecture's highest accolades, including the Pritzker Architecture Prize, the Praemium Imperiale Award for Architecture in Japan, the RIBA Royal Gold medal and the AIA Gold medal.
He is president of the Norman Foster Foundation, based in Madrid. In 1999 he was honoured with a Life Peerage, becoming Lord Foster of Thames Bank.
The Stirling Prize jury changes each year and always includes a representative from the most recent Stirling Prize-winning practice; this year, Annalie Riches, co-founder of Mikhail Riches, will join the panel.
Annalie's practice specialises in low-carbon housing design, residential neighbourhoods and mixed-use masterplans.
Her practice won 2019 RIBA Stirling Prize for Goldsmith Street, a Passivhaus certified council housing scheme for Norwich City Council. Annalie contributes across all the scales of Architectural practice, from large-scale strategic thinking through to the detail. She is a visiting professor at Sheffield University.
Our Lay Assessor this is year is British artist, Dame Phyllida Barlow.
With a career spanning nearly six decades, British artist Phyllida Barlow takes inspiration from her surroundings to create imposing installations that can be at once menacing and playful. Barlow's restless invented forms stretch the limits of mass, volume, and height as they block, straddle and balance precariously. The audience is challenged into a new relationship with the sculptural object, the gallery environment, and the world beyond. Barlow has exhibited extensively across institutions internationally including: Sprengel Museum, Hannover (2022) (forthcoming); ARTIST ROOMS, Tate Modern, London (2021); The Royal Academy of Arts, London (2019) and La Biennale di Venezia, British Pavilion, Venice (2017). This year, Barlow has been awarded the Niedersachsische Sparkassenstiftung's 2022 Kurt Schwitters Prize.
Our final jury member is RIBA President, Simon Allford, who started his two year term on 1st September 2021. Simon is a founding director of AHMM (where he leads a design studio of 200 architects), a frequent writer, critic and adviser; a visiting professor at Harvard; a previous chairman of the Architecture Foundation; and currently a trustee of the London School of Architecture and the Chickenshed Theatres Trust. He recently completed White Collar Factory on Old Street, offices for Google and YouTube at Pancras Square, a tower at 240 Blackfriars, three mixed use projects on Regent Street for the Crown Estate, and an academic building for the University of Amsterdam.
This year the judges will be advised by Mina Hasman acting as Sustainability Expert. Mina leads Skidmore, Owings and Merrill's sustainability and wellbeing operations and long-term vision. She has experience in a wide variety of projects in Europe, UK, Middle East, and Asia, bringing a greater understanding of the implications for sustainable and equitable design in different climatic, social, and regulatory contexts.
As a recognised expert in her field, Mina has been elected to UKGBC's Board of Trustees, RIBA's Ethics & Sustainable Development Leadership Group, UNEP/GlobalABC's COP26 Task Force, and CIC's Climate Change Committee, among others.
The 2021 RIBA Stirling Prize will be announced on Thursday 14 October 2021 at Sir Basel Spence's Coventry Cathedral, as part of the UK City of Culture 2021 celebrations.
Sponsored by