08 September 2022
The winner of the 2022 RIBA Stirling Prize - awarded to the UK's best new building - will be announced on 13 October. It is the job of the jury to visit each of the six buildings on the shortlist to decide which will be crowned the winner.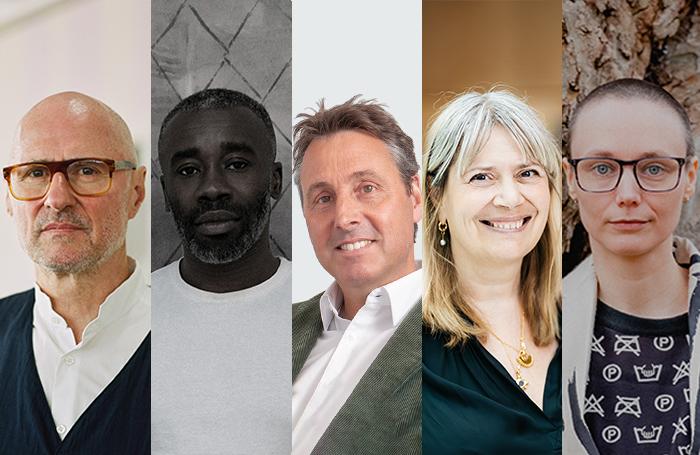 This year's chair is RIBA President, Simon Allford, who began his two year term on 1 September 2021. Simon Allford is a founding director of AHMM, where he leads his design studio of 250 architects. Simon is a frequent writer, critic, and adviser. He is also a visiting professor at Harvard, a previous chairman of the Architecture Foundation, and currently a trustee of the London School of Architecture and the Chickenshed Theatres Trust. Major projects he has recently completed include Hawley Wharf, The Post Building, and Soho Place - the West End's first new theatre in 70 years.
The RIBA Stirling Prize Jury changes each year and always has representation from the world's leading architects. This year, Glenn Howells, founder of Glenn Howells Architects and Kirsten Lees, Managing Partner at Grimshaw will join the panel along with renowned artist Chris Ofili.
After studying architecture at Plymouth School of Architecture, Glenn Howells established Glenn Howells Architects (GHA) in 1990. Since its foundation, the practice has built a strong reputation for designing innovative buildings and shaping cities through large masterplans across the UK. GHA now has a team of over 150 people based in studios in London, Birmingham, and Dublin. The practice has won numerous major design competitions and built a portfolio of award-winning projects across all sectors and across a diverse range of building types. Key projects include Savill Building, London City Island, The National Memorial Arboretum, English National Ballet HQ, and a 55 storey tower in London's Docklands. Glenn has led some of Britain's most complex and ambitious regeneration projects and has been particularly influential in shaping Birmingham. Influencing the Big City Plan and major regeneration projects of Paradise, Brindley Place, and HS2 alongside significant projects in the city core, Jewellery Quarter, Martineau Galleries, Digbeth, and the Westside area of the city.
Kirsten Lees is a highly accomplished architect with over 25 years of experience. Her approach - in the work she has been responsible for and within the wider architectural industry - is to encourage diversity in practice, input, and delivery. With a portfolio that spans all sectors, notably sports, cultural and leisure projects, Kirsten has led include the Wimbledon master plan and remodelling of No 1 Court, Curragh Racecourse, Istanbul's Arter Gallery, and the Bath Rugby New Stadium. As Managing Partner of Grimshaw's London, Kirsten has also led the practice through significant growth and driven diversity in the design work of the practice, as well as promoting equity in the workplace and industry. In support of this, Kirsten is a trustee of the Grimshaw Foundation, and is a founding member of Equilibrium Network.
Our Lay Assessor this year is British artist Chris Ofili. Chris Ofili was born in Manchester and currently lives and works in Trinidad. He received his BA in Fine Art from the Chelsea School of Art in 1991 and his MA in Fine Art from the Royal College of Art in 1993. Solo exhibitions of his work have been presented at institutions including the National Gallery, London (2017); the New Museum, New York (2014), travelling to Aspen Art Museum (2015); The Arts Club of Chicago (2010); Tate Britain, London (2010 and 2005); kestnergesellschaft, Hannover (2006), The Studio Museum in Harlem, New York (2005), and Serpentine Gallery, London (1998). He represented Britain in the 50th Venice Biennale in 2003 and won the Turner Prize in 1998.
This year the judges will be advised by Smith Mordak acting as Sustainability Expert. As Director of Sustainability and Physics at Buro Happold, Smith is a multi-award-winning architect, engineer, writer, and curator working across disciplines on the transition to a fair and sustainable built environment. They are a nationally elected member of RIBA Council, a trustee of the Architecture Foundation, on the steering committee of Built Environment Declares, and a Mayor of London Design Advocate. Smith was also chief curator of "Enough," the 2019 Oslo Architecture Triennale that explored how the built environment can establish the conditions for an economy based on social and ecological flourishing.
Tune into our Stirling Prize live show
At 8.25pm GMT on 13 October we'll be broadcasting a special 30-minute live show from this year's Stirling Prize party. Hosted by one of architecture's rising stars Hamza Shaikh, join us for behind the scenes action, live interviews and the announcement of the winner of the RIBA Stirling Prize 2022 – the UK's best new building. The broadcast will be streamed on the Stirling Prize page.