22 April 2021
The Creative Directors for the 2021 iteration of Guerrilla Tactics, RIBA's flagship conference for small practices, have been confirmed. Robert Fiehn in partnership with Archio's Mellis Haward and Kyle Buchanan convinced with their proposal, fittingly themed around collaboration.
The three have worked together for many years: Rob Fiehn, the communications consultant who has been a prominent voice in the professional and cultural life of the architectural community for many years; and Archio the award-winning London based housing architects whose practice ethos is firmly rooted in delivering civic benefit and social value.
For Guerrilla Tactics, they have teamed up to bring to the forefront what they see as a significant cultural shift within the profession, away from the "lone genius" archetype and towards a collaborative ethos which "leaves egos at the door and is interested in working for a greater good," tackling pressing social and environmental challenges.
Working with practices large and small for almost 14 years has given Rob a unique perspective on trends in the profession: "I see practices connecting and sharing more. This has been increasing for some years, but the pandemic has certainly reinforced it. Embracing the digital arena has put a gear change on things."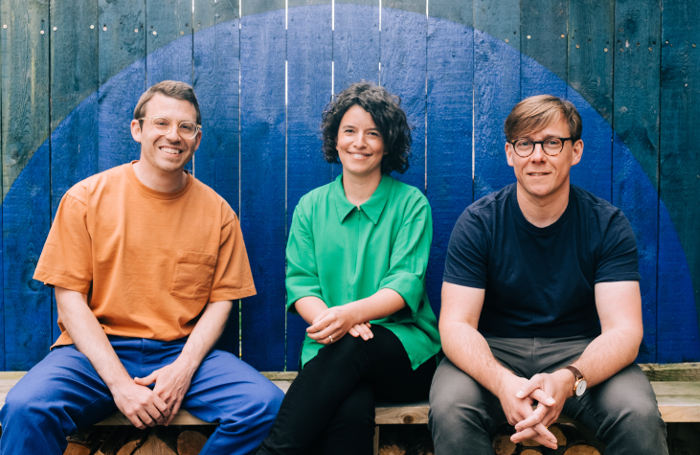 Despite the physical distancing imposed by the pandemic, there has been a greater ease and fluidity of meeting people and collaborating over the last year, Kyle agrees. Perhaps more significant than the effects of the pandemic are the urgent issues of climate crisis and social justice that have come into stark relief over the past few years, Mellis reflects. "We need to come up with bigger answers, which can only be found through collaboration."
Collaboration as a means for delivering change is therefore central to their thinking and will be explored in the conference programme. But what about the business opportunities? Can collaboration offer solutions to the unrelenting pressures on small practices? What does the new collaborative ethos offer to RIBA members across the country who are working hard to win clients and keep on top of the everyday pressures of practice?
Engaging in collaboration makes very good business sense indeed, the trio firmly believes.
"You have to differentiate yourself and express your expertise as well as your values to stand out from the crowd and attract the right clients," Kyle argues. The same principle applies to collaborations. Commercial and public sector clients have made it clear that they see enormous value in teams. They are increasingly looking for collaborations to benefit from the fresh perspective and unique expertise of small practices.
Previously, practice collaborations emerged largely informally out of personal relationships. Increasingly, Rob sees them forming around the expertise each party brings to the table, unlocking new opportunities for small practices to work on a wider range of projects. The Creative Directors set out to show up ways for delegates to leverage these opportunities. Yet, they adopt a broader take on collaboration than on projects alone.
There are the many knowledge and resource sharing networks that have sprung up in recent years to educate, share best practice and pool resources, all helping to alleviate the pressure on small practices to keep up with evolving regulation and best practice.
There is a new culture of sharing and collective innovation that is outward looking and less protective of IP – spreading knowledge on sustainable practice, to name one example. And there are the networks formed to support architects from diverse backgrounds and give them a stronger voice in the profession.
So what can delegates expect from this year's programme?
"Above all, we want to inspire and foster a different way of thinking about your practice. We want to shine a light on inspiring examples of collaboration from around the country and dispel the myth that this is only for a certain type of practice. We want to showcase ways of doing it for yourself wherever you are, in a way that is beneficial to you. That includes designing the structure and process in the right way; productive collaboration does not just happen by itself.
More broadly, we want to encourage practices to use their specialism more to promote themselves in alignment with their values and win the work they want to do. Lastly, we want to give delegates practical tools they can use to improve their digital collaboration processes.
We need to be less precious about holding the pen and instead aim to bring together different viewpoints to navigate the challenges of practice together."
Thanks to Kyle Buchanan and Mellis Haward, Directors, Archio; and Rob Fiehn, Robert Fiehn Architectural Communications.
Text by Gesine Kippenberg. This is a feature edited by the RIBA Practice Team.
Tickets for Guerrilla Tactics will be launched at the end of July. Sign up to the mailing list to be notified when tickets go on sale.
In the meantime, join our free Guerrilla Tactics lunchtime talks My Practice Model, featuring members of the RIBA Small Practice Groups and other forward thinking small practices who share an insight into their business model and tactics.
The new RIBA Collaboration Network has been created to offer a platform for large and small Chartered Practices looking to collaborate. Sign up to connect with other practices interested in collaboration. Currently being trialled in the London Region with view to a nation-wide rollout if successful.