08 February 2018
The definitive guide to designing accessible and inclusive environments, the British Standard BS 8300, has been updated and expanded following a major consultation exercise.
Long regarded as the most authoritative guidance available to architects, the new standard now comes in two parts with the addition of guidance on exterior environments: approaches to buildings, spaces within the curtilage of a building or groups of buildings, street design and landscaped areas. As a result, Part 1 (BS 8300-1:2018), offers the first comprehensive guidance for new public spaces.
The expanded Part 2 (BS 8300-2:2018) continues to set out good practice for the interiors of a wide range of building types (with the notable exception of individual residences), but now goes beyond specific design solutions for disabled people to explain how to approach inclusive design to meet all people's requirements.
Recommendations in both parts of BS 8300 are accompanied by scene-setting commentary that places them in context for readers not familiar with the barriers experienced by disabled people. In some instances, recommendations are specific; in others, they include dimensional ranges intended to provide designers with some flexibility to tailor design solutions.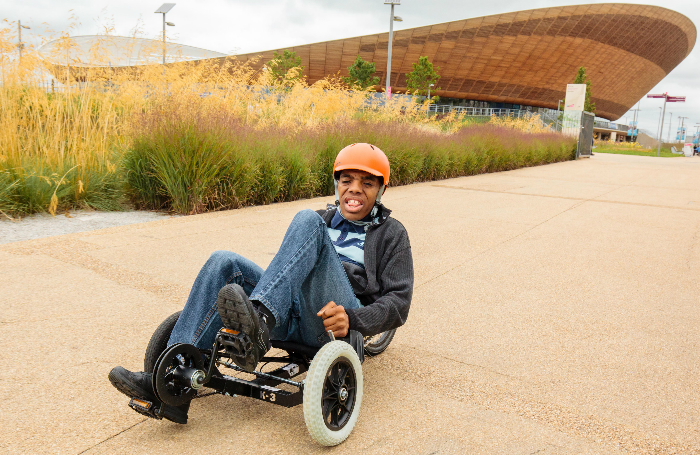 Another major addition is guidance on design strategy and the integration of design principles into the development process, which features in both parts.
'The most significant element of duplication, and this is because it is almost entirely new to the Standard, is the much more detailed guidance on the strategic approach to access and inclusion that was exemplified so well in the design of the infrastructure for the 2012 Olympic and Paralympic Games,' says RIBA Regulation & Standards Group member David Petherick, who chairs the BSI committee on access to buildings for disabled people.
'We have also made a start to address the needs of people who can be described as neuro-diverse; i.e. their experience of and interaction with the environment differs from 'normal', whatever proportion of the population that might be,' adds Petherick.
'Some will feel we have not gone far enough, but lack of research is the limiting factor. However, BSI is hoping to develop work in this area which should help to inform future editions of the standard.'
There are numerous amendments to guidance since the last edition, with many revised diagrams and tables. Access consultant Jane Simpson, also on the Regulation & Standards Group, has worked through the just-published updates and has picked out a list of some of the points worthy of note and review by architects:
Guidance on lighting external areas.
A new table comparing gradient and rise of ramps.
A new diagram showing a setting down point.
Revisions to counter designs.
Provision of accessible viewing in audience seating.
Changes to sanitary facilities.
New accessible WC layout.
New unisex ambulant WC, in effect a super-loo that combines ambulant and 1200mm wide cubicle.
Accessible WC with baby change, strictly for use when there is only one WC in a building.
Revisions to requirements in hotels (includes student accommodation).
Simpson points out that many architects are not familiar with accessible design approaches to landscaping and public space that go beyond Building Regulations Part M, which like the outgoing standard concentrates only on the approach to buildings.
'There are a lot of changes in BS 8300. I would encourage everyone to read the new standard,' says Simpson, who reports that that over 1500 comments had been received when consultation closed in October last year.
David Petherick, Chair of BSI B/559 Committee, and Geoff Cook, Honorary Fellow of the School of Construction Management & Engineering at the University of Reading, will be presenting the new BS 8300 on 22 February 2018 at the RICS in the first of a series of Construction Industry Council (CIC) Inclusive Environment Briefings to be held this year.
The CIC briefing will also cover the new edition of the Wheelchair Housing Design Guide published this week by RIBA Publishing. This fully-updated, activity-based Third Edition discusses design considerations, requirements and recommendations for various activities carried out within the home.
Thanks to David Petherick, Chair of BSI B/559 Committee; Jane Simpson, managing director, Jane Simpson Access.
Text by Neal Morris. This is a Professional Feature edited by the RIBA Practice team. Send us your feedback and ideas.
RIBA Core Curriculum Topic: Inclusive environments.
As part of the flexible RIBA CPD programme, Professional Features, edited by the Practice team, count as microlearning. See further information on the updated RIBA CPD Core Curriculum and on fulfilling your CPD requirements as an RIBA Chartered Member.
Posted on 8 February 2018.