Mockup model of a childrens games chest 1937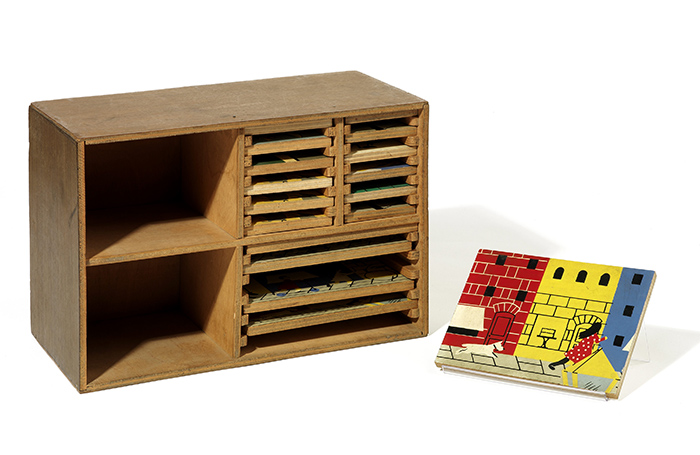 This delightful miniature timber games chest, designed by Ernö Goldfinger was a mock up for furniture displayed in 'The Child' exhibit in Oliver Hill's British Pavilion at the 1937 Paris Exhibition.
Paul and Marjorie Abbatt were committed to Modernist design and 'good toys' that would aid childrens' development and were Goldfinger's first major clients after he moved from Paris to London in 1934. He designed their Endsleigh Street showroom (1934), Wimpole Street toy shop (1936), Tavistock Street flat (1936) and an unbuilt house (1940) for them - as well as toys, furniture, shopfittings, signs and even the company logo (which was still used into the 1960's when Ken Garland was designing the Abbatts' graphics).
Image: Mock-up model of children's games chest, 1937; image from RIBApix (number RIBA30302)
Designer: Ernö Goldfinger / Paul and Marjorie Abbatt Limited
Credit: RIBA Collections
Article by Peter Kent, RIBA
13 March 2015
Discover more
This is just one of over four million items in our world-class architectural collections at the RIBA Library – it's open to everyone and access is free. Visit the library to explore our collections of books, periodicals, drawings, photographs and models:
Archives
Correspondence concerning the children's section of the British Pavilion for the 1937 Paris International Exhibition, 1936-1937, part of the Ernö Goldfinger Papers.
Order/Ref no. GolEr\65\3 [located at the V&A]
Book
'Exposition Internationale des Arts et des Techniques appliques a la vie moderne, Paris, 1937'
Shelved at 725.91(44) // EXP [Special Collections]
Book
Warburton, N., 2004.
'Ernö Goldfinger: the life of an architect'
London: Routledge
Shelved at 72.036.6(42):92G // WAR
Models
Timber chests/minatures made as mock ups for the furniture in the Children's section at the British Pavilion, Exposition Internationale des Arts et Techniques dans la Vie Moderne, Paris, 1937.
Call/Ref. no. ODS/GOLD/2(1-6) [located at the V&A]